We do BIN or VAT registration for any business. Registration of this BIN is essential to run any business venture. Failure to pay VAT by registering BIN leads to various cases filed by the government, and fines are levied.
For this reason, we do BIN or VAT registration to run any business or enterprise. Then we download it for verification or any other work. In today's discussion, we will know in detail about downloading BIN. Let's start today's critical discussion.
VAT Registration Number Check BD
BIN is the VAT registration number. The BIN certificate is a unique identification number issued by the National Board of Revenue (NBR) to business entities registered in Bangladesh. Businesses must obtain a BIN certificate to carry out any taxable activities in Bangladesh.
To obtain a BIN certificate, businesses must register with the NBR and provide information such as their business name, address, tax identification number, and other relevant details. Once the application is processed and approved, the NBR issues a BIN certificate to the business.
Sometimes it may be necessary to download this BIN certificate. We often roam around different websites to download them. But we can't find any specific way to download this BIN certificate.
But right now, you have landed on a website that will guide you to download the BIN certificate. Let us see below how to download the BIN certificate step by step and vat registration number check bd.
BIN Certificate Download
We cannot download the application form or certificate along with BIN registration. When your BIN certificate is ready, it will be emailed to you.
Before downloading the BIN certificate, check your email to see if you have received any mail. There you will be told everything related to your BIN registration. Once your certificate is ready, you can download it.
Now let's go to the main discussion. Now we will know how to download the BIN certificate. I hope you can easily download the BIN certificate by following the below guidelines.
To download the BIN certificate, you must visit the official website of Bangladesh VAT. That link is mentioned below.
By entering this link, you will first be shown several options. If you don't have an account open here, you need to open a new one by clicking sign up.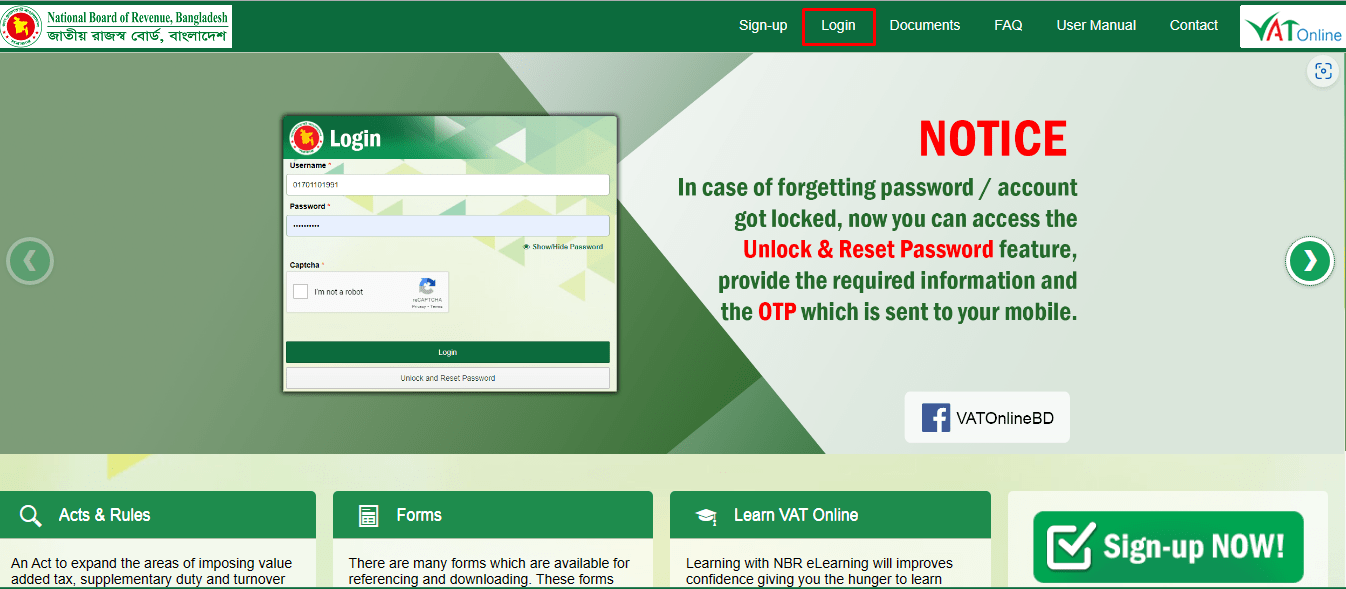 And if you have already opened an account and registered your BIN with that account, you must press the login button. After pressing the login button, a popup form will appear.
Here you need to type your user id and password. After typing the user id and password, you can access your account by pressing the login button.
After logging into your account, several forms are showing up. If you want to download the BIN certificate or BIN registration file, you will get a file called My Documents from here.
You have to press the My Document option, which will show several options.
From here, you will see a BIN application form called Musak 2.1. By clicking on this form, you can download the BIN application form.
But if you want to download the BIN certificate, select the file Musaq 2.3. You can download the BIN registration certificate by clicking on this file.
It is usually provided in PDF file format. Once you download it, it will be downloaded as a PDF file, and you can also print it if you want.
After downloading it as a PDF file, check if all your information is correct. If there are errors in the report, you must correct them again per the guidelines. And if it's right, then it's done.
Now you can download and print it by pressing the control+P on your keyboard if you have a printer.
Bin Number Check Bangladesh
If you want to check whether your BIN number is correct or want to know if it is updated, you have to go through some easy process. Let's talk about the process of "how to check BIN numbers online".
To check the BIN number, first, visit the NBR Website. There will be an option 'BIN search' like the below image.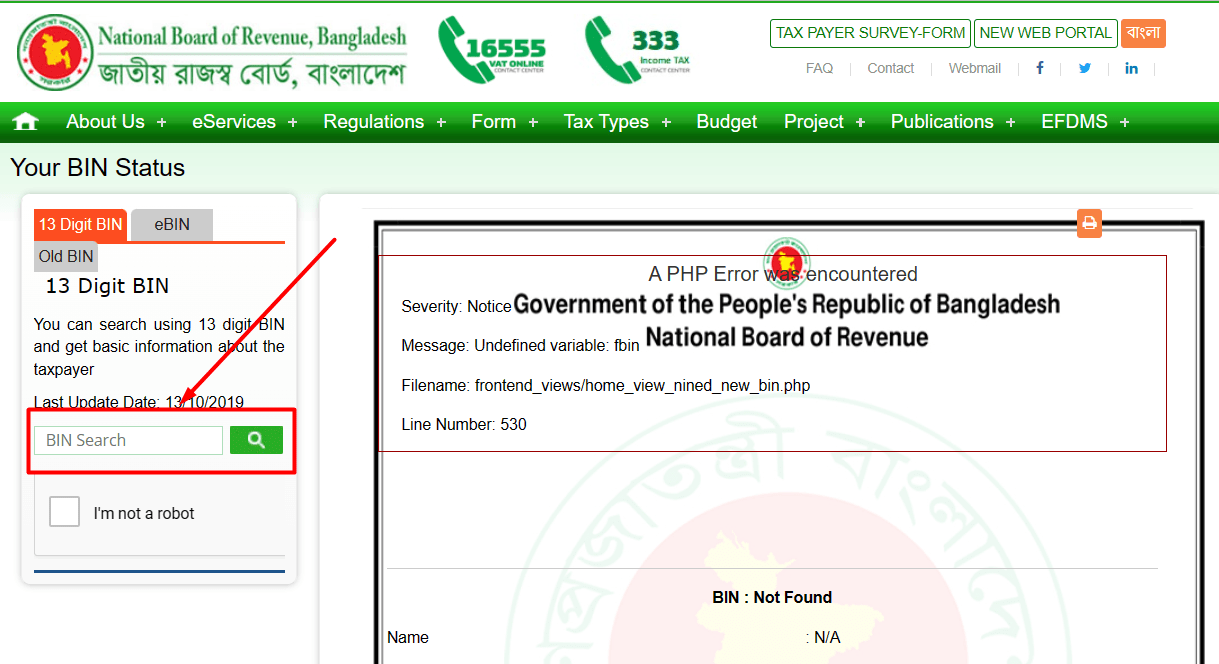 Now type your 13-digit BIN number on the marked field and click the search icon. After clicking the search icon, all the information will be visible against the BIN number, like in the below image.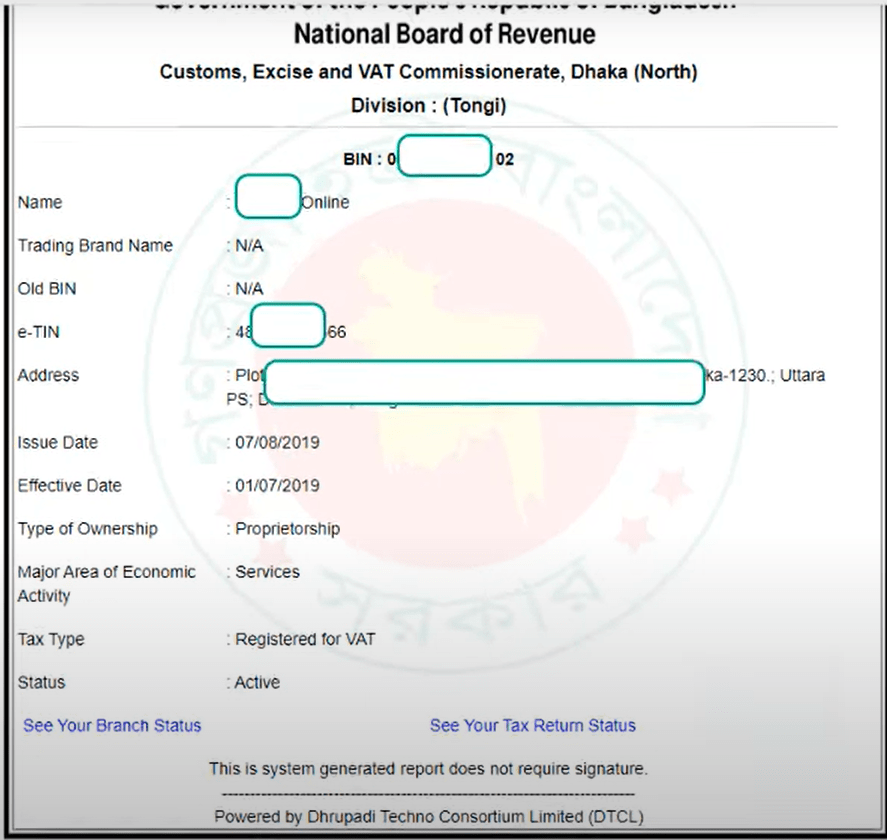 From here, you can get all the basic information about the taxpayer. At the bottom of the image, there is an option 'See Your Tax Return Status' by clicking this option, you will get information about the return submission of the taxpayers.
We have come to the end of the article to describe how to download the BIN certificate. I hope you follow today's report to easily download the BIN registration application form or BIN certificate and do any VAT-related work.
You can visit our website if you want more information about VAT, Tax, and TIN. You will find more such information on our website. Thank you so much for staying with us until the end.