Almost all manufacturing and service businesses require VAT registration or Business Identification Number (BIN). General Order No. 17 of the Value Added Tax and Supplementary Duties Act 2012 list those for whom VAT registration is mandatory.
In simple words, the person whose turnover is between 50,00,000 TK to 3 crores TK during the 12 months ending at the end of the previous month should register for VAT, and if the turnover amount is more than three crore rupees, they will have to register for VAT.
What is BIN Number in Bangladesh
BIN or Business Identification Number is a unique 12 digit number assigned by National Board of Revenue (NBR) to identify businesses in Bangladesh. BIN is a must for all businesses operating in Bangladesh and is used to track their tax payments and other financial activities.
The BIN consists of two parts: the first nine digits represent the taxpayer identification number, while the last three digits represent the business branch code. Each branch of a business has a unique three-digit code through which the NBR can track tax payments and other financial activities of each branch separately.
To obtain a BIN number, businesses in Bangladesh must register with the NBR and provide relevant documents such as a trade license, VAT registration certificate and other business registration documents.
What is BIN Registration or BIN Enlistment?
BIN Registration in Bangladesh:
A person must register BIN where applicable as per the above rules. A person who fails to register a BIN despite the above applicable cases is liable to be prosecuted, penalized, and fined.
To survive these, one must register the BIN, verify it correctly, and pay on time.
You can register BIN online at home. But to do this, you will need some documents.
They are detailed below. There are several processes to follow to register VAT online, which we have presented today.
Documents Required for BIN Registration
You will need some documents when you go for BIN registration. You have to scan all these documents before BIN registration and scan and upload them in a form. The documents that will be required are-
National Identity Card
TIN Certificate
Mobile number
Trade license
An active email
Bank statement
Business rules or contacts etc.
How to Get a BIN Number in Bangladesh
In order to run your business within the bounds of the law, it's required to gain a Business Identification Number( BIN), whether you're just starting out or already have an successful business. In this guide we will know step by step how to get a BIN number in Bangladesh. We will know the documents required to get BIN, registration process etc. Eventually, you'll have a clear understanding of the conditions and processes for getting a BIN number in Bangladesh and you'll be one step closer to build a successful business. The ways are-
Go to your Nearest Incom Tax Office.
Apply for BIN Certificate Online.
Go to your Nearest Income Tax Office
To get a Business Identification Number (BIN) in Bangladesh, you can follow the steps below:
You have to visit the nearest Income Tax office and ask for the necessary forms to apply for a BIN.
Fill the forms corectly and completely with all the required information and the nature of your business, its geographical location and other relevant details.
Submit the completed forms along with the required documents such as your national identity card, passport, and business registration documents.
Pay the application fee as required by the tax office.
Wait for your application to be processed. This may take several days or weeks depending on the tax office's workload.
After your application has been approved, you will be able to collect your Business Identification Number (BIN) from the Tax Office.
BIN Certificate Online Apply Process
Now let's go to the main phase of BIN registration. Here we have discussed step by step how you can register BIN. Let's go through these steps one by one.
To register BIN, you must first open any browser from your computer or laptop and enter the VAT website of Bangladesh. After entering this website, you will see a page like an image below.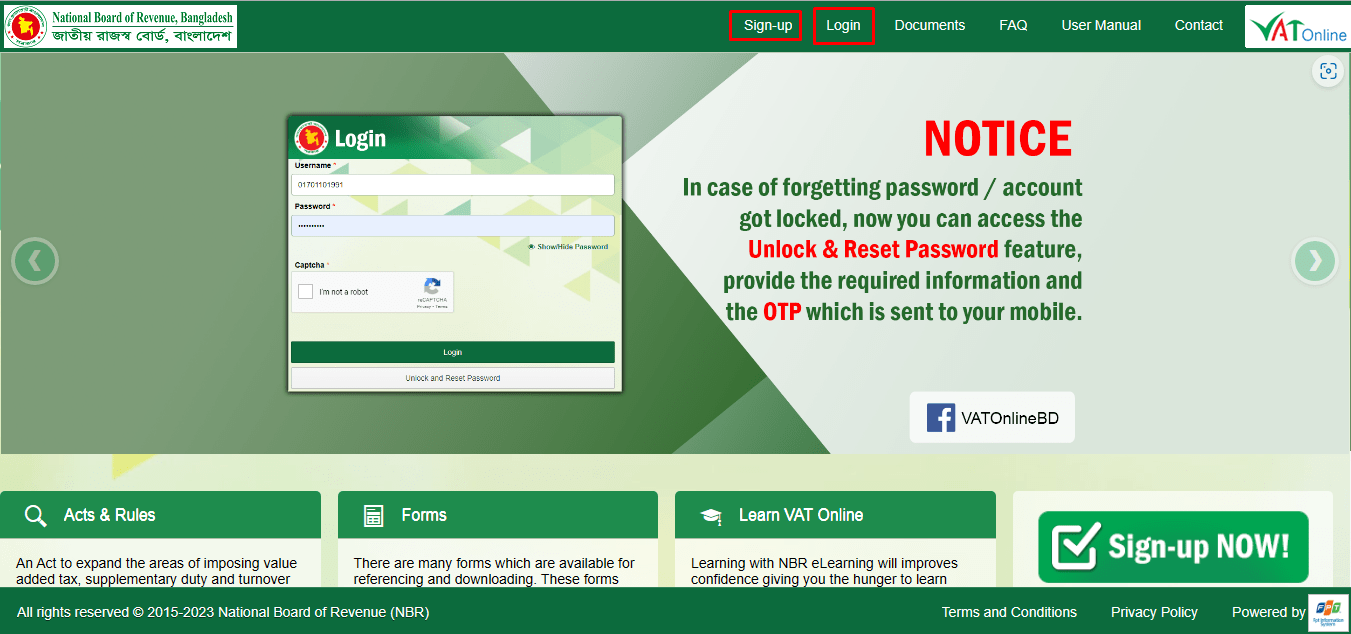 Step-by-Step BIN Registration Online Process:
You will see two options in the menu bar: sign up and log in. To register BIN here, you first need to open an account.
If you have previously opened an account, then from here, you need to press the login button. And if you are new, you need to click the sign-up button. After clicking the sign-up button here, you must fill out some forms to create an account.
The fields marked with a red star must be filled in. So you have to fill in all the information correctly, including your user type, name, email id, and mobile phone number.
After filling in these details, you will get Recovery Question below. You can recover your password with this recovery query.
You must complete your account creation with a quiz and an answer. After doing this, click on the submit button from the above menu. Clicking submits button will take you to the next page.
Here you need to set up a user ID and password. Later you can log in with this user id and password. So, complete your account creation by setting up a user ID and password here.
Once the account is created, you must log in with your user ID and password. After login, you will select a form from here. That is Musk 2.1.
You have to fill this form correctly for BIN registration. You must scan and upload some required documents by filling out this form. Those documents are mentioned above. You have to scan them in advance.
It may take one to two days for your BIN to be registered after submission—this time, you have to wait. You will be notified by email once the registration is done.
You will be given instructions regarding the BIN registration certificate in the email, and you can withdraw the certificate and keep it with you. You can pay your VAT on time as per the BIM registration information.
Why Do We Need BIN Certificate?
Note: If you have an annual income of fewer than 50, you don't have to register a BIN Certificate.
Here is all the information related to BIN registration. If there is any mistake in BIN registration, then you can correct those mistakes as per instructions. But you have to correct that mistake before submitting it.
You cannot correct mistakes once submitted. So be careful while registering so that no information is wrong. Let us know if you face any problems while doing BIN registration. We will try to help you. Thank you for staying with us until the end.