For learner driving license online apply, enter this website https://bsp.brta.gov.bd/, fill out a form, pay a fee of 345 TK, and submit the necessary documents. You must be 18 years of age for getting a BRTA learner driving license. After a few days of applying, you will be called for driving training. After passing the driving training test, you will be issued a driving license.
Learner Driving License Application
A driver's license is required to ride a bike legally. If he does not have a driving license, then he has to face a police case which means a traffic case. Therefore, if someone buys a bike, he must get a driving license. There are a few steps to go through to get a driving license.
The first of these is that you need to get a learner's driving license first. After that, you can get a smart card driving license. So before getting a smart card driving license, you must apply for a learner's license.
You can make this application by visiting the office, or you can also do it online on the BRTA office website. Let us know all the information, including the prerequisites for applying for a learner's driving license, how to use it, how much the application fee is, etc.
Condition for Learner Driving License Application
Learner Driving License application requires certain conditions. All these conditions will exist. Only the learner can apply for a driving license. They are highlighted below.
Must be a citizen of Bangladesh
Must be at least 18 years of age
Must have minimum 8th class pass
Must be physically fit
Must have Nid or Birth Registration Certificate
Required Documents for Learner Driving License
Getting a learner driving license is a crucial step toward becoming a licensed driver. To obtain a learner driving license, there are certain documents that you need to have to comply with the requirements of your local driving authority. Some documents will be required for a learner or education office driving license. All these documents must be collected before applying. They are mentioned below.
Photograph of the applicant
Medical certificate by a registered doctor
Scan copy of National Identity Card
Scanned copy of the utility bill (If the applicant's current address and National ID address are different, the utility bill of the current address should be attached)
Scan copy of existing driving license (if any)
Legal action will be taken against him, including cancellation of his learner and smart card driving licenses if false information is provided while applying online.
Learner Driving License Application Online 2023
If you want to apply online for a learner's driving license, you can do it by visiting the BRTA official website. Below are the detailed steps to fill out the online application.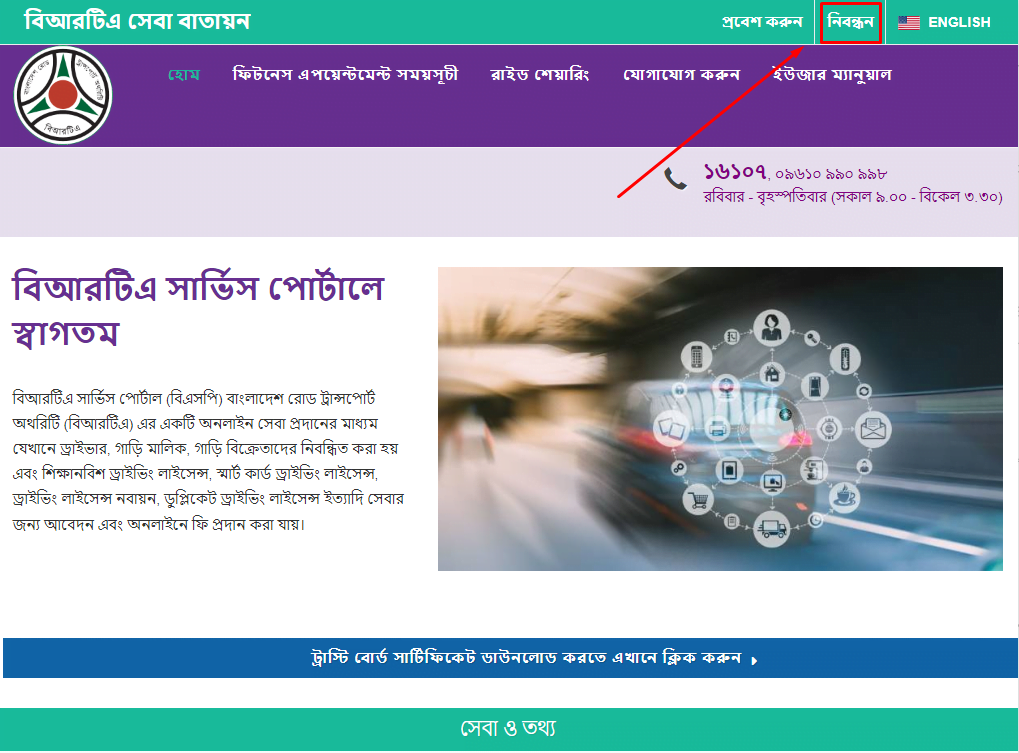 Start registration with your Date of Birth and National Identity Card Number.
Clicking search will bring all the information from NID. Enter your mobile number, email id, and password twice, and click register.
Verification should be done with the link in the email. Enter the email and click on Click to verify.
You will see the verification completed message.
Click on Login with email or phone number and password; the OTP will be sent to the mobile. Verify with the OTP and enter the profile. Log in again, and it will show the information.
Click on Driving License from the left side menu and apply for First Learner's License from the tabs; instructions will show. In general, read the information carefully and scan the files correctly.
If all the documents are there, click the agree button, and the application page will appear. In personal cases, select amateur, upload pictures, and keep the format correct.
Enter the National Identity Card Number and Date of Birth in Section A and click on Search; all the information will be automatically displayed against the NID.
Select the parent's name in English, gender, Husband/Wife name, occupation, educational qualification, marital status, name of husband and wife in Bengali, blood group, current address, permanent address, etc.
In the contact details of the applicant, give the mobile number and name of someone for emergency contact, mobile number.
In section B, select the type of motorcycle, lite or heavy.
All documents must be uploaded in the attachment, which you have scanned. Then click on save to save and below to online fee deposit.
Click on submit the online fee. You will see the application review below will show the total fee. After submitting the fee, click Submit Fee.
It will show the number of banks they have with them. Tick ​​to confirm the mobile number and transfer money through Bkash, Dutch Bangla Bank, City Bank, etc.
Confirm the following terms and conditions by selecting Bkash and making payment from the Bkash gateway and confirm with OTP and PIN to complete the Bkash payment.
The payment is done, the application is completed, the money receipt is completed, and the learner can download and print it. The learner card will contain information about exam dates, etc. This way, you can apply for a driving license at home.
Learner Driving License Application Fee
According to official information, the application fee for a learner's driving license is 345 TK. You can pay this 350 TK online when you apply for a driving license.
When you apply, there will be mentioned online fee payment option from here; you can go to that option and pay your fee through your Bkash, Nagad, or rocket account. If you want, you can also go to the office of BRTA and give the return receipt by running it through the bank.
Driving License Check Online Bangladesh
If your driving license has been issued, then you can check the status of this driving license. To check your driving license online, enter a link and provide your driving license reference number. Then you can check your driving license status.
The process of obtaining a driver's license can seem daunting, especially for those who are new to driving or unfamiliar with local driver's license requirements. From applying for a learning driver's license to passing the driver's license test, it takes several steps to get a driver's license. To get a smart card driving license you have to follow some steps discussed in the below article. You can follow the article for getting a driving license easily.
You can read: Driving License Getting Process
Bangladesh Road Transport Authority has made significant strides in providing a seamless and convenient online platform for citizens to apply for a driving license. This has made the application process more efficient and made it easier for applicants to track the status of their applications.