BRTA free driving course will be started shortly. Near 36000 Bangladeshi citizens aged from 21-35 will get free driving training and a free driving license by the joint venture of SEIP and BRTC. BRTC published the free driving training application on 21 August 2023, and the training course will start on 05 September 2023.
Today's article is mainly for those who want to train for free driving and get a driving license by BRTA. Here we will discuss all the information, including what qualifications are required for BRTA free driving training course, where to apply, what documents are required, etc.
So if you want to take the BRTA driving training course, then today's article will help you. So let's know the important details of the BRTA free driving license course 2023.
BRTA Free Driving Training Course 2023
The scheme is named "Learn Driving License Free" and provides free driving training for four months. The 12th batch admission notice has been published under this scheme.
To take this training, you must apply at the specified place and have the necessary documents. After the application process is completed, you will be notified of training. So keep following the article below carefully to know the application process, what it takes to apply, and the eligibility criteria.
Information About BRTA Free Driving License Course
For your convenience, some important information about BRTA Free Driving Course is presented in tabular form below. Here you will get some important information, including the course start date and application form submission date. So follow the table below.
| | |
| --- | --- |
| Distribution of Application Forms Start Date | 21 August 2023 |
| The Last Date of Submission of the Application Form | 03 September 2023 |
| Course Start Date |  05 September 2023 |
Qualification for BRTA Driving License Course
You must possess certain qualifications to take BRTA's free driving license course. Eligibility of application also varies according to the variation of training. Below are the qualifications according to the variation of training.
For Light Driving and Car Maintenance Training
For light driving and car maintenance training, you need to possess a number of qualifications. For example-
Must be 21 to 35 years old.
The minimum 8th class pass should be a Bangladeshi citizen.
Must have a national identity card.
Driving has to be taken as a profession.
Must be physically fit.
For Heavy Driving and Vehicle Maintenance Training
For getting heavy vehicle driving and maintenance training, you must meet the criteria given below:
Must be 21 to 45 years old.
Must be a Bangladeshi citizen with the 8th-class pass.
Must have an intermediate license to drive, and the validity of an intermediate license should be 3 years.
Must have a national identity card.
Must be physically fit.
Application Information and Required Documents
You have to show some required documents to take this training course. I have given here all the required documents below.
Incomplete and unsigned applications will be considered rejected.
Absence during the 4 months course will not exceed except on official leave.
Free driving license, travel allowance, and course certificate will be given to those who complete the course.
An attested copy of the NID card must be submitted (birth certificate not acceptable).
02 copies of recent passport-size photographs.
Must have passed at least 8th standard and submit an attested copy of educational qualification certificate.
Citizenship/Character certificate to be issued by Councilor/Chairman of permanent address.
If considered eligible for the course, a fit and deep test certificate should be brought from the Civil Surgeon's office per government rules.
BRTA Free Driving Training Application Process
You must collect an application form for BRTA's free driving training course. You can collect it from the BRTA office, or you can also collect it online. To collect the online BRTA free driving training application form, you must visit the website below.
BRTA Free Driving Course Application Form PDF
After collecting the form from this website, you will see two pages. Both pages will ask you to provide some information. The information must be provided correctly, and on the first page of the form, on the top right side, there is a place for photo attestation.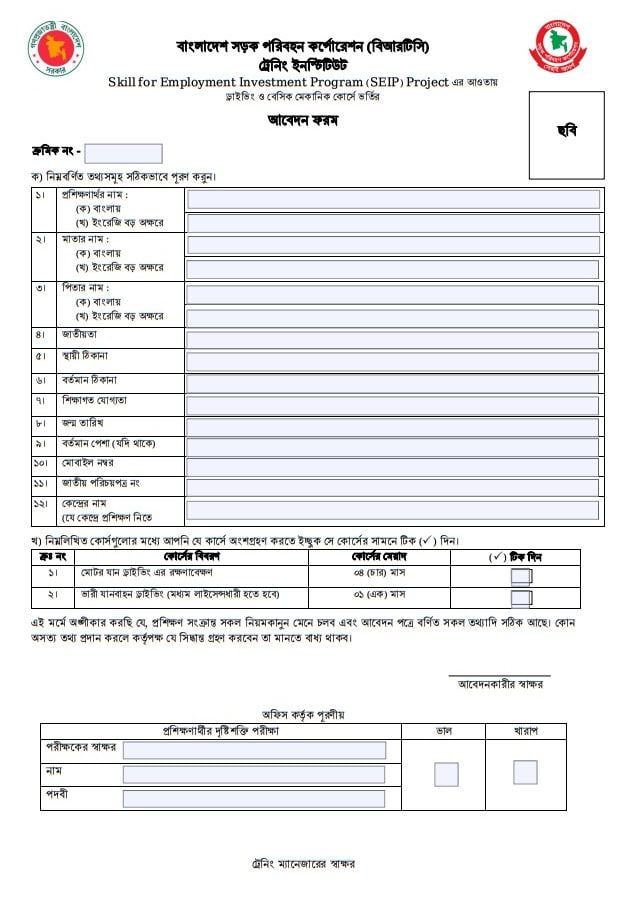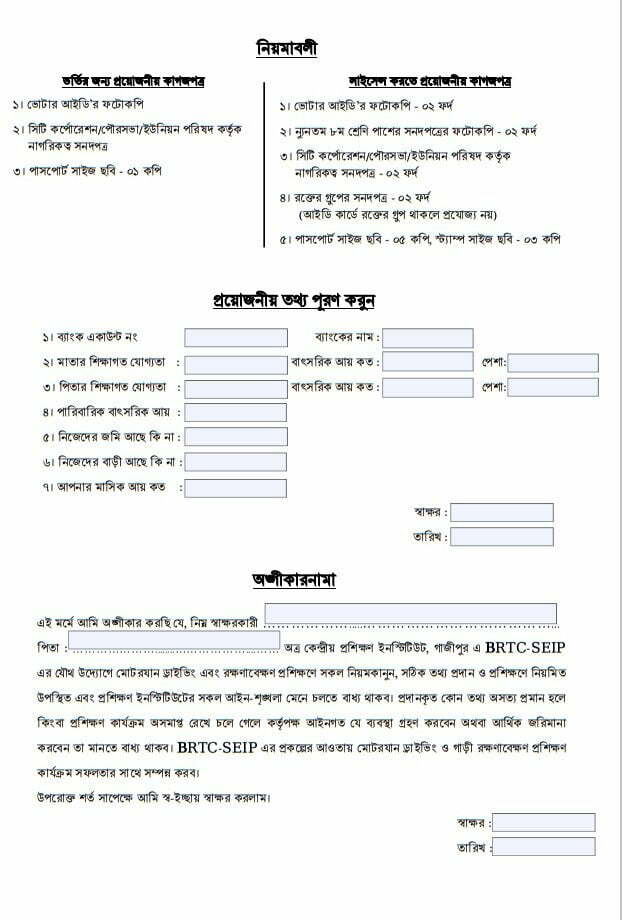 Pin a recent photo of yourself here. After providing the information, check everything again and submit this form to the BRTA office. After that, your application process will be completed.
Benefits of BRTA Free Driving License Course
The government of Bangladesh has provided several facilities for BRTA's free driving course. For example-
A daily traveling allowance of TK 100 will be provided during training
Assistance will be provided in obtaining employment in the country and abroad
Those who complete the training will be issued a light and heavy driving license at government expense, subject to passing the driving test.
So this is all the information regarding BRTA Free Driving Course Training Application. You can let us know in the comment box if you have any queries related to this application or want to know more about it. Follow our website for more various notices and updated information regarding this. Thank you.