BRTA Ownership Transfer Check is an important step in the ownership transfer process. It is a procedure where the BRTA verifies the authenticity of the vehicle and its documents before approving the transfer of ownership. The BRTA Ownership Transfer Check helps prevent fraud and ensures the transfer process is legal and fair.
BRTA Ownership Transfer Check
When we buy an old bike or any other vehicle, we are transferred from the BRTA office. After the transfer of ownership, we do not take full ownership of it. But many times we may need to check this transfer of ownership to see if the bike is actually in our name.
Because buying a car costs a lot of money, owning it can cause us many problems if we don't get it. That is why we can quickly check whether the ownership transfer from the vehicle's original owner to us is complete. We will now check how to check the ownership transfer of BRTA.
Necessary For Checking BRTA Ownership Transfer
If you have purchased an old motorbike, then you must check the ownership of this old motorbike because you must check whose name the car you are using is registered.
The BRTA ownership transfer check is essential for any vehicle owner in Bangladesh who wishes to sell or buy a vehicle. The ownership transfer process is necessary to ensure that the transfer of ownership is legal, fair, and complies with the regulations set by the Bangladesh Road Transport Authority.
The ownership transfer check establishes the ownership of the vehicle, ensures that the vehicle is safe to drive and complies with the safety regulations set by the authority, and protects the buyer from any potential financial obligations related to the vehicle.
BRTA Ownership Transfer Check Online Process
If you have bought an old bike or an old car like others, then you can check your transfer at home with the help of your smartphone. To do this, you must have an internet connection and enter BRTA's office website. Follow the steps below so that you can check it very quickly.
To check ownership transfer, you need first to visit the link below
After entering here, you will see an image like this image below.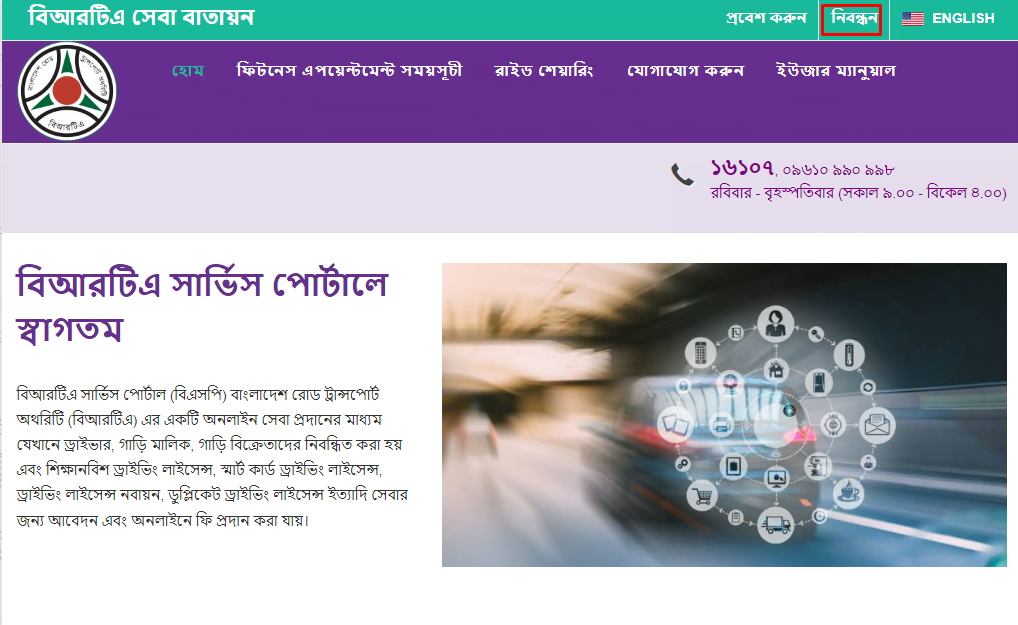 You need to register first on this page. If you have an account on this website before, then you can log in with that account information.
In that case, you don't need to register. But if you don't have an account, you need to register by clicking the register button.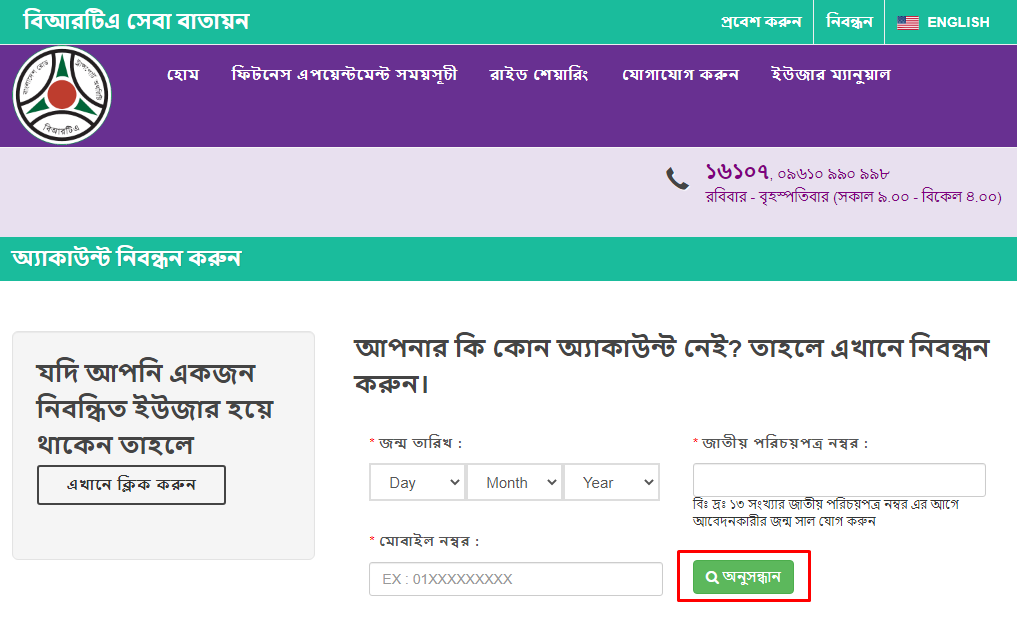 To register, you must search with your date of birth, national identity card, and mobile number.
An OTP will be sent to your mobile number on the next page for verification.
Place it here and click on the next button.
Next, you need to create a user ID. It can consist of small letters, symbols, or numbers. You must complete the registration by creating a user ID and a password.
After registering, log in again with your user id and password. After login, you will get a dashboard on this page.
On the left side of the dashboard, you will see an option called Register Motor Vehicle. Tap here.
On tapping here, the option, you will get is Connect Vehicle. Click on this button. By clicking this button you need to provide some information about your motorcycle.
Here you have to provide four details related to your motor vehicle. The first is the registration number, followed by the year of manufacture; you will see the chassis number option and the engine number. These four details must be filled in correctly by looking at your documents. Then click on the search button.
Clicking on the search button will reload your page, and below, you will find your vehicle information. Here the owner's name and information about the motor vehicle will be mentioned. This is where you can see in whose name this motorcycle is registered. From here, you have to be sure.
The BRTA Ownership Transfer Check is essential in transferring vehicle ownership in Bangladesh. It ensures that the transfer process is legal and fair and helps to prevent fraud.
As a buyer or seller of a vehicle, it is essential to follow the BRTA ownership transfer process and ensure all the documents are to avoid complications.