Now, BRTA Tax Token Renewal can be easily done online. Usually, we need to renew the tax token only when the tax token expires. In Bangladesh, bikes above 100 cc must pay Tk 2300 as a tax token fee for 2 years.
Paying tax tokens is trouble when it's about to pay manually, but now it has a smart solution. You can pay tax tokens online at home in 5 minutes without running to the bank and receive tax token paper by courier.
The Tax Token payment could be done for various duration like 2 years, 10 years, etc. When you pay your Tax token through an online gateway such as Bkash, you must add more money as the courier fee.
For example, if you're paying your tax token renewal fee through Bkash, Bkash will deliver the token to your submitted address, so you've to pay more.
BRTA Bike Tax Token Renewal Bangladesh
The tax token is a permit to ride a bike on the roads of Bangladesh legally. In simple terms, it is a receipt of tax paid to the government for legally riding a bike for a certain period.
Motorbike tax tokens have a validity period of up to a certain period. Application for issue of new tax token has to be made within 15 days of the expiry of this period. The applicant must pay the prescribed tax amount through the prescribed bank.
Before this, the bank issues the new tax token on payment of the previous tax token, a copy of the registration certificate, a copy of TIN, and the required fee.
BRTA Tax Token Renew Online
A tax token valid for several years is issued from the BRTA office for driving a motor vehicle. After this period, the tax token has to be renewed again. If not, you have to fall into various cases.
If you want to renew the BRTA bike tax token online, you can do it easily. You don't need to upload any papers or documents to do this. You need to renew only with your bike number, chassis number, and some other information.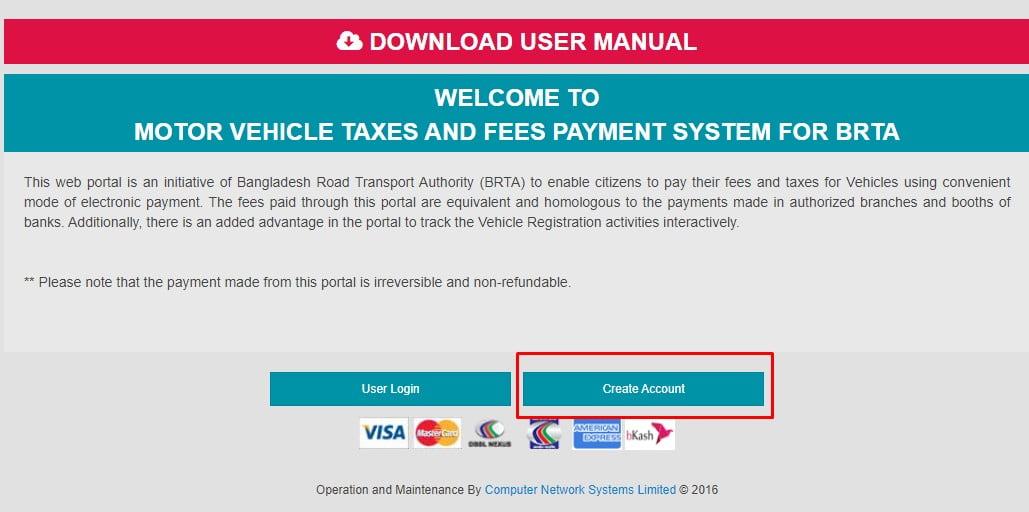 Click on the registration button to open a new account.
A form will open by clicking on the registration button.

Here you have to submit your name, mobile number, email, district, police station, and password. After entering the details, click submit button, and your account will be created.
Then again, you have to press the login button.
Pressing the Login button will ask for your user ID and password. You can use your mobile number or email as a user ID and enter the password you gave during registration here.
Then press the login button.
After pressing the login button, a dashboard will appear in front of you. From here, click on Registered Vehicle Payment.
Clicking here will ask for some information about your vehicle.
You must enter the last four digits of your vehicle and chassis numbers here.
Then there is a menu called Separated or Purpose Payments.
You must select your installment category from the road tax option from this menu.
Then click on Pay with Bkash option for fee payment if you want to pay from Bkash.
Then confirm with the mobile number of the owner of the vehicle and write the contact addresses well.
You will then be sent your tax token via courier. For this, you have to pay an extra charge of 35 TK for home delivery.
Then click on the Next button.
Once these are done, print the payment receipt because it might come in handy later. After that, your tax token will be renewed online.
How Long Does It Take To Get a Motorcycle Tax Token?
Many people have questions about how long it may take after you renew your tax online.
After three to four days of renewing or paying the fee online, you will get the tax token. You don't have to go anywhere to collect it. The courier will send you the Tex Token. You will get it home delivered.
So you don't have to stress about this. Please be patient for three to four days after renewing the Tex Token online. Then you will receive your tax token.
Motorcycle Tax Token Renewal Required Documents
Renewing your tax token online, you have to collect some documents. You must present these documents when you renew your tax token. All the required documents are mentioned below.
Application form filled and signed in the prescribed form.
Receipt of payment of the requisite fee.
Original copy of fitness certificate
Attested photocopy of updated tax token.
Attested copy of TIN-related documents.
Previously issued Tax Token Certificate (Original Copy).
BRTA Tax Token Renewal Fee
We also don't know how much the fee is for the tax token. Let's have a brief idea about it. For those who have bikes above 100 ccs, if they want to renew the tax token for two years, they have to pay Tk 2300. It may decrease or increase based on your tenure.
If you want to do it for two years, you will need TK 2300. If you want to do it for ten years, you will need 5 times more money. You can do this from development. From Bkash, you will be charged a 1.5% service charge and an extra TK 35 for home delivery. This is the cost of paying your tax token.
To Know More About BRTA Driving Licence Renewal Process.
BRTA Bike Tax Token Fee Payment Bank List
Fees for fitness certificates can be paid to certain banks, like tax token fees. List of banks where BRTA money can be deposited-
First Security Islami Bank Limited
Southeast Bank Limited
Islami Bank Bangladesh Limited
Social Islami Bank Limited
Mutual Trust Bank Limited
Al-Arafah Islami Bank Limited
Standard Bank Limited
NRB Commercial Bank Limited
SBAC Bank
Midland Bank Limited
Madhumati Bank Limited
NRB Bank Limited
National Bank Limited
Mercantile Bank Limited
One Bank Limited
Required Documents:
Renewing your tax token is an important responsibility of every vehicle owner in Bangladesh. Following the simple steps outlined in this article, you can ensure you renew your tax token on time and avoid penalties or fines.
Contact your local tax office for more information if you have any questions or concerns about the tax token renewal process.