If you want to change the voter area, here you are. Since the 1990s, Bangladesh has experienced large-scale voter area migration, with millions of people moving from rural to urban areas. This migration has significantly impacted the country's politics, as the rural vote has become increasingly important.
Today's article will discuss an important topic: changing your voter area. You need to change your NID voter address if you move somewhere and settle there.
It would be best if you changed the voter area, and how you change these constituencies will be discussed in today's discussion. So let's get to know this solution.
Voter Area Migration In  Bangladesh
Voter area migration has been a significant factor in the rise of the Awami League, which has its roots in the rural areas of Bangladesh. The party has benefited from migrating rural voters to the cities, where it has won a more significant vote.
The Bangladesh Nationalist Party, on the other hand, has been hurt by voter area migration. The party's base is in the urban areas of Bangladesh, and it has lost support as rural voters have migrated to the cities.
The impact of voter area migration on Bangladeshi politics is likely to continue in the years to come. The migration of rural voters to the cities is likely to benefit the Awami League, and the Bangladesh Nationalist Party will need to find a way to appeal to the growing number of urban voters if it is to remain a major force in Bangladeshi politics.
Many people face this problem after NID registration. After becoming a voter in one place, he is transferred to another place and can no longer work at that place by the NID.
In this case, the voter's NID card needs to be corrected, but they are not finding any way how they can transfer this voter area. It cannot be done online for the transfer of this area.
You can do this by visiting your nearest election office and getting a correction form from them. In the form, you have to fill it correctly with your address and submit it to them.
Let's find out how you can easily change your NID voter area without further ado. Read the article very carefully till the end to solve this problem.
Voter Area Changing Form PDF
For your convenience, we have provided a PDF download link below, through which you can download this form from here, fill it out from home, and submit it to them.
If you want, you can download the form from the link below, print it and fill it and submit it to the election office, or you can go directly to them and fill this form and fill it as per the instructions. Let's collect this form and see how to fill it out.
Voter Area Change Form Fill Up
When you get a voter area changing form, read it carefully to see where the options are given. Then you will understand well.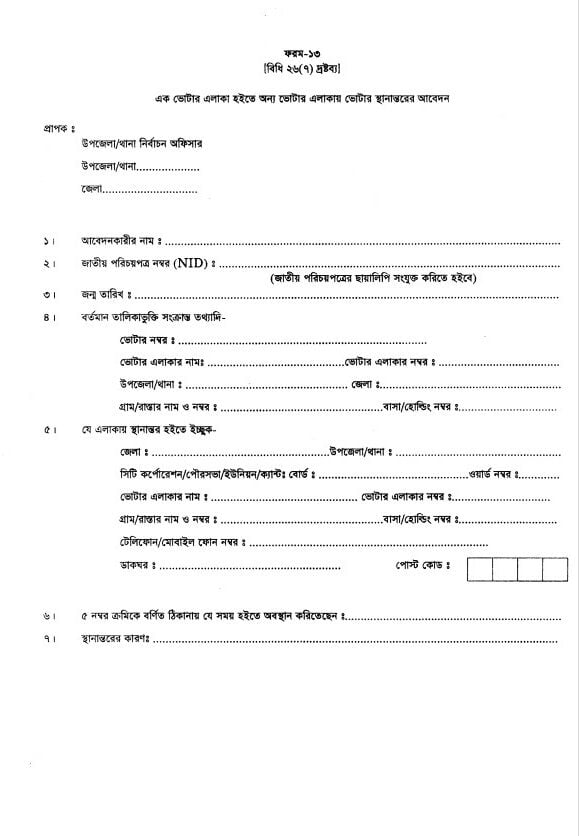 After receiving the form, you will first see the options given here. In option number 1, you have to enter your name.
In option 2, you must enter your National Identity Card, which means your NID number. Below option number two of the form, you will see here it is written that you have to attach a copy of the national identity card. Whenever you submit it, you will submit it along with a photocopy of your NID card.
You will see option 3; here, it will ask you to give your date of birth. Enter your correct date of birth here.
After completing option 3, you have to complete option number 4. In option number 4, you will be asked to enter your previous address.
You must enter all the details related to your current NID card address here. So this option 4, you must look at your NID card very carefully and enter your previous address correctly.
Then come to option number 5. Option number 5 is the option of writing your address; you must write the address to which you want to transfer your NID constituency.
So, Fill in the address-related blanks in the number option.
After filling in option number 5, you must fill in option 6. Here you will see how long you have been living in the place you wish to move to. Enter your staying duration here till now.
Then option number 7. In option number 7, you will be asked why you want to transfer from your previous address to your current address. Enter the exact reason for your transfer here.
Then this page is finished. Now you have to go to option number 8 on the next page. In option number 8, it is written to attach the certificate.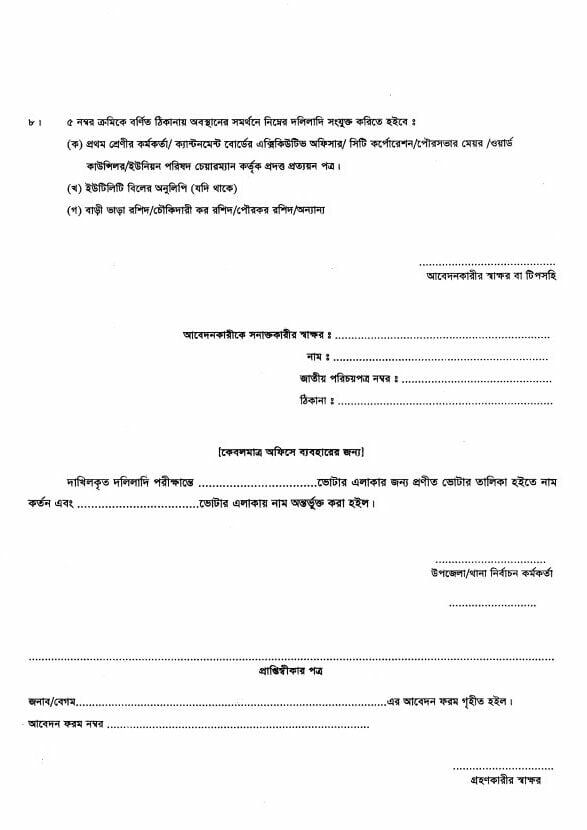 So as per the rules mentioned on this page, you have to submit an attestation letter attached to this form, and on the right side, you will see below an option called signature and fingerprint of the applicant. Here give your signature and fingerprint.
After doing this, you are done. You don't need to fill in any more options. And the remaining options will be filled by the designated officer.
Now you submit your revised form and the prescribed documents to the designated officer of the election office.
Voter Area Migration Rules
It would be best if you visited your nearest election office to change the NID voter area. You will collect a form called form-13 from the election office. This is the form for the transfer of the NID voter area. The form you have to collect them from the and fill it out correctly. You can download the form online if you want.
Voter Area Changing Application Necessary Documents
You will need some necessary documents for shifting your voter area. The documents are mentioned in your form. They are-
You need to submit an affidavit. If you belong to Union Parishad, you must collect this certificate from Chairman. And if you belong to a municipality, you must bring a certificate from the councilor.
Copy of house electricity or gas bill
Chowkidar Tax Receipt/Municipal Tax Receipt/House Rent Receipt, whichever is available.
Photocopy of the NID card of the applicant
Payment For Changing Voter Area
Generally, the amount of money to be paid for the transfer of changing voter areas is not specified. You need to know how much you need to pay for its correction from the election office and pay it as per their instructions.
So when you submit the application form, know the specific fee from them and complete the fee payment as indicated.
Then submit your revised application form and the required documents to the designated officer at the election office. They will give you the slip. Keep this slip carefully, as you will need it later to collect the NID card.
Later you will be confirmed for the application correction and asked to collect your NID card. Go to the election office at the specified time and collect the NID card.
I hope you learned the rules of changing voter areas from today's discussion. If you benefited from today's discussion, share it with your acquaintances so they can solve similar tasks quickly.
You will find solutions to various Voter NID Card problems on our website. For that, please visit our website. Thank you.