This digital platform has been created to streamline and simplify applying for a passport in Bangladesh. With the e-Passport Application Form, you can now apply for your passport online from the comfort of your home or office.
The process is fast, efficient, and convenient, ensuring you receive your passport promptly and hassle-free. In this guide, we will provide you with all the information you need to know to fill out the e-Passport Application Form correctly and accurately.
E-Passport Application Form Bangladesh
The ePassport is a biometric passport containing an electronic chip with the holder's personal information. Bangladesh has introduced ePassport services to enhance its citizens' security features and ease of travel.
Electronic passports, commonly known as e-passports, have become the new standard for secure international travel. In Bangladesh, the e-passport application process is crucial to ensuring the safety and security of travelers.
The application process includes filling out the e-passport application form, a vital step in obtaining an e-passport. The application form contains important personal information such as name, date of birth, and passport number, which is used to verify the passport holder's identity.
You can fill out the application form for an e-passport online and offline. In this context, we will discuss both methods broadly. You can also download here the form for applying for the e-passport.
E-passport Form Fill-up Process Online
Now we will know how to fill out this form online for this e-passport, and we will discuss them step by step now. Follow these steps carefully because any mistake in filling out this form can cause problems getting your passport. So keep a close eye on each point.
You can get the application form from the passport website in Bangladesh. You have to first log in to the link below. Here you will get the application form and other information.
Now let's know how you can fill up your form. There is given step to step guide to fill up the full form.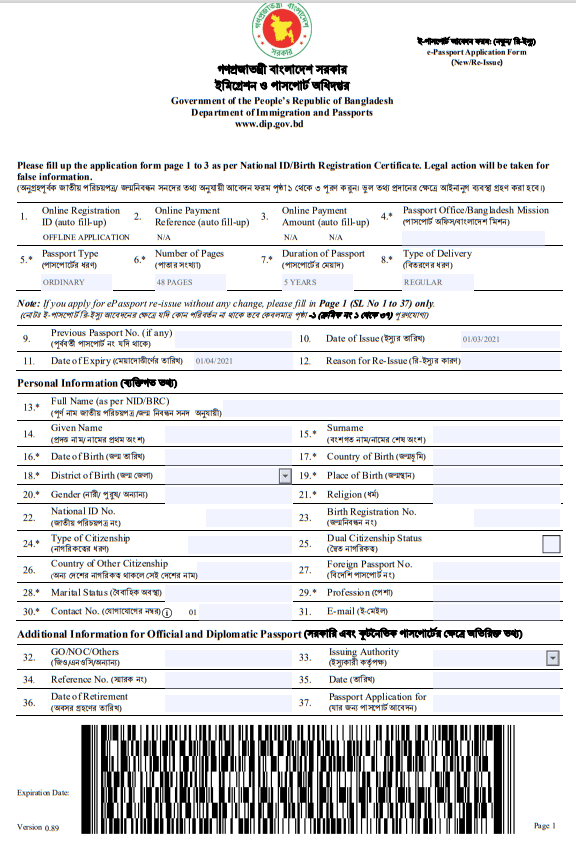 First, you will see that there are 1,2 and 3 options. You do not need to fill in these options. They will be filled out online. You have to start filling out the form from the number 4 option.
Number 4 is Passport Office Bangladesh Mission. Here you have to select the address of the office from where you are collecting your passport information or where you are registering.
Now you will see number five has passport type. You have to select here which type of passport you want.
Then there is the number 6. You have to select the number of pages of your passport here.
Then come to number 7. Here is the passport validity. You have to select the period of how many years you want to get the passport here.
After that, there is 8 number type of delivery means you have to select how you want to take delivery here. If you are going for regular delivery, you must choose regular. You can opt for express or super express type if your need is urgent.
Next comes option number 9. That passport number should be written here if you have a previous passport.
Option number 10 is the date of issue, ie. The date you reissued your previous passport should be written here.
Then there is option number 11. If your previous passport has an expiry, you must write the date in which year or when the expiry date will pass here.
Then you will see the reason for a reissue that you have to write the reason why you are reissuing your passport even though you have it.
But these four options, 9, 10, 11, and 12, will be applicable only when you have an old passport. You don't need to complete these if you don't have a passport before then.
After filling in these, you must go to the personal information section. All the options in the personal information section must be filled in well according to your NID and other documents. But remember that if any information is wrong, your passport application may be rejected.
Fill in all the information well so there is no mistake. After filling in, verify this information once again.
Then go to the Additional Information for Official and Diplomatic Passports section. There is certain information you need to fill in if you want to get a government passport.
If you have any privilege in the case of a government passport or have done any government job, then all those information should be filled in here. However, you do not need to complete this section if you are not applying for an official or diplomatic passport.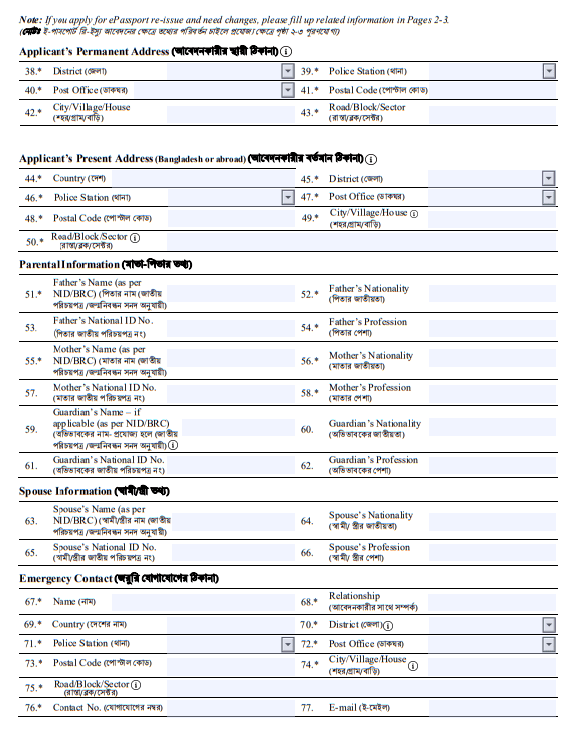 Next is the permanent address section of the applicant. Fill in all the details of your permanent address in this section properly.
After filling it out, you must also select your address in the current address section.
After filling them very well, come to the Parental Information section.
Here you have to provide your parent's information. Fill in your parent's name, NID number, and other good information.
Then there is the information about the husband/wife. If you are married, your spouse's information should be filled in here very well. You have to fill in this information, including the name of the husband/wife, national identity card, and occupation.
Then go to the Emergency Contact section. If there is ever an urgent need to contact you, the emergency contact address should be provided here. Remember that providing an emergency contact address requires you to provide information that allows you to be contacted at any time.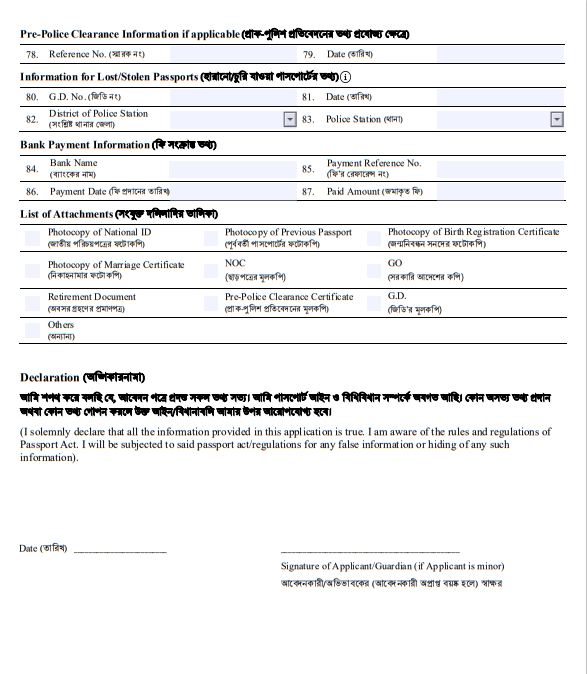 Next, come to Pre-Police Clearance Information. The information should be mentioned here if you have any pre-police report certificates. If not, then it need not be filled.
Now let's go to the information for lost passports; that is, if any passport has been stolen or lost before, the information about that passport must be provided here.
Next is the bank payment information. You must provide the bank details from which you want to pay your passport fee. The bank name, date of payment of the fee, payment reference number, and all the details of the deposited fee should be filled in properly. Then the last option is the List of Attachments.
As per this list, you need to pin up some documents along with this form and submit them. These are photocopies of your national identity card, a photocopy of your marriage certificate, a retirement certificate if you are a government employee, a photocopy of your previous passport, a photocopy of your birth registration certificate, an original copy of clearance by NOC, and other documents that must be ticked.
Enter the date of filling out your application form below and see the Applicant's signature on the right side. If the applicant is a minor, signature of the guardian is required. If the applicant is an adult, the applicant must provide a signature.
Then you have to go to your passport office and submit it along with the necessary documents. But keep in mind that along with this, you must submit the Transaction slip to pay fees.
Required Documents for Applying for e-Passport
You must attach some documents with the application form to complete the application process. To apply for an e-passport in Bangladesh, you will need the following documents-
Existing passport (if you have one)
NID or Birth Registration Certificate
Old passport, if any (if lost or damaged, you need to provide a police report or GD)
A recent passport-size photograph
A filled-out passport application form
Payment receipt of passport application fee
For children under 18 years old, a parent's consent letter is required.
E-Passport Application Form Offline
The e-passport application process can be completed online and offline, depending on the applicant's preference. Even those uncomfortable with online applications can submit their e-passport application form offline.
In this process, the applicant has to download the e-passport application form from the Department of Immigration and Passports website, fill it out manually, and submit it in person to the designated passport office.
This way, the offline e-passport application form offers a convenient alternative for those who prefer a traditional, paper-based approach to submit their application.
E-passport Application Form Download
If you don't want to go through trouble online, the Bangladesh government has provided a facility to get a passport to fill out the offline application form. If you don't want to go online, you can apply for your passport by downloading a form offline.
You can download it from the Bangladesh Passport Directorate office website. But we have added a form here for your convenience. You can also download your complete passport application from here.
Passport Application Form Fill-Up Process Offline
Above, we have learned how to fill out the form for this passport application online. Now we will know step by step how you can print your form offline and fill it out. For this, see all the points below very well.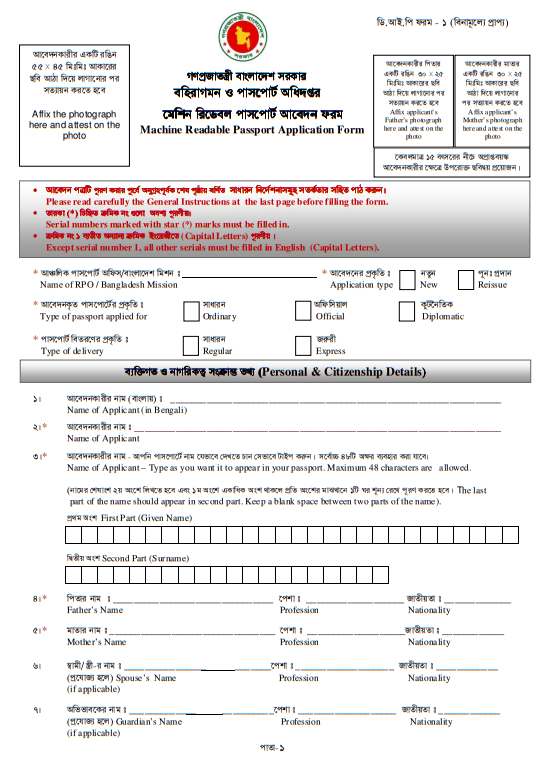 Here you will first see the details of the passport office. The passport office address you want to apply for your passport should be provided here.
Next is the nature of the application. Mark here whether you want to reissue or a new passport. This is the nature of the passport applied for, and what type of passport you want – ordinary, official, or diplomatic- you must select here.
Then you will see the type of passport distribution given. If you want to get your passport in normal condition, select normal. But if it is urgent, then you have to select express here.
Personal and Citizenship Information Section Applicant's name should be written in Bengali and English. After writing them, you will see below that there is an option to write the name in the form of a box.
Here the first part and second parts should be written. If your name is two or three words, you write the first two words in the first part and the second word in the second part. But remember that all letters here must be written in capital letters.
After that, you have to fill in your parental information very well. Then the names of the husband/wife and guardian's name, marital status, and occupation should be filled in very well. You have to be very careful about this information. You can follow their NID card and fill this section according to this information.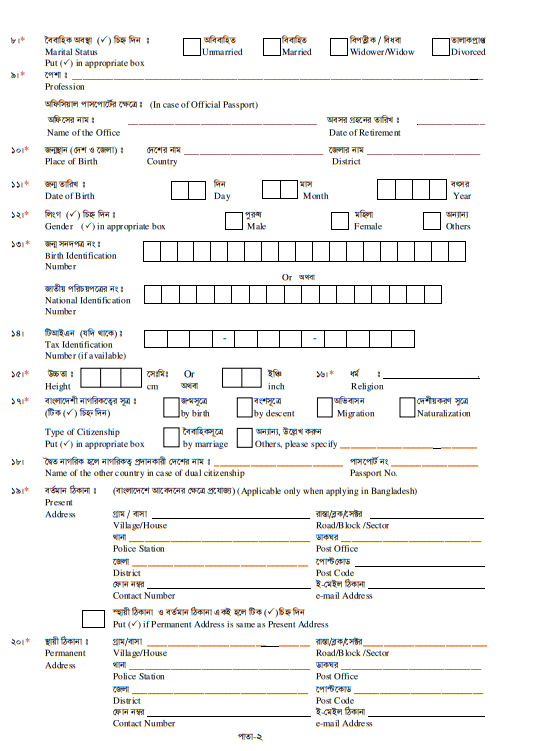 Then you will see that there is information on option number 9, that is, in the case of an official passport, if you want to get an official passport or are a government employee, then you have to write it here.
Next, options like the place of birth, date of birth, gender, birth certificate, national identity card number, TIN certificate number (if any), height, religion, and nationality should be filled in very carefully by looking at your NID and other documents.
Then options number 19 and 20 are the present address and permanent address. First, enter your current address. Fill in your current address details here very well. After that, if your permanent address is the same, you can check the box you see here.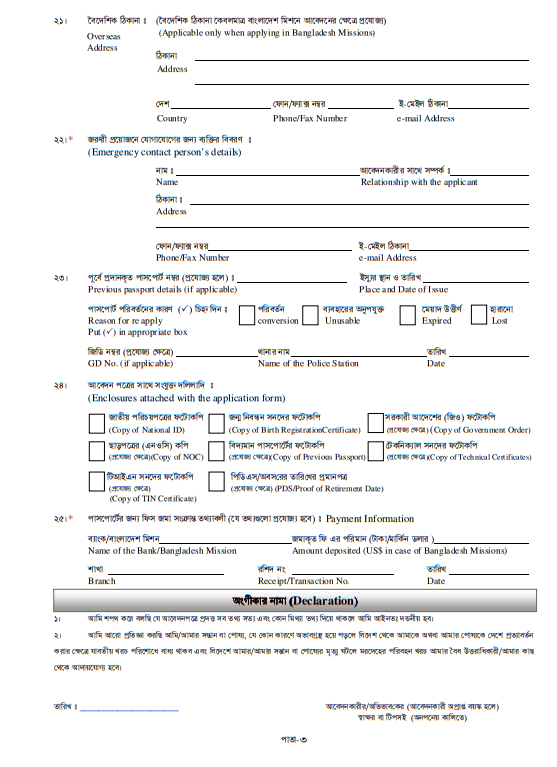 The number 21 is an option. You must fill in these details to get a passport from another country in Bangladesh Mission. If not, don't use it.
Now you will see the number 22 option for emergency contact. You should always fill in some information here to be contacted in an emergency.
Then you will see option number 23. If you have a previous passport, then the information related to that passport should be written here.
In option number 24, you will see the documents attached to the application form. Here your National Identity Card, photocopy of TIN (if any), photocopy of birth registration, photocopy of existing passport (if any), and all the other documents that will be required should be checked. They should be submitted at the time of submission of this form.
Then there is option number 2—format of information regarding fee submission for the passport. You have to write here all the information of the bank that you will deposit the fee for the passport or the bank from which you will deposit it. Remember that before applying for the passport, you must deposit the fee to the bank. You can also deposit the money or fee from the website that is given above.
In that case, if you go to the bank and deposit the fee, they will give you some documents to pay the fee at that time. According to these documents, you have to fill in the information here.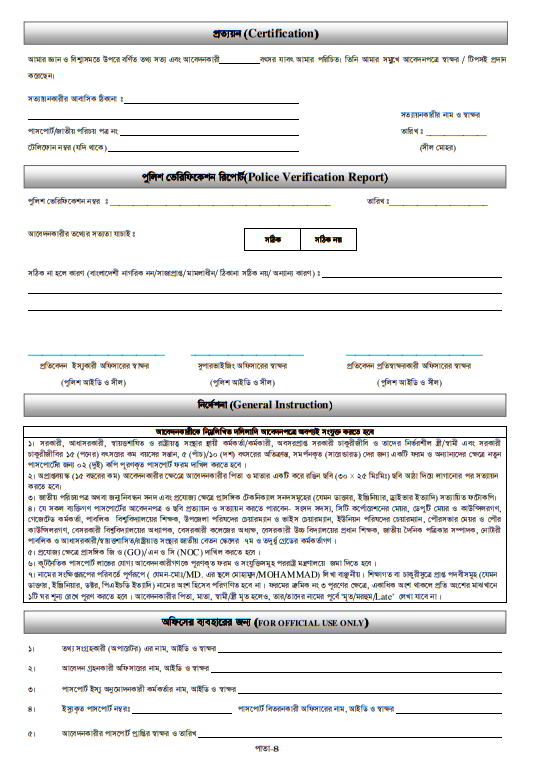 Enter the date and signature of the applicant below. If the applicant is a minor, the signature of the applicant's guardian is required.
Below is the Affidavit Section. You must complete this certificate at your nearest Union Parishad or Councilor office. Also, their signature and seal must be taken here.
Then there is the police verification report. In this report, you have to fill in the information related to your police verification.
However, the signature of the reporting officer, the supervising officer, and the reporting officer is required here. You have to complete filling it with their signature and seal.
Important Suggestions for Filling the Form
Here we have been given some bonus information for you that make the application form-filling process easier. Check those suggestions and confirm your application is right and acceptable. So, let's have a look below for these important suggestions.
Make sure to fill out all the required fields on the form. Any missing or incomplete information may delay or reject your application.
Ensure that all the information you provide is accurate and up-to-date. This includes your name, date of birth, contact information, and other personal details.
When uploading supporting documents such as photographs and signatures, ensure they are high quality and meet the specifications outlined in the instructions.
Before submitting your application, carefully review it to ensure all information is correct and complete. Once submitted, you may not be able to make changes.
The e-Passport Application Form requires a fee to be paid online. Follow the payment instructions carefully and keep a record of the transaction.
The e-passport application process in Bangladesh has greatly simplified the passport application process. With the introduction of the e-passport, applicants can now fill out the passport form online and easily complete the application process. The online system has reduced the time and resources needed for the application process.