The Machine Readable Passport (MRP) is the most common type of passport issued by the Bangladesh government. Ensuring the passport is valid and up-to-date before planning any international travel is important.
To check your MRP Passport online, you must visit the Bangladesh e-Passport Portal first; then, you must provide some required information like your Application ID and Date of Birth. Then click the search button to get your passport status easily.
MRP Passport Check BD
While getting the MRP passport, one has to check the MRP status to know everything related to whether there is any problem with the passport, etc.
MRP status can be checked in various ways. You can do this through mobile SMS or online if you want. If you want to do it through mobile SMS, you have to type a specific SMS and send it to a specific mobile number.
To check online, you must enter a link and search with your passport ID and date of birth. Then you can check. Let us know how to check MRP passports online and through SMS.
A few moments after sending the SMS, you will be informed about the status of your MRP passport which status your passport is now.
MRP Passport Check Online Process
Above we know how you can check your MRP passport through SMS. At this stage, we will know how you can check your passport online. Checking an MRP passport online is very easy and fast. Follow the below steps to check your passport online.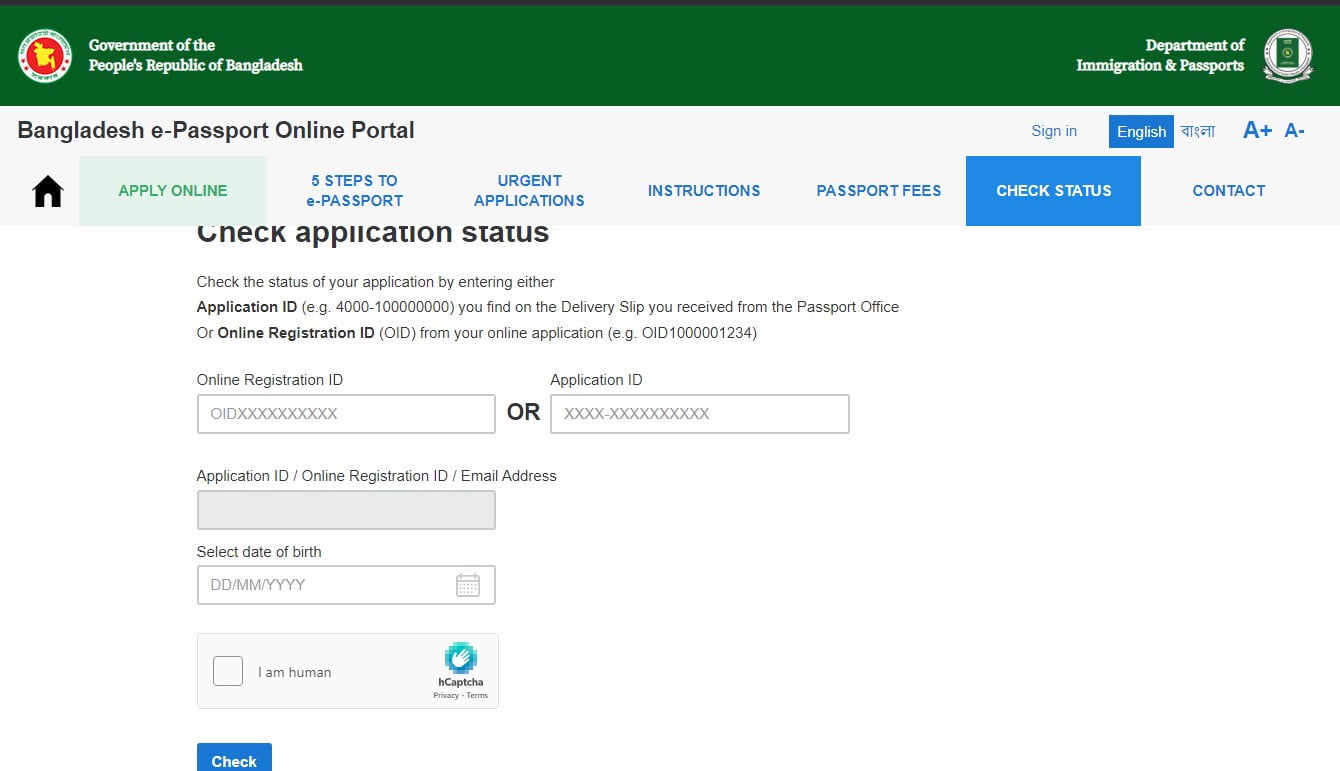 Here you have to enter the Enrollment ID of your passport.
Then write your Date of Birth below. You have to fill correctly and click on the search button.
Then all the information related to your MRP passport will come.
Here you can see the current status of your passport or when you will receive it etc.
You can also print this page if you want.
MRP Passport Check via SMS (Offline Process)
There is also a backup option to check your MRP passport status via SMS. If you don't have the opportunity to check your MRP passport online, then you can check this passport with your mobile phone. Here is the process; check it out.
First, go to the Message option.
Then enter MRP<space>your Enrollment ID.
Then send it to 6969.
Check the below example for more clearance.
Example: MRP DH45362548 and send it to 6969.
Note that there's a slight difference between the E-passport Check and the MRP passport check.
The difference between an e-passport and an MRP passport is that an E-passport is a modern document with an embedded microchip within its cover. On the other hand, a machine-readable passport may lack a microchip. So don't be confused.
FAQs About MRP
Many people have small questions regarding the MRP passport, which are very important. We have collected and answered some frequently asked questions related to such MRP passports. You can view them below.
What is MRP Passport?
MRP stands for Machine Readable Passport. This type of passport has a machine-readable area at the bottom of the personal information page containing the holder's biometric information, such as photo, name, date of birth, and passport number.
How do I apply for an MRP passport in Bangladesh?
To apply for an MRP passport in Bangladesh, go to the official website of the Immigration and Passport Authority and follow the instructions. You can also apply in person at a local passport office.
What are the requirements to apply for an MRP passport in Bangladesh?
The requirements for applying for an MRP passport in Bangladesh include a completed passport application form, two recent passport-sized photographs, a copy of your National ID card, and payment of the applicable fee.
How long does it take to get an MRP passport in Bangladesh?
The processing time for an MRP passport in Bangladesh depends on the type of application and the amount of work done by the passport authorities. However, receiving your passport usually takes 7-21 business days.
How much does it cost to obtain an MRP passport in Bangladesh?
The cost of an MRP passport in Bangladesh depends on the passport type and the application's urgency. For a regular MRP pass, the fee is 3,500 TK. However, fees may vary depending on the passport type and the application's urgency.
Can I renew my MRP passport?
Yes, it is possible to renew your MRP passport. You can renew your passport by submitting a renewal application, two recent passport photos, a copy of your ID, and paying the appropriate fee. The renewal process is generally faster than the initial application process.
What should I do if my MRP Pass is lost or stolen?
If your MRP passport is lost or stolen, please report it immediately to the nearest passport office or a police station. To obtain a new passport, you must submit a lost or stolen passport application along with a copy of the police report and payment of applicable fees.
Verifying the validity of your MRP passport is an important step in ensuring hassle-free travel. An online MRP passport administration system provided by Bangladesh Immigration and Passport Authority allows an individual to verify the authenticity and validity of her MRP passport.
The process is easy and can be done anywhere with an internet connection. It is important to note that the individual should always double-check the information in her MRP passport to ensure accuracy and avoid potential problems while traveling.