Nowadays, we can purchase tickets online. Many of us may have already purchased tickets online and not know enough about the process. Online ticket purchasing has become very popular due to the advancement of information technology.
However, buying train tickets online can be new and confusing for many. To clear this confusion, we will provide step-by-step detailed information about the online ticket purchase process so that any of us can purchase our tickets online confidently and without any worries.
From purchasing train tickets to registering on the website, this article provides detailed information to make the process easier.
Train Tickets BD
Train ticket booking in Bangladesh can be done through various methods, including online platforms, ticket counters, and authorized travel agencies. Here's a brief overview of the different options:
Online Booking Platforms: Several online platforms in Bangladesh allow you to book train tickets conveniently. Some popular platforms include

Shohoz

, Bangladesh Railway e-ticketing, and railway.com.bd.
Bangladesh Railway Counter: If you prefer to book tickets in person, you can visit the ticket counters operated by Bangladesh Railway.
Authorized Travel Agencies: Some travel agencies in Bangladesh have authorization from Bangladesh Railway to sell train tickets. you can visit their offices or contact them to inquire about ticket availability.
Online Train Ticket Booking
Online train ticket booking offers several advantages over traditional ticket booking methods. Firstly, it is much more convenient as passengers can book tickets from anywhere, anytime, without physically visiting the ticket counter.
Again, online booking offers better availability and a wider range of options. Passengers can easily compare prices and choose the best option according to their budget and travel preferences.
Online booking offers more transparency, as passengers can view seat fares and locations in real time.
Buy Train Ticket Online 2023
Purchase Train Ticket Online From Bangladesh Railway Web Portal Through Shohoz:
To buy train tickets online from Bangladesh Railway Web Portal through Shohoz, an online ticketing platform in Bangladesh, you can follow these simple steps:
Visit the Shohoz website using a search engine or type "www.shohoz.com" directly into your web browser.
On the Shohoz homepage, you will find a search bar or section for train ticket booking. Click on the train ticket option.
Enter your departure station, destination station, and travel date in the fields provided. Click on the "Search" or "Find Train" button.
Shohoz will display available train options for your selected route and date. You can view details like departure time, fare, and seat availability.
Select your preferred train and travel class (AC, Non-AC, Sleeper) based on your preference and availability. Now, Click the "Select" or "Book Now" button.
You may be asked to log in to your Shohoz account or create a new account if you don't have one, Follow the on-screen instructions to register.
Now, Review your selected train journey details and ensure they are correct.
Proceed to the payment section. Shohoz offers various payment methods, such as credit/debit cards, mobile wallets, or online banking.
Choose the payment method that suits you best, enter your payment details as required, and complete the payment process.
After your payment is successful, you will receive your ticket booking confirmation. This confirmation will include a unique booking reference number and your travel details.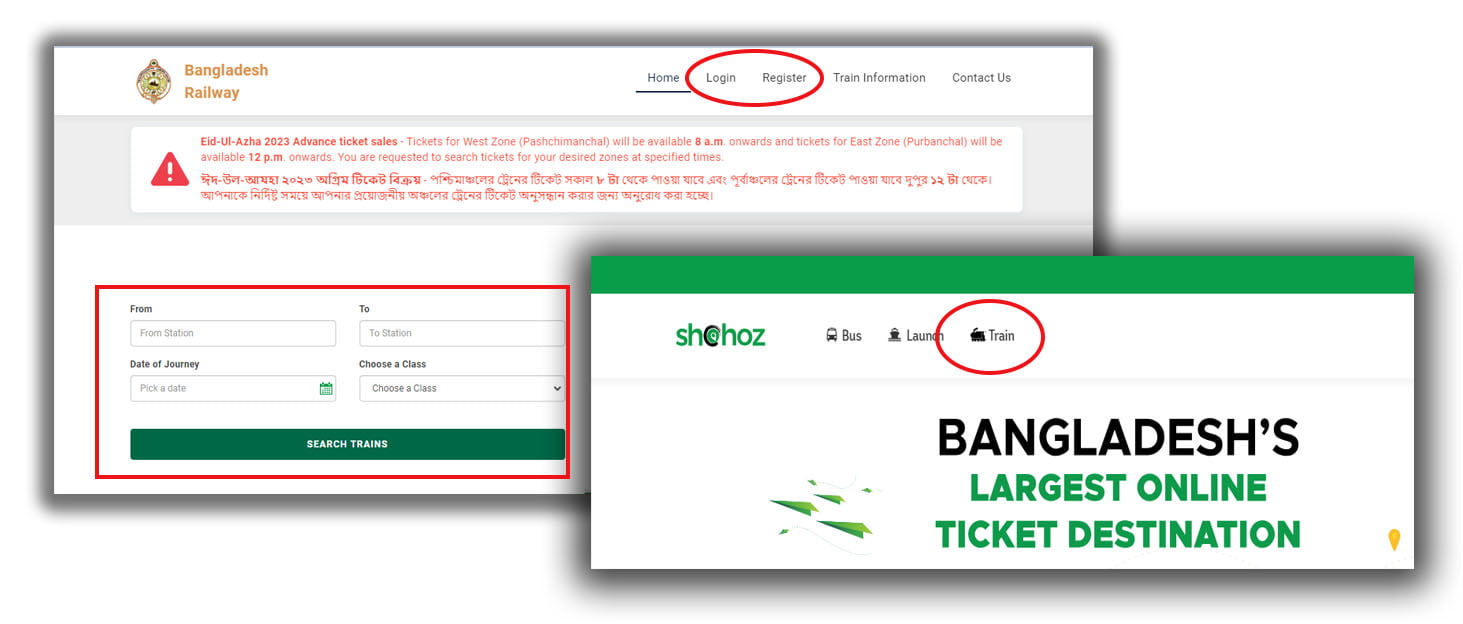 Finally, save or print the confirmation for your reference. Some platforms may also provide an option to download an e-ticket you can present during your journey.
Suppose you face any problem during the booking process or have queries about Shohoz's website. In that case, visiting their official website or contacting customer support for detailed instructions and assistance is best.
Bangladesh Railway Online Train Ticket Booking Time
Bangladesh Railway online train ticket booking time depends on train outgoing time and class of travel. Generally, online booking for Bangladesh Railways opens 10 days before the train's outgoing date for all travel classes.
For example, if a train is scheduled to leave on 15th May, online ticket booking will open on 5th May. still, there are some exceptions for certain trains, where bookings may open 10 days before or latterly.
Bangladesh Railway's online booking system is available 24 hours a day, 7 days a week, except during listed conservation or system upgrades. Still, booking your tickets in advance, especially during Eid and holidays, is best as train seats can sell out quickly.
Eid-ul-Azha Advance Online Ticket Sale Schedule 2023
Many return to their hometowns to celebrate Eid-ul-Azha, the biggest event for Muslims worldwide, with family and loved ones.
Bangladesh Railway officials have organized special trains during the Eid holidays to facilitate this.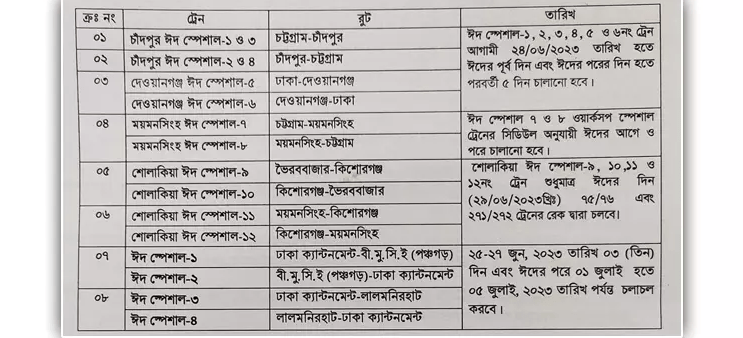 A total of 14 Eid special trains will run this Eid. 4 of them will run on the Chittagong-Chandpur route, and 2 will run on the Dhaka-Dewanganj Bazar route.
Again, 2 were on the Chittagong-Mymensingh route, and the last 2 were on the Sylhet-Chandpur route as an Eid special. An action plan is taken by Bangladesh Railway on the occasion of the upcoming Holy Eid-ul-Azha/2023
BD Train Schedule
The train is the most comfortable way to travel. A large number of people travel by train every day. Trains are a comfortable as well as cost-effective means of travel. So people look for train tickets while going from here to there.
But people miss the train due to not knowing the train schedule. Don't worry; you will not gonna miss your train. here, you will get all the train schedules.
Eastern Zone Train Schedule
The Eastern Zone encompasses several districts and areas, including but not limited to Sylhet, Moulvibazar, Habiganj, Sunamganj, Brahmanbaria, Comilla, Feni, and Noakhali.
It includes various routes, stations, and train services that connect the cities and towns in the Eastern Zone. Here are some of the railways and Train Schedule in the eastern part of Bangladesh:
Dhaka-Sylhet Route.
Dhaka-Chittagong Route.
Sylhet-Chandpur Route.
Comilla-Brahmanbaria Route.
Western Region Train Schedule
The Western Zone comprises several districts and areas, including but not limited to Rajshahi, Khulna, Jessore, Kushtia, Chuadanga, Meherpur, and Jhenaidah. Here are some of the railways and Train Schedule in the western part of Bangladesh:
Dhaka-Rajshahi Route.
Rajshahi-Khulna Route.
Khulna-Benapole Route.
Rajshahi-Chapainawabganj Route.
Schedule Of Inter Country Passenger Trains
Day
Bangladesh To India
India To Bangladesh
Friday
Maitri Express (3107)
Maitri Express (3109)
Saturday
Maitri Express (3110)
Maitri Express (3108)
Sunday

Bandhan Express (3130)

Maitri Express (3107)

Bandhan Express (3129)

Mitali Express (3132)

Monday
Mitali Express (3131)
Maitri Express (3108)
Tuesday
Maitri Express (3107)
Maitri Express (3109)
Wednesday
Maitri Express (3110)
Maitri Express (3108)

Mitali Express (3132)

Thursday

Bandhan Express (3130)

Maitri Express (3110)

Bandhan Express (3129)
BD Train Ticket Price 2023
Bangladesh Railway divides all routes geographically into two zones. One is the eastern region, and the other is the western region. Between these two regions is Dhaka, the capital of Bangladesh.
The important stations in the eastern region are Chittagong, Sylhet, Srimangal, Chadpur, Jamalpur, Laksam, Comilla, Brahmanbaria, Akhaura, Joydevpur, and Feni, etc.
And the stations in the western region are Khulna, Rajshahi, Dinajpur, Jaipurhat, Tangail, Chapai Nawabganj, Joydevpur, Darshana and Chuadanga, etc.
Bangladesh Railway Train List And Ticket Price West Zone
791/792 Banalta Intercity Train Fare List (VAT Included).
61/61 Dinajpur Commuter Train Fare List.
57/58 & 77/78 Intercity Rajshahi Commuter Train Fare List.
53/54 & 95/96 Intercity Commuter Train Fare List.
Fare List of Intercity Train No. 767/768 Dolanchampa Express.
Fare List (Excluding VAT) of No. 727/728 Rupsa and No. 747/748 Seemamatma Intercity Express Trains.
705/706 Ekta and 757/758 Dratyan Intercity Train Fare List (VAT Excluded).
765/766 Nilsagar Intercity Train Fare List (excluding VAT).
Fare List of No. 751/752 Lalmoni and No. 771/772 Rangpur Express Intercity Trains (VAT Excluded).
Bangladesh Railway Ticket Price East Zone
Bangladesh Railway operates various types of trains, including intercity, mail express, and local commuter trains in the eastern region.
Intercity trains are faster and have fewer stops, making them ideal for long-distance travel, while Mail Express trains connect different towns and cities in the region.
Local commuter trains serve short distances, allowing residents to travel easily between nearby areas. Here is the price list of all the train tickets in the Eastern region – east zone pricelist.
Last Words
In conclusion, online ticket booking saves time and effort by eliminating the need to visit physical ticket counters. Passengers can compare train options, choose their preferred class and seat and make secure payments online.
This allows more flexibility in planning travel itineraries, as passengers can book tickets in advance or at the last minute, depending on availability.
By embracing online ticket booking, Bangladesh Railway aims to simplify the ticketing process, reduce station queues and increase overall customer satisfaction.