The Primary Education Stipend Program primarily provides financial assistance to students from underprivileged backgrounds. A user ID and password are required to log in to PESP as a student.
Usually, the mobile number of the school headmaster to which the student is enrolled is used as a user ID, and a common password is given with the ID. After login in, students can change the common password.
About PESP Finance Gov BD
The Full form of PESP is the Primary Education Stipend program, a government initiative in Bangladesh aimed at promoting primary education and providing financial assistance to economically disadvantaged students. It is a form of a social safety program that aims to reduce poverty and increase access to education for vulnerable children.
Under the Primary Education Stipend program, eligible primary school students receive a stipend or cash transfer from the government to support their education expenses. The program targets children from poor and marginalized families who face financial barriers to attending school regularly and completing their primary education.
The stipend amount varies depending on the grade level and gender of the student, with higher amounts provided to female students to promote gender equity in education. The program is implemented through the Ministry of Primary and Mass Education in collaboration with other relevant government agencies and local government institutions.
PESP Student Portal
The Primary Education Stipend Programme student portal serves as a centralized platform for students to access information and resources related to the program. To access the portal, students need to log in with their username and password, which are provided to them upon enrollment in the program.
Once logged in, students can benefit from a wide range of features and resources to assist them in their educational journey. The program provides financial assistance to students, which helps cover tuition fees, books, uniforms, and other educational expenses.
This alleviates the financial burden on students and enables them to focus on their studies without worrying about financial constraints. By providing financial assistance, the Primary Education Stipend Programme encourages students to pursue their education and empowers them to overcome socio-economic challenges.
PESP Login Process 2023
The Primary Education Stipend Program necessity arises from ensuring that every child has access to quality education, regardless of socioeconomic background. Now let's see the full process of how to log in as a student.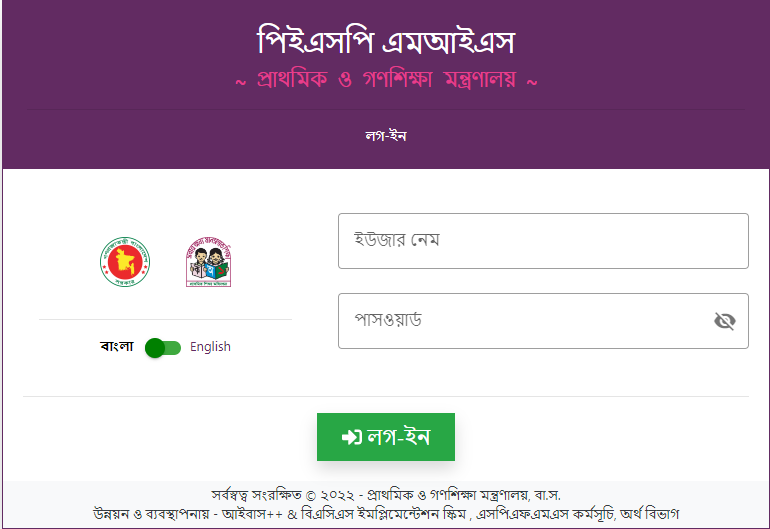 After entering here, a user ID and password will be asked for. Provide the mobile number of your school headmaster as a user ID and have a common password as a password. That is sha123. Try this password first. This is a common password for login into PESP for everyone. But if it is impossible to log in with it, then know the matter to your head teacher.
After login, a new interface will appear. First, you will see the password setup option on the right side. A new password needs to be set up here.
As a password, a password of eight digits must be created, consisting of English capital letters, small letters, numbers, and symbols.
Create the password and put it in the password box, and put the same password in the box below.
Then click on the save button.
Then your password will be set.
Once the password is set up, your account will be created. You must remember your school headmaster's mobile number and currently generated password for subsequent login to this account.
PESP Data Entry Process 2023
Proper data entry ensures transparency and accountability in the administration of the PESP. It helps keep track of the stipend disbursed to each beneficiary, monitor their attendance and educational progress, and identify any discrepancies or irregularities. Now let's take a look at all the procedures on how to enter data in PESP.
To enter data from PESP, first, enter the PESP student portal with a user ID and password.
After login, a dashboard will appear.
There will be information on many topics here.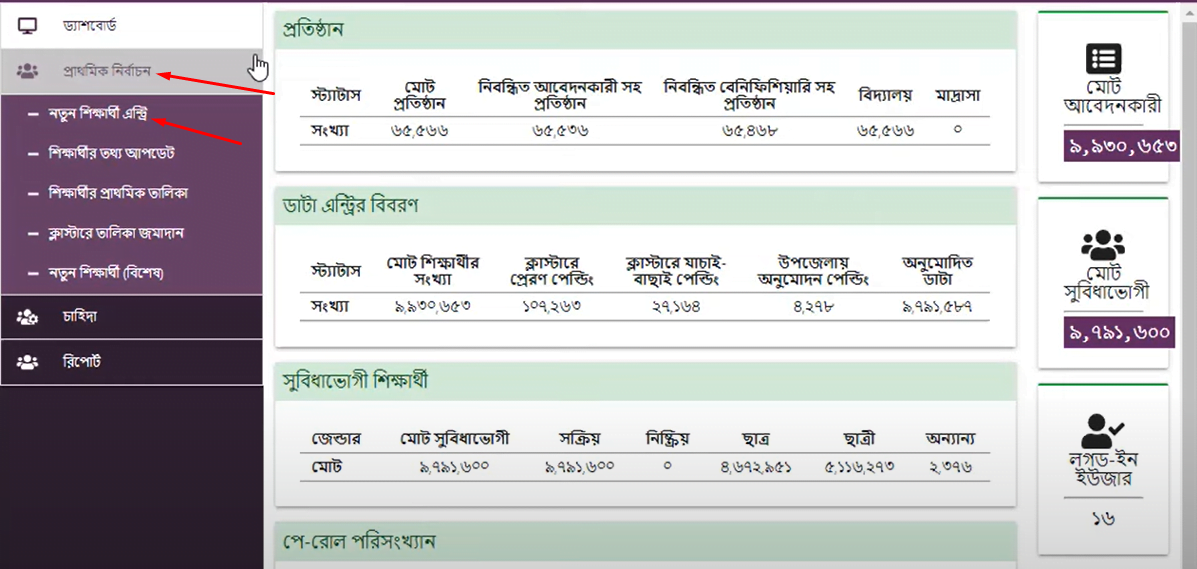 Information such as how many people have entered the data will be provided.
Then on the left side, you will see many menus.
From here, click on the initial selection button and click on the new student entry option.
If the student has special needs if he/she has a disability, then click on New Student (Special) option here.
Then a form will appear for data entry.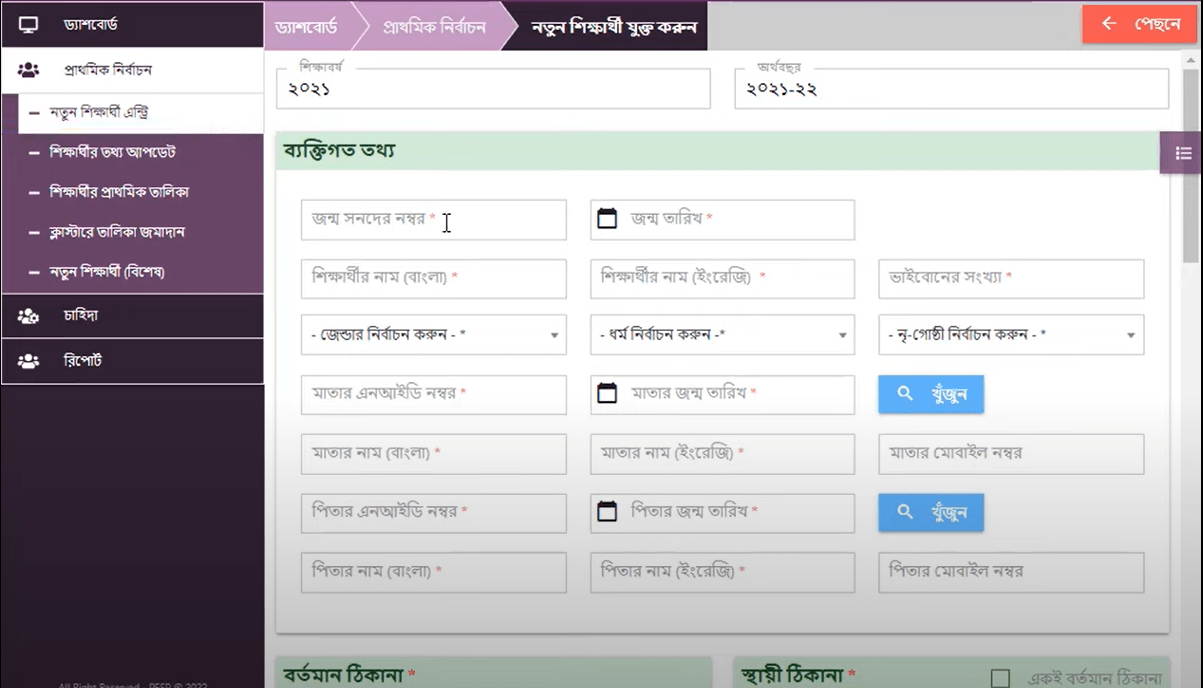 The information regarding the student's personal information, address, guardian information, and payment details should be filled in very well.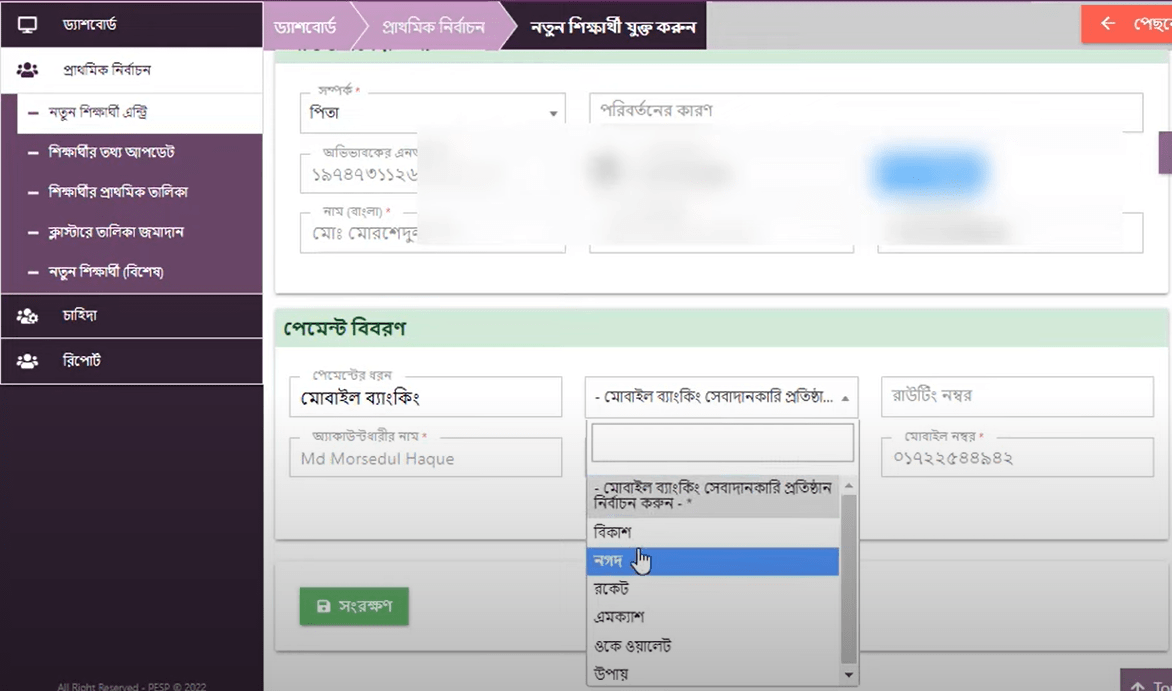 After giving this information, check it carefully and click the save button. Only then the data entry work will be completed.
Conclusion
The Primary Education Stipend Programme is necessary to address financial barriers, reduce drop-out rates, promote inclusivity, empower students, and contribute to socio-economic development. It plays a crucial role in ensuring that every child can receive a quality education, regardless of their socio-economic background.