To apply for a PPC or Police Clearance Certificate
Police clearance in Bangladesh is a certificate issued by the Bangladesh Police to certify that a person has no criminal record in Bangladesh.
It is often required for various purposes such as employment, study abroad, immigration, etc. You can easily apply online for a police clearance certificate from the police clearance website in Bangladesh.
Police Clearance Certificate (PCC) Apply In Bangladesh
PCC – Police Clearance refers to a certificate produced by the police to prove your innocence. That is, a police clearance is a certificate issued by the police confirming that you are not involved in any wrongdoing or are not associated with any criminal.
The certificate issued to the police to produce such evidence is the Police Clearance Certificate. Now let's go to know the step on step how you can apply online for a police clearance certificate and get it.
Requirement of Police Clearance Certificate
Employers may require a police clearance certificate to ensure their potential employees have no criminal record, particularly if they work with vulnerable populations such as children or the elderly.
Some universities and colleges may require a police clearance certificate as part of the admission process, particularly for courses that involve working with children or vulnerable populations.
The immigration authorities of a country may require a police clearance certificate as part of the visa application process. This ensures that the applicant does not pose a security or criminal threat to the host country.
Some countries may require a police clearance certificate from visitors planning to stay for an extended period, particularly those planning to work or study in that country.
Documents Required to Apply for Police Clearance
If you want to apply to get a police clearance certificate, then you have to collect some documents. You have to upload them online if you apply online. If you apply to the nearest thana, you must collect the photocopy and the main copy of those documents below.
Passport with at least 3 months validity.
Applicant's present or permanent address as per passport should be under the jurisdiction of any Metropolitan or District Police.
Regarding Bangladeshi citizens staying abroad, the Bangladesh Embassy in the concerned country attests a scanned copy of the passport information page.
Scanned copy of passport information page attested by Justice of Peace in case of foreign nationals.
Online or Offline Challan of Tk 500 from any Branch of Bangladesh Bank/ Sonali Bank (Police Clearance Challan Code: 1-7301-0001-2681). You can pay the invoice online through a credit/debit card and BKash.
How to Get a Police Clearance Certificate?
Above we know about police clearance and its requirements, but now we know how to get it. If you move abroad or join any major civil service in the country, you will need a police certificate. In this case, you have to apply for a police clearance certificate.
You can apply by visiting the police station located in your district and at your permanent address. Before making the application, you must go there with some necessary documents and go and inform them to apply for police clearance. In this case, they will give you a form to apply for police clearance. You have to fill that form correctly.
You must complete the application by correctly filling it out, paying the specified fee, and submitting the required documents. After some time, like 10-15 days, you will be issued the police clearance certificate.
To get the police clearance certificate, another way is to apply online. You can get the police clearance certificate by applying online. In this case, you must enter the website online, fill out the form, and upload the documents. After filling out the form, you must contact your local police station.
Police Clearance Application Online Application
Now let us know how to apply police clearance certificate online. To apply for police clearance online, you need to follow every step given below carefully.
Keep a close eye on all these steps so that no point is missed because every point here is important. So let's start with how we can apply for police clearance online.
Step 1
To apply for Police Clearance, the first step is to register an account. For this, you need to visit the official website of Bangladesh Police Clearance.
After visiting this site, you need to click on the registration button from the left side of this page. After clicking on the registration button, you will get a form. In this form, you need to fill in the correct information.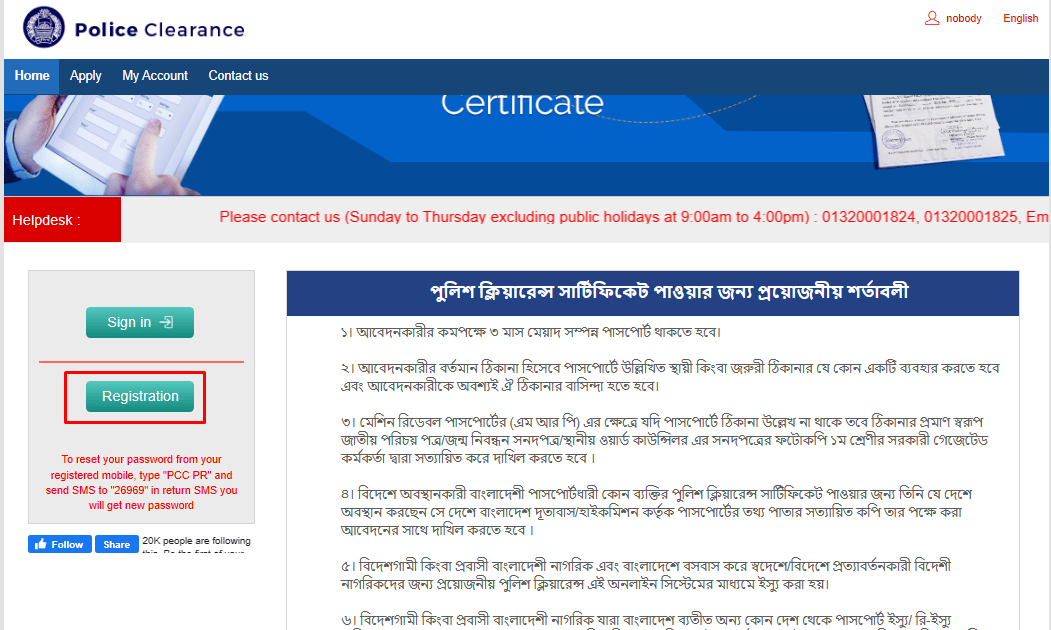 Here you have to write your name, mobile number, and national identity card; if you have an email, you have to give that email address here.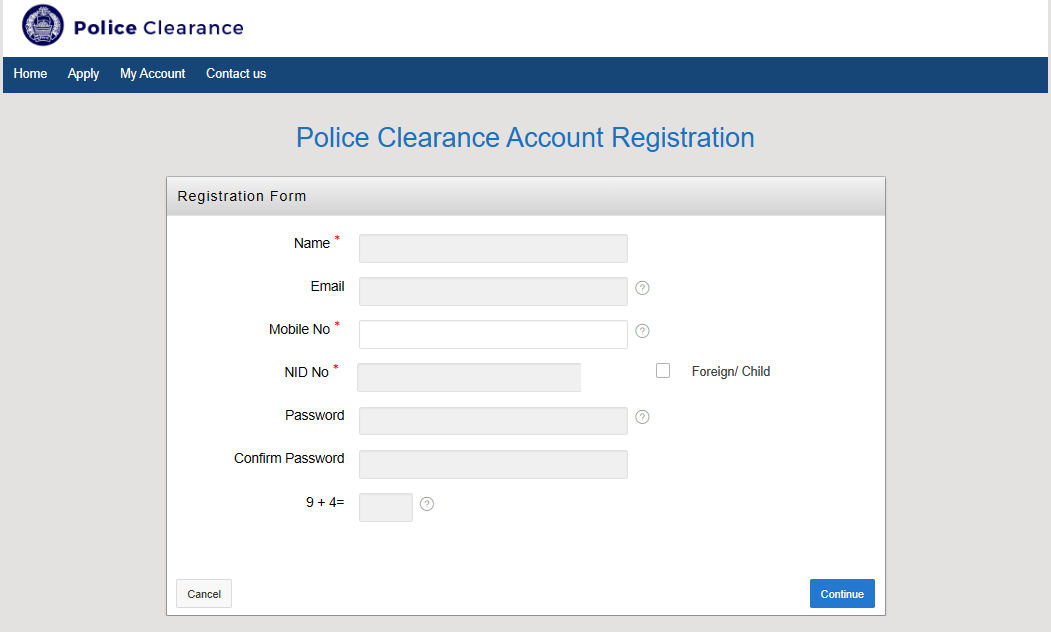 Check the Foreign/Child option on the right side if you are a foreign national or a child. And if not, then it should not be given.
Then below, you will see there is a captcha. Fill this captcha correctly and click on the continue button.
Step 2
In this way, you have to verify your mobile number. When you fill in the information above and click the continue button, you must verify your number from your mobile.
In this step, you will receive a code for mobile number verification.
This code is PCC AV 6154. Now you need to verify this code from the mobile number you provided. For this, you must go to the message option on the mobile. Then type PCC<space>AV<space>6154, then send it to 26969.
Step 3
If your account is successfully verified, you will get Your account is successfully verified SMS. Sign in with your mobile number and password.
Click Apply from the top menu bar. Here you have to choose why police clearance is required. If applying for police clearance to go abroad, select the name of the country to go abroad. For other requirements, the written application cannot be done online.
Step 4
In this step, you need to fill in your personal information. Here you have to fill in all the information related to your Passport Number, Business Country, Issue Date, Issue Place, Expire Date, Mobile Number, Email, NID Card, Name, Father/Husband Name, Relationship, Mother Name, and Date of Birth. Then upload your scanned photo here.
Next, you need to come to the Emergency Contact section. Here you need to provide an active address so you can be contacted anytime in an emergency.
Then below, you will see the Permanent Contact section. Here you have to mention your permanent address well.
Step 5
After completing the above steps, you should come to this step. Here you have to upload some necessary documents like- National Identity Card, Birth Registration or Councillor's Certificate, Passport, etc. But these documents must be scanned on your device.
Upload these documents and click on the Save and Continue buttons. After doing this, your complete information will be seen in a preview form.
Here you can understand whether your information is correct or not. Check the information you provided here very well. If there are any mistakes, correct them again. If all the information is correct, then your application will be completed.
Police Clearance Certificate Fee Payment
After applying, you can pay the fee from this page. It is better to pay the fees from here because offline payment may take time. So from here, you can complete the fee payment process. Click Here to Pay to pay the invoice.
Sonali Bank's online payment gateway will be opened at this stage. You can pay bills from a Sonali Bank account, debit or credit card, and mobile banking services – Bikash, Rocket, Nagad.
Once the fee payment is done, a certificate of translation id will come easily. You have to keep it with the screenshot. You have to upload it to the place of the next run with the screenshot step and upload the PDF file of the invoice.
To upload the Challan, go to the My Account menu and click on the Upload Challan button.
Select Bank Name- Sonali Bank, District, Branch. Then, enter the challan submission date and number and click Check Challan.
If you see the depositor's name, you will know that the invoice has been updated. Upload the downloaded PDF file to the Document File option on the right when the invoice is updated.
If you pay the invoice through Sonali Bank Bill Payment System, you can instantly upload the invoice and do Payment Verification. And if payment is made through the treasury office offline Challan, it should be uploaded the next day. Then your fee payment will be done.
How Long Will It Take To Get a Police Clearance Certificate?
How long it will take to get the police clearance certificate is totally up to you. You can get the police clearance certificate within 7 to 10 days if you have no case or involvement in any crime.
But if you have trouble somewhere or are involved in a crime, you may get it delayed. So it will depend on how many days you will get the police clearance certificate.
A police clearance certificate is an important document that verifies an individual's criminal history or the lack of it. It is a crucial requirement for various purposes, including employment, education, immigration, and travel to certain countries.
Obtaining a police clearance certificate involves submitting an application form, providing necessary documents, paying a fee, and waiting for the authorities to conduct a background check.