A Prottoyon Potro is significant for Education, Working, and Social life. Government jobs require application attestation by two first-class service members and various other certificates before joining.
Similarly, private jobs often demand specific certificates. Even in social life, certificates like nationality certificates become crucial in proving one's citizenship.
Prottoyon Potro
A Prottoyon Potro is a document that certifies a particular characteristic of a person, such as character. Another reputable person can attest to a person's character. That is, he can guarantee that a person's character is beautiful.
The certificate should always be in the designated pad of the certifying organization or person. It must bear the signature and seal of the concerned person.
A simple example of a Prottoyon potro will make the point more straightforward. You must have a certificate if you change any school in your childhood or appear for the SSC exam from any school.
It contains some trivia about your studentship and character. In most cases, this is the first certificate in the life of an ordinary Bangladeshi citizen.
Type Of Prottoyon Potro
Prottoyon Potro can be of many types. However, some of the most common certificate types are mentioned below.
Character certificate
Nationality certificate
Tribal Charter
Certificate of Annual Income
Monthly income certificate
Marriage certificate
Unmarried Certificate
Remarriage Certificate
Unemployment certificate
Landless certificate
Orphan certificate
Apart from this, there are numerous other types of certificates. Different organizations require different types of certificates as per their requirements.
Necessity For Prottoyon Potro
The need for certification is highest in education and employment. However, apart from this, the need for various certificates also arises in personal and social life. The requirement of Prottoyon Potro is discussed in some detail.
Necessity For Education: Certificates are present at every stage of educational life. A certificate from the headmaster is also required for simple tasks such as changing schools or taking admission to colleges.
Apart from this, in the case of co-curricular activities, sometimes a certificate from the school teacher or head teacher may be required.
In the case of higher education, a certificate is usually not present but can be obtained by applying.
Necessity For Working Life: The requirement of a Prottoyon Potro is the most in working life. Most government jobs require attestation of applications by at least two first-class service members.
Then, various certificates are required before joining the job, which varies from job to position. Almost the same experience has to be faced in the case of private employment.
Necessity For Social Life: Apart from institutional and job life, many civil life certificates, such as nationality certificates, are required.
This is an attestation letter that will help prove your nationality. That is, sometimes, this certificate may be required to prove whether you are a citizen of Bangladesh or not.
In some cases, Prottoyon Potro is also required in social life, such as a marriage certificate. In Bangladeshi society, marriage can usually be proved by showing a marriage certificate.
However, getting a separate marriage certificate is possible if you want. There is also a provision for remarriage, even for unmarried people.
Apart from this, various certifications may be required in various ways. There is nothing to do except to approach the concerned authority to get the certificate as needed.
Prottoyon Potro Writing Rules
A written application may be required as the certificate is always obtained from the concerned authority or a reputable person. For that, you must know how to write the application form correctly.
In the case of the application form, education life comes first. You will get a certificate on completion of secondary education.
However, the application should be written if the certificate is required for any other reason. A sample of this is shown below-
10/06/2023
To
The Headteacher,
X Higher Secondary School,
Mirpur, Dhaka.
Subject: Application for Educational Prottoyon Potro.
Sir,
It is my humble submission that I am a regular student of your school. Apart from my studies, I will also attend co-curricular activities at the school.
I am willing to participate in the upcoming "Bangladesh Mathematics Olympiad" to maintain that trend.
I hope that by participating in the Olympiad, I will be able to shine the name of this institution. But I need a certificate from the head of the institution to participate in the said Olympiad.
Therefore, I will be grateful if you consider my application and provide me with a certificate to participate in "Bangladesh Maths Olympiad."
Your Obligatory Student
Name
Prottoyon Potro Application Online Process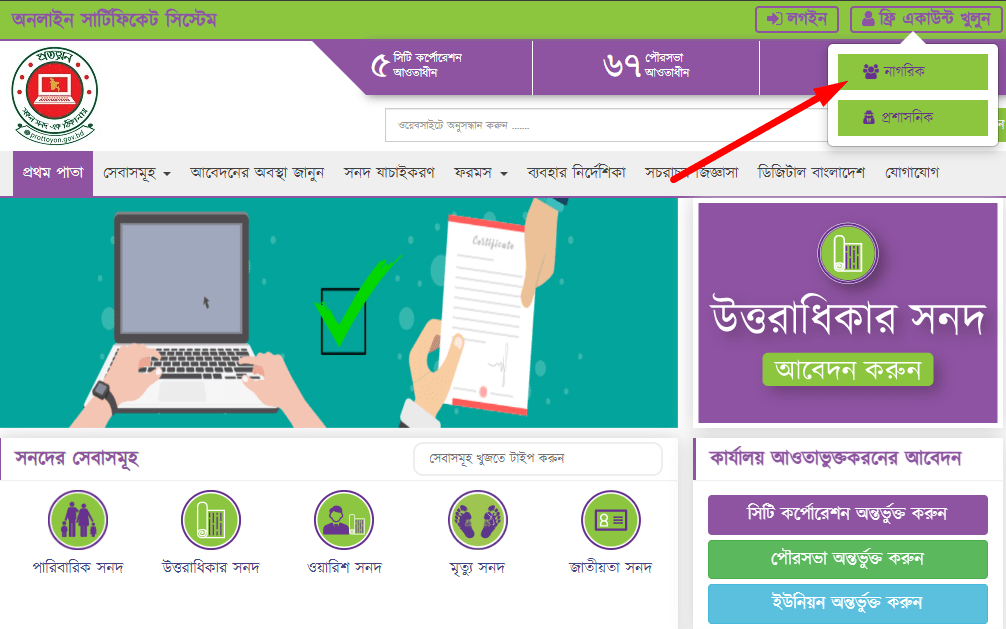 Visit this site to see what services they offer.
You must first open an account on this site to use its services. Account opening is completely free.
To open an account, click the Open Free Account button on the top left side of the site, and two options will appear.
Click on the Citizen button to go to the next page.
You can open an account there with your national identity card number, date of birth, and mobile number.
In that case, you must fill in your name in English and Bengali.
An email address and mobile number must be provided.
Then, please create a password and confirm it.
Finally, a captcha code has to be filled in and registered.
After opening the account, you can apply for the certificate online.
In this case, log in to the account first. Then, select the certificate you want by clicking the Site Services drop-down menu.
You will need a variety of information to apply for a certificate. For example, to apply for a succession certificate, you will need-
Your photo
Your NID card
Name of your parents
Your current address
Your permanent address
Details of the deceased
Description of Warish
But the first 5 facts are enough to apply for a character certificate. That is, the required information will vary depending on the application.
As a result, the application process will also be different. However, all applications shall have a means of specifying the language of the certificate, the means of delivery, the level of requirements, and the means of payment of service charges.
You can use various credit and debit cards, internet banking, and mobile banking methods to pay the application fee.
Your application will go to the concerned authority if the payment is successful. Then, if they approve the application, you can collect your certificate.
Prottoryon Potro Collecting Process
There are two ways to collect government certificates. You have to specify the method at the time of application.
Suppose you want to collect the certificate at the municipality or union council personally. If you wish to receive it by post, please specify. But it will take a little longer to receive by post.
Remember that you can only collect your application once it is approved. To know the current status of the application, click on the Know Application Status tab on the site.
You can check the status of your application by entering your application ID number and clicking on the Search button.
If the certificate is urgently needed, you can directly request it from the councilor or chairperson's office.
FAQs
Do I have to pay any fee to pick up the certificate?
Ans: It depends on where you are collecting the certificate from. If the employee is removed from the company, then nothing is required. But to collect the government certificate, the prescribed fee has to be submitted.
Can I download the soft copy of the certificate from the Prottoyon Potro site?
Ans: Yes, you can.
Is there any way to verify the government certificate?
Ans: To verify the certificates obtained from Prottoyon Potro online service, you can go to its site and click on the Certificate Verification button to get the certificate verification method.
In this case, your certificate will require an application ID or certificate number.
Final Words
A Prottoyon Potro serves as a document that certifies specific characteristics of an individual, particularly their character. It is attested by a reputable person who can vouch for the person's positive character traits.
The certificate is typically stored in the designated pad of the certifying organization or person and includes their signature and seal.