Many of us have become voters but have not yet received the smart card. Often in daily activities, we need a smart card, and a NID card is needed.
Without it, many tasks get stuck. That's why the smart card is very important to us. But there is a little delay in providing it from the election office. That's why we download smart card and use it for our needs. But there are several processes to download smart cards which we all don't know well. Today's discussion is about that.
There are several methods to download NID copies or smart cards online through which you can easily download smart cards and perform any task. It has several systems. The systems are discussed in the sequence below.
Smart NID Card Download BD
To download your smart card, you must complete a registration process first. After completing the registration process, you can open an account, and with that account, you can download your smart card.
There already given all the processes for downloading NID or Smart Card. Please continue following the process attentively.
How To Check Smart Card Online
If you want to download a smart card, then you have first to check your smart card online. Let's learn how to check smart cards or NID cards online.
To check your smart card online, first, you need to visit the Bangladesh Election Commission website.
After entering this website, you will see a page like the below picture.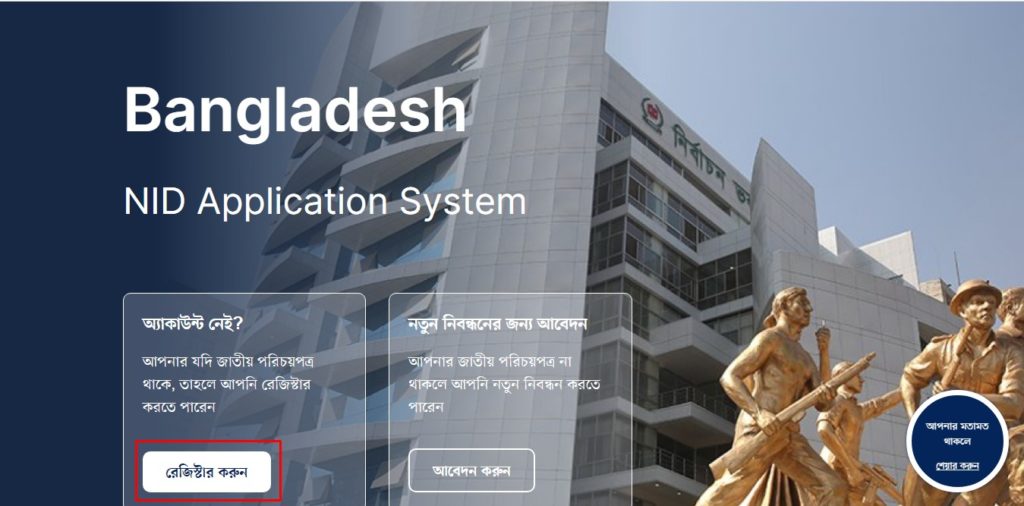 Here it will say register and apply for new registration. Here you will click on the marked red part, namely register. After clicking, a page like the image below will appear.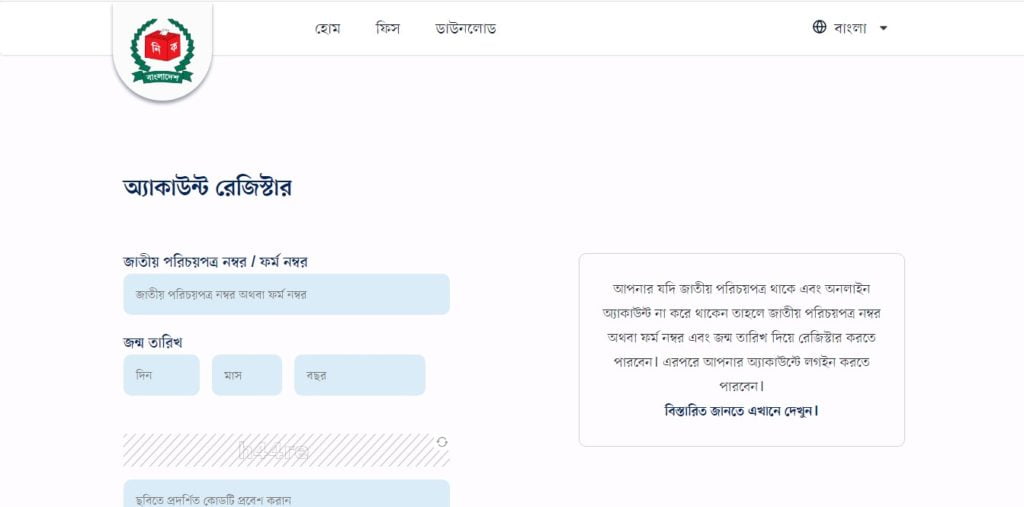 Here you will be asked to provide some information. For example, you will be asked to provide a 17-digit National Identity Card Form Number.
But if you don't have an ID card, instead of 17 digit number, you will enter the form number of the slip received by the election office here.
Then you will see below it will ask you to give your date of birth. Please enter your date of birth correctly here.
Then you will see a captcha below. Fill this captcha correctly and click submit button.
After clicking the submit button, another new page will appear in front of you. This page will ask you to provide some more information. Here the information must be filled in very well.
After giving the details, you have to do mobile number verification here. You will enter an active mobile number here, and an OTP will be sent to your phone to verify it.
You will be asked to do face verification by filling in the OTP. To do Face Verification, you need to install an app called NID Wallet, which you can find on the play store on your mobile. After installing it, an option for face verification will appear here.
On the page where you have registered, you will see a QR code for face verification. Enter this QR code in your NID wallet app to complete your face verification. After scanning the QR code, hold the phone up to your face so that your face can be scanned properly.
When scanning is complete, it will show an OK notification, after which you must move your head once left and right in front of the phone camera.
After that, an OK notification will come, and the OK notification will complete your face verification and your registration process.
You can set up a password for your account to avoid facing verification issues later. No problem if you don't set up a password. However, you can set up a password for security.
NID Smart Card Download Process 2023
Now it's time to download your smart card. When you complete the registration process and then click on your account login option, you will see all your information on one page, and you can download and solve any task.
At the bottom of this page, you will see an option named Download. Click on this option, and it will download in PDF format.
After downloading, you can print it. After printing, you can complete all the tasks related to your smart card with it.
So today's discussion is up to this point. I hope you have benefited from today's discussion. Following the above process, you can easily download and check your smart card.
You can visit our website to get solutions for all NID card-related issues. All NID-related problem solutions are discussed on our website. Thank you very much for being with us.