E-return submission verification is a process that the NBR uses to verify the accuracy and completeness of e-filed returns, ensuring that taxpayers comply with the tax regulations and pay the appropriate amount of tax.
The NBR uses various verification methods to check the e-filed returns, including data matching and cross-referencing with other sources of information to detect any inconsistencies or errors.
Tax Return Submission Verification 2023
The e-return submission verification process is necessary to ensure that the tax system is fair and transparent and that taxpayers comply with their tax obligations.
The verification process enables the National Board of Revenue to detect errors, inconsistencies, and fraudulent activities in e-filed returns. This helps to prevent tax evasion and ensures that all taxpayers pay the appropriate amount of tax.
The e-return submission verification process also increases the efficiency and effectiveness of the tax administration by reducing the need for manual verification and data entry.
Tax Return Submission Verification Process Online
Now let's know how we can verify tax return submission online. To do this, you will access the official website of a tax return from your smartphone, computer, or laptop. Then follow the below steps.
To do tax return submission verification online, you need to enter this link first.
After entering this link, you will get a page like the below picture.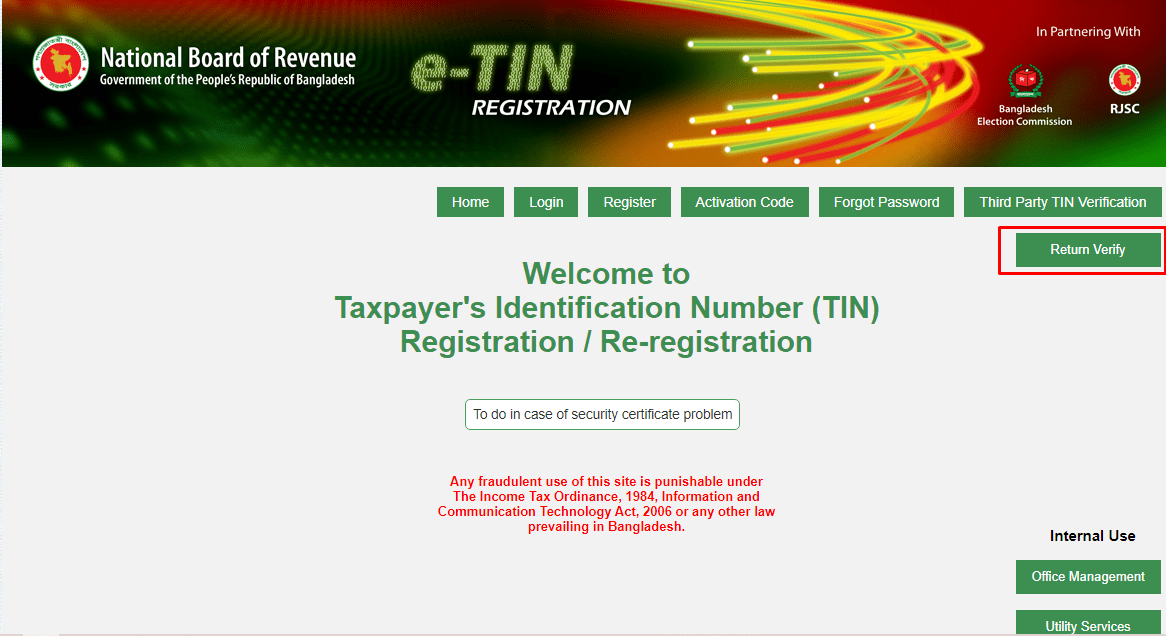 Here you will see that there is a button called Verify Return. You have to press this button.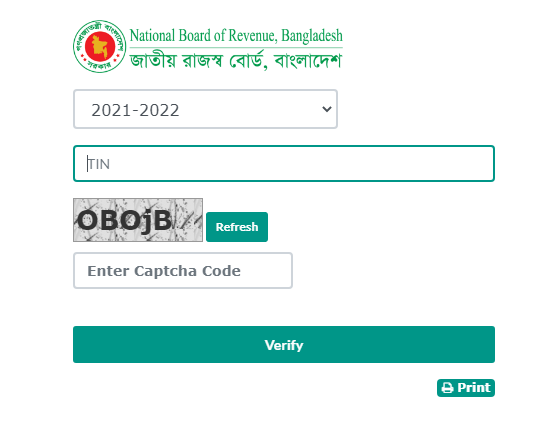 Clicking here will bring you a form. This form requires you to provide some information.
First, you must select the financial year you have paid your tax. After selecting it, you have to provide your TIN.
Then you will see a captcha below. You must fill in this captcha correctly. Fill in the captcha and click on the verify button.
Then all the information about your income tax return will come down. This information will help you understand whether your income tax return has been submitted.
Income Tax Verification Copy Download
Many need to download the Income Tax Online Verification copy also. In this case, they can download it very easily after checking it. When you enter online and verify your financial year information and TIN, you will see a print option below. You can also save it as a screenshot or an image.
But it is better to print it directly. So if you click on the print button of your income tax verification copy from here, this copy will be printed. But you will need a printer for this. If you don't have a printer, you can print it elsewhere.
When we pay income TAX then, we must check it online. Because if we pay tax in any financial year but it is not deposited online, we have to face various problems.
In this case, we may also be fined. That's why we should verify it after filing the tax return if we don't want to face these fines and various penalties. Also, we should print an online copy of it for future needs.