With the widespread administration of vaccines, governments and health authorities have introduced the concept of a Covid-19 vaccination certificate.
This document serves as proof of immunization and has gained significant importance in enabling individuals to resume their daily activities, travel, and participate in various aspects of post-pandemic life.
Vaccine Certificate In Bangladesh
If you are a responsible citizen and have received the two doses of vaccine, then you can easily download your Covid-19 vaccine certificate online.
It doesn't matter which vaccine you have taken: Covishield, Covaccine, or Sputnik. You can download the covid vaccine certificate anytime from your preferred online resource.
The certificate you download will contain all your vaccination information, including the date and time you received the vaccine. If you are unsure how to download your covid 19 vaccine certificate, this post will help you.
Necessity For Vaccine Certificate
Before discussing this topic, understanding why you will need a covid-19 vaccine certificate is essential. The covid-19 vaccine protects you from this infectious virus, resulting in mild symptoms easily treated by self-quarantine at home.
But this idea is wrong; if you take this vaccine, you will not be affected by this virus. In such a situation, you are still at risk of contracting the virus and becoming a disease carrier among those who have not yet been able to get the vaccine.
In such cases, several states and even organizations and hospitals have made it mandatory for citizens to carry proof of vaccination, that is, your Covid-19 vaccine certificate.
Carrying a negative RT-PCR report or vaccination certificate is mandatory when boarding an aircraft to enter states and union territories for leisure or business purposes.
Although the latter is much more accessible, keeping a downloaded copy of your certificate on your phone or any portable device is better. After understanding this, let's see how you can download your certificate from various portals.
Requirements For Downloading Vaccination Card
To download the vaccine certificate, you need some information. To download a vaccine certificate total of three pieces of information is required.
One is the NID card number, the date of birth, and the other is the OTP code, the mobile number you used when you registered to give. A code will be sent to the mobile number, and the OTP will be required to download the vaccine certificate.
Vaccine Certificate Download Process Online
Now let's go to the main discussion point: downloading the vaccine certificate. Vaccine certificates can be downloaded in two ways: through a mobile app called Surokkha App and the other by using any browser.
You must follow any of these two methods to download a vaccine certificate. Both these methods are discussed below.
Vaccine Certificate Download Through Surokkha App
Here, you can do the work in two ways with mobile: the mobile app and the mobile browser. Now it will be shown that the app can do the task.
First, you need to enter the Google Play Store.
Then you have to write Surokkha in the search bar; the app will come up; you have to install this app.
After that, it should be opened.
You will see many things written on the home page after opening it.
From here Collection of Vaccination Certificate should be clicked here.
Now if you have registered with National Identity Card, then National Identity Card has to be clicked here.
Click here to complete the National Identity Card number and date of birth given on the National Identity Card.
Verify by clicking here that a 6-digit OTP code will appear.
The OTP will be sent to the mobile number provided during registration.
So, put the OTP in the OTP box and click the search button.
You will see that your Covid-19 vaccine certificate has arrived immediately.
Now collect it by clicking on the download button, and it will be downloaded.
Vaccine Certificate Download Through Browser
To download the vaccination certificate using a browser, open a browser first. After that, visit Surokkha Website. Then follow the instruction below.
Many things are on the home page, like the mobile app.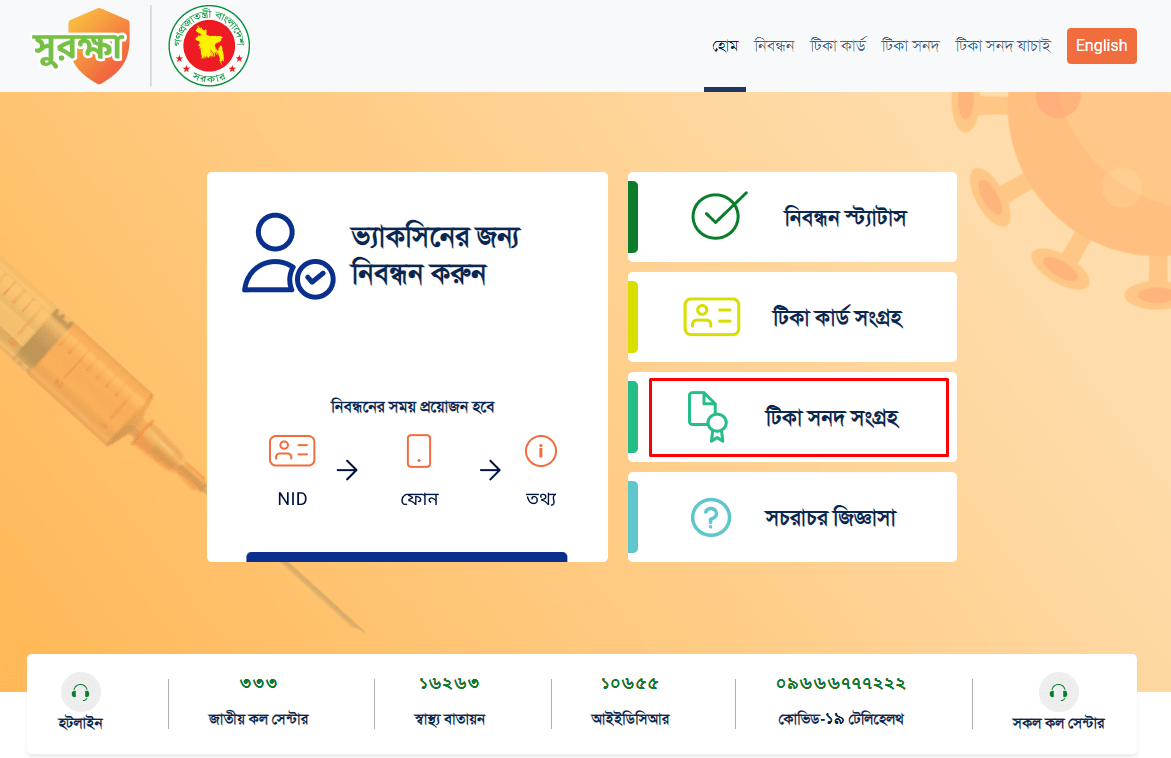 Click on the option Collect the Vaccination Certificate from here.
Then select the National Identity Card if you register the vaccine with your NID Card.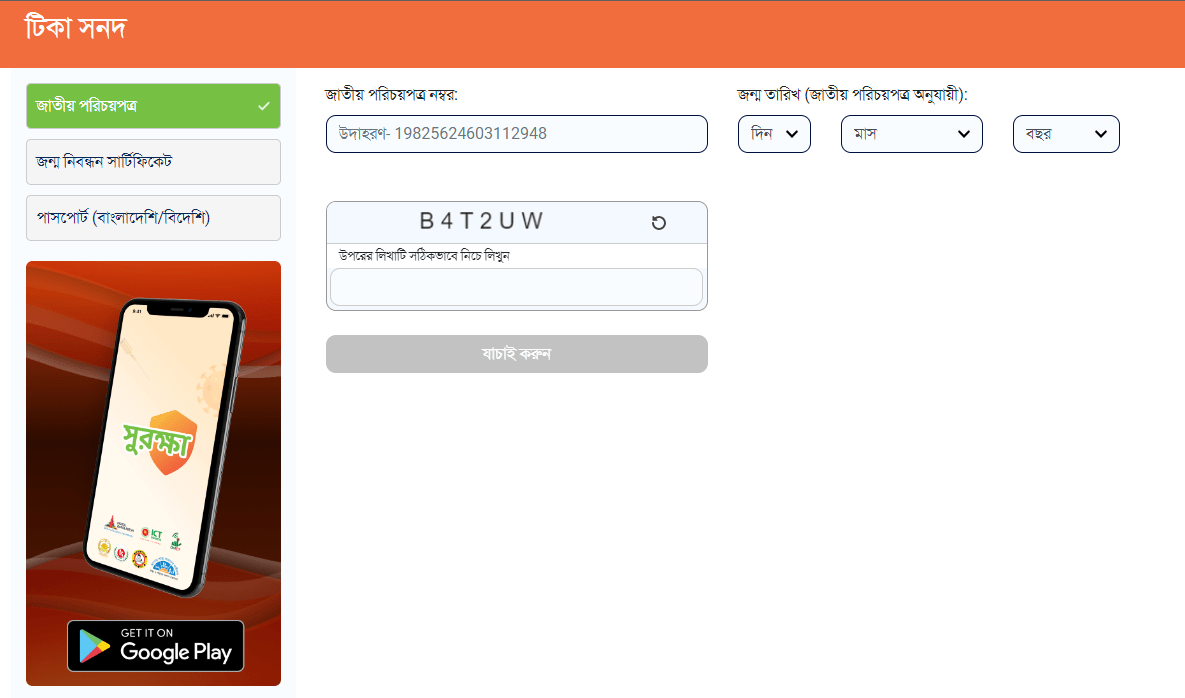 After that, enter the National Identity Card Number and Date of Birth with the captcha code.
Then click on Verify here.
Then OTP will be sent to your mobile phone.
Download the vaccine certificate by verifying it with the OTP code.
Vaccination Card Download By Mobile Number
Many people want to download a vaccination card with a mobile number only; it is impossible to download a vaccination card with a mobile number only; the NID card number is required to download a vaccination card.
After issuing the NID card, an OTP code will be sent to the mobile number with which the vaccine was registered. After entering this OTP code, the vaccine card can be downloaded, as shown above.
Conclusion
As we reflect on the significance of the Covid-19 vaccination certificate, it becomes evident that our collective commitment to vaccination and adherence to public health guidelines are essential for its effectiveness.
The certification alone cannot guarantee a complete eradication of the virus, but it represents a crucial step toward a safer and healthier future.