If you have a license, you are allowed to do anything. Government agencies usually give this permission.
Similarly, suppose you want to do business in Bangladesh. In that case, you need permission from a city corporation like Dhaka City Corporation or Chittagong City Corporation and permission from the Municipality, Union Parishad, Upazila, or Zila Parishad for local district residents.
Trade License In Bangladesh
A trade license is a legal and government-approved permit for a business establishment. As per the law, a trade license is essential to start or operate a business properly in Bangladesh. A trade license gives you a business identity.
If you start operating a business without a trade license, you will be prosecuted by the government and fined. A trade license is essential to make your business faster and easier.
Trade License Fee In Bangladesh 2023
The main question for all of us is how much the fee will be for the trade license. The trade license fee depends on the type of business.
Trade license fees in Bangladesh can range from Tk 100 to Tk 40,000, depending on the business type or category. Trade license fees may vary depending on the business entity or category.
Trade License Category In Bangladesh
To get a trade license for your business, you should know all the details about a trade license, such as fee, category, conditions, application process, etc.
Let's know the trade license category and fee according to the business type. We will discuss the application form, process, and required documents step by step below. There are three types of trade in bangladesh.
Commercial Trade License.
General Trade License.
Manufacturing Trade License.
Here are some examples.
| | |
| --- | --- |
| Category | Trade Licence Fee |
| Hospital or Clinic | Private hospitals and clinic fees will be – 40,000 BDT at the district level and 25,000 BDT at the upazila level. |
| Residential Hotel and Restaurant | For a three-star hotel – 20,000 BDT, and Five star – 50,000 BDT |
| Medicines and Drugs | 3000 BDT inside the municipal area and outside the municipal area is BDT 1500 |
| Travel Agencies | BDT- 10,000 |
| Ltd. Company | For Producer and Distributor – 4500 BDT |
Trade License Application Process
We have an idea of the amount of the trade license fee; let us know how you can apply for your trade license.
If you are a municipality resident, you need to apply at the office of the mayor or councilor of the municipality.
If you belong to a city corporation, then you need to apply for a trade license at the office of the mayor of the city corporation or,
If you live in a union council area, you must apply for a trade license to the chairman's office.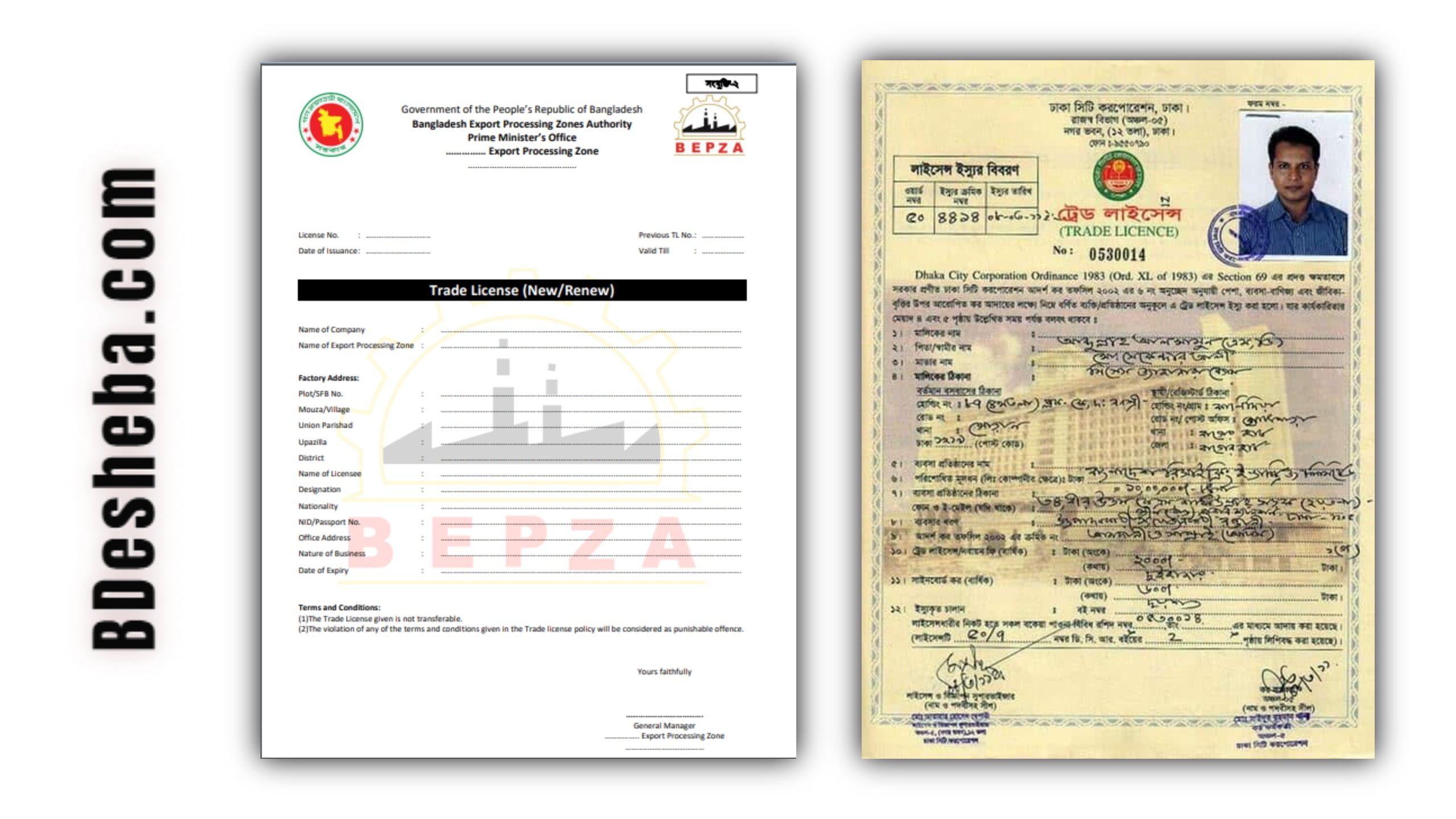 When you visit your nearest office, the officer in Charge will give you a form to apply for a trade license. You have to fill that form accurately and submit it to the office along with the required documents.
After submitting the form, they will take some time (a few days or weeks) for Inspection by the Licensing Supervisor. Then, you have to offer the prescribed fee for the trade license according to your type of business. After a certain time, you can collect your trade license.
Required
Documents
For Trade Licence
Below are the documents to be submitted and the trade license form. Also, according to the type of business, different documents may be required, and they are also mentioned below.
Trade license application form.
National ID card or Smart card of the business owner.
Holding tax payment receipt.
Recent passport-size picture of the business owner.
Declaration of non-judicial stamp to comply with rules and regulations of the City Corporation and Municipal Corporation.
A certified document of Memorandum and Articles of Association.
Tax Identification Number(TIN) Certificate.
A copy of the certificate of incorporation.
Partnership agreement.
Bangladesh Investment Development Authority Work Permit.
A certified document of the registered office lease agreement.
Statement of Bank Solvency.
Additional documents that may be required depending on the type of business are:
The Director General of the Department of Health requires approval to obtain a trade license for a clinic or hospital.
Permission letter from DC(District Commissioner) to get trade license for printing house or residential hotel and restaurant.
A map of where your institution is located.
Fire Extinguisher Training Certificate.
Copy of your drug license to get a trade license in medicine and drug establishment.
Last Words
Entrepreneurs need to understand and comply with trade license fee regulations in Bangladesh.
According to the country's economic condition, there may be any update or change in the fee structure of the trade license, which we need to be aware of. In this article, besides the trade license fee, many other issues have been discussed, in which you have to face less trouble to get a trade license.
I hope you got a clear idea about trade license and its fees. You can read our other articles for more detailed information.