Applying for an ABC license online is a much easy process in Bangladesh. Bangladesh has three types of ABC licenses: High, Low, and Both. You must pay 90 to 8400 TK according to the license categories to obtain ABC Electric License.
After applying for an ABC license, you will be called for written and oral exams. After getting the result, you will get your desired license.
ABC Electric License In Bangladesh
To start an electricity business in Bangladesh, you must obtain an ABC electricity license. This license certifies that your company is registered and meets the government's required security and compliance standards.
This article will tell you everything you need to know to get an ABC electric vehicle driving license in Bangladesh.
Types of ABC Licenses
There are different types of ABC Electric licenses. It is mainly of three types. One is high class, one is low class, and one is both. Below are the categories of ABC license types.
Class A: Class A is KA (ক) license. This license is issued to businesses that undertake works related to high-voltage installations.
Class B: Class B is KHA (খ) license. This license is issued to businesses that undertake works related to low-voltage installations.
Class C: Class A is GA (গ) license. This license is issued to businesses undertaking works related to high and low-voltage installations.
Eligibility For ABC License Application
No one can get an ABC Electric license at will. It requires educational qualifications and experience. According to the type of work, the qualifications for obtaining an ABC license are mentioned in the table below.
| | | |
| --- | --- | --- |
| Educational Qualification | Word Type | Experience |
| B.Sc Engineering (Electrical & Electronics) | Electrical Installation work | 1 Year |
| Diploma in Engineering (Electrical & Electronics) | " | 3 Years |
| Diploma in Engineering (Power, Refrigeration, Automobile, and Computer) | " | 5 Years |
| Diploma in Engineering (Civil & Mechanical) | " | 7 Years |
| B.Sc Engineering (Mechanical, Marine, Naval, Architecture, and Computer) | " | 3 Years |
| B.Sc Engineering (Civil & Chemical) | " | 5 Years |
ABC Electric License Cost
The cost of getting an ABC license is usually between 90 TK to 8500 TK. But in some cases, it may take more than that. Below is the government cost of the ABC license; check it out.
| | | | |
| --- | --- | --- | --- |
| Category | Electrical Technician Permit | Electrical Supervisor License | Electrical Contractor License |
| C | 90 TK | 600 TK | 1200 TK |
| BC | 240 TK | 1800 TK | 3600 TK |
| ABC | 540 TK | 3600 TK | 8400 TK |
Advantage of having an ABC Electric license
There are many benefits to having an ABC Electric license. ABC Electric License will identify you as a skilled and experienced job candidate.
If you want to join any electrical job, you will get priority in employment by providing this license. Having an electrical license gives you a valid electrical work permit. I also can work as an electrical supervisor and contractor.
If you are going abroad for electrical work, you must have an ABC electrical license. If you do not have a license, you cannot do electrical work in foreign areas. So, an ABC license is required for the job.
ABC Electric License Application Requirements
ABC Electric License If you want to apply online or offline, you need some documents. By providing all these documents, you can apply for ABC Electric License. Documents you will need for application are-
Should have passed Junior School Certificate or equivalent examination from a recognized board.
Minimum six months of training in electrical trade from a government-recognized institution or 2 years of practical experience in electrical work in government/private institutions.
The age of the candidate should be a minimum of 18 years.
Experience certificate issued by a recognized institution or a licensed electrical contractor.
National Identity Card and
Scanned copy of invoice related to payment of fees.
The examination fee should be deposited in Bangladesh Bank or Sonali Bank through challan to code 1-5631-0000-1854. The center fee should be paid online through Mobile Banking.
ABC Electric License Online Application Procedure
Now let's know how to apply online for ABC Electric License. To apply for ABC Electric License online, you first need to download the application form from the Bangladesh Ministry of Electricity, Energy and Minerals website.
First, you must deposit money with a challan number for application in Sonali Bank. After that, along with the application form, photocopies of the required documents must be submitted to the license board.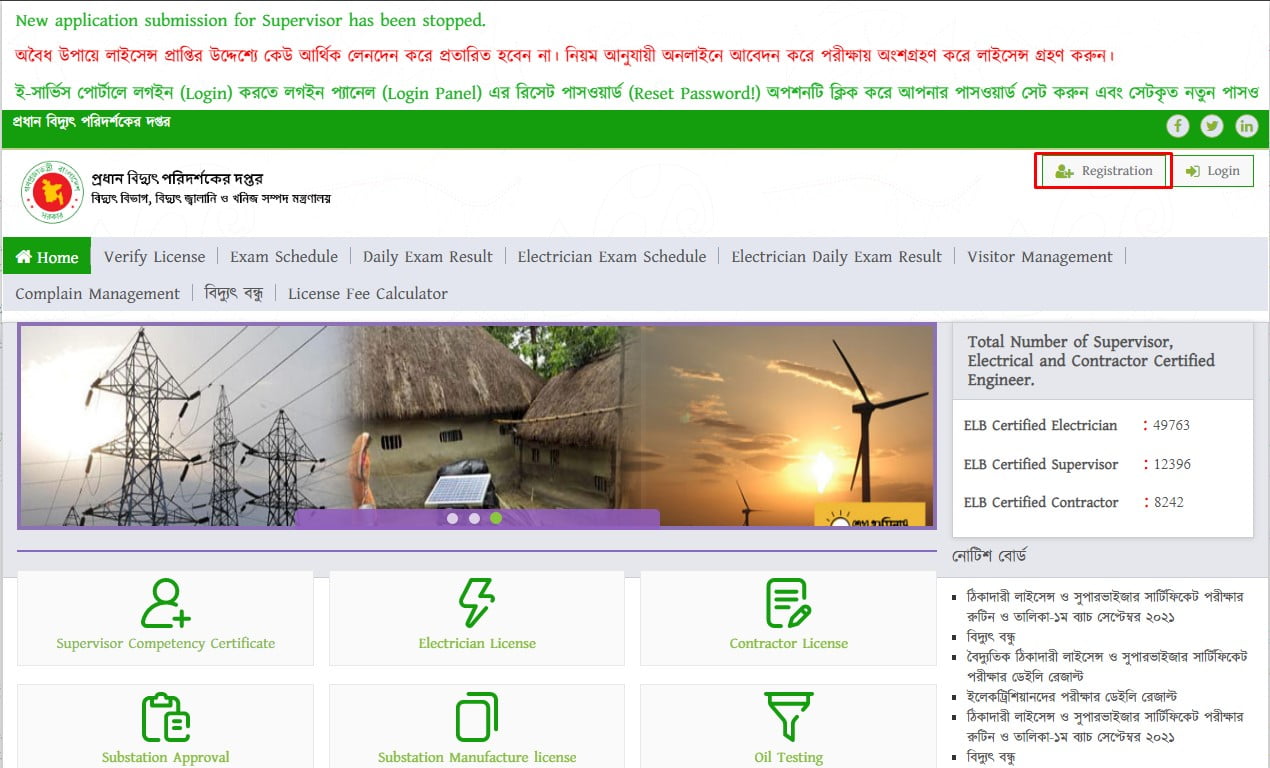 Here you have to provide some required information by clicking the registration button.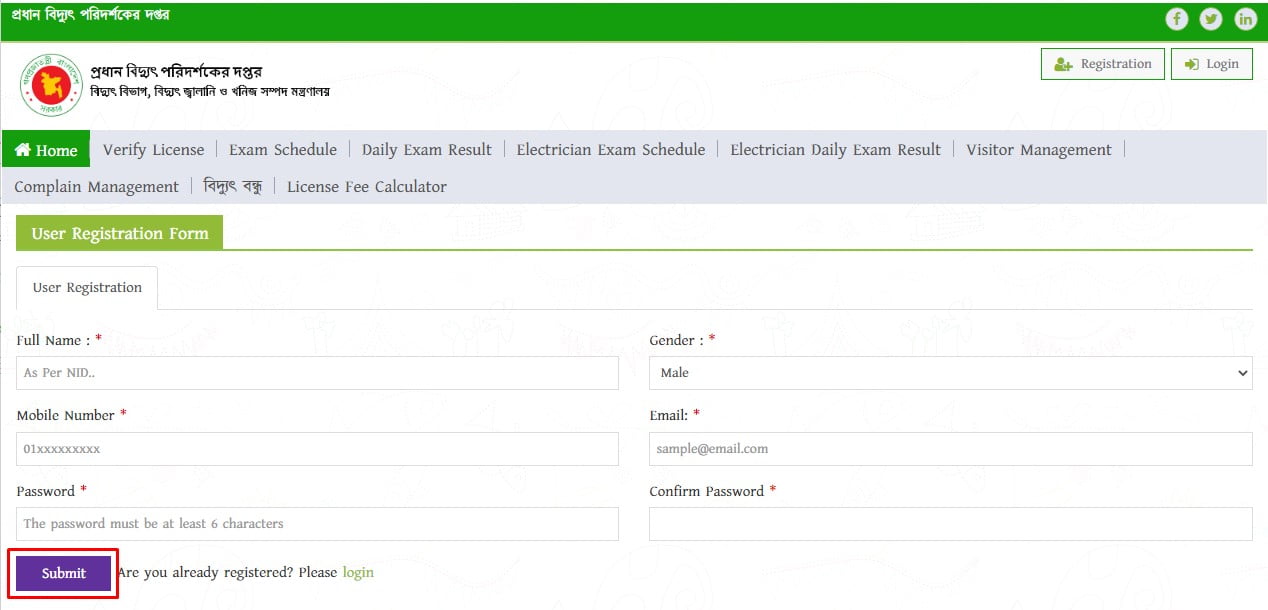 After providing all this information, click on the submit button.
Then a four-digit OTP code will be sent to your mobile. Place it in the designated place and complete the registration.
Then click on the login button. User ID and password must be given here.
Use your mobile number as your user ID and the password used during registration as a password.
Next is the Applications menu from the dashboard you get.
Click here to go to the submenu.
Select the desired license from the submenu.
You will then receive an application form. You have to fill this application form properly with the correct information.
Next is the attachment option.
Add your photo and signature here. Then click on save and the next button.
ABC Electric License Fee Payment Method
You must first pay the application fee for ABC Electric License. You can pay this fee from Sonali Bank. Pay the prescribed license fee through treasury challan to Bangladesh Bank or Sonali Bank and save the scanned copy of the challan.
Enter the Bank Name, Branch Name, Invoice No, and Date. Scan the Copy of the Invoice in the License Fee field and click the Save Payment Info button.
Click on the Make Payment button to pay the Center Fee and pay the Center Fee through Mobile Banking, Credit Card, or Internet Banking.
After the payment is complete, click on the Final Submit button from the Application List of the dashboard. If any correction is required in the application, before clicking on the Final Submit button, click on the Edit button and save the corrected information.
Note that no information can be modified after Final Submit. If the application is completed, the pop-up will show Your Application Successfully Submitted. Application Status will show Submitted in the List of Dashboard.
Exam date and time will be informed later through SMS, and every candidate will download admits card from e-service.ocei.gov.bd along with admit card, national identity card, previous technical permit (if any), educational qualification, experience certificate, and original copy of the attached treasury challan must be present on time.
Electrical ABC Licensing Exam 2023
After applying for an ABC license, you must pass the exam to get this license. You have to appear for the exam at the specified time. Here exam questions can come on various topics.
Here you have to give a written and oral test. You can follow the board questions that are asked for the ABC license, and you can watch some videos on youtube for obtaining an ABC license. A separate book is available for the ABC license exam. You can follow this book. You can get it at any library.
To pass the ABC Licensing Exam, you must know the following topics-
House wiring
Magnetic contact switch
Circuit Breakers
Motor
Earth tester
Substation
Generator
Transformer
Transmission and Distribution System
Electrical safety devices
Devices used in electrical lines
ABC License Exam Result 2023
Your result will be published a few days after giving the ABC Electric License Exam. If you pass this result, you will be awarded the ABC license.
You can visit the official website of the Bangladesh Electricity Board to check your ABC License Result. From here, you can see the result in PDF format. You can follow the link below to check ABC License Exam Result.
Obtaining an ABC license in Bangladesh is essential for companies selling and consuming alcoholic beverages.
Obtaining an ABC license includes submitting an application to the relevant authorities, providing required documents, and complying with regulations and guidelines set by the government.
The Excise Authority issues ABC licenses, and is valid for a specific period, after which they must be renewed.