Let's talk about the NID correction process. Many of us who apply for new NID cards inadvertently give incorrect information when giving NID card information. This is not unusual at all. There is an opportunity to correct such mistakes. We can avoid this mistake by changing or modifying the wrong information on the NID card. Let's find out how to change or modify NID card information.
Change NID Card Information Online BD
NID correction is now possible online. You need to follow some easy process to do this. Most of the things we mistake when giving NID card information are our date of birth, parents' name, and permanent address. These errors can be corrected in two ways.
One is to apply for re-issue in person at the office of the Bangladesh Election Commission, and the other is to correct the erroneous information by following some steps online at home. First, let's learn how to correct the misinformation about our NID card online at home.
Online NID Registration
To correct the mistake of our NID card, first, we have to go to the website of the Bangladesh Election Commission Department. Clicking on the link will take you directly to the website of the Bangladesh Election Commission. And after entering, you need to register with your NID card number and date of birth.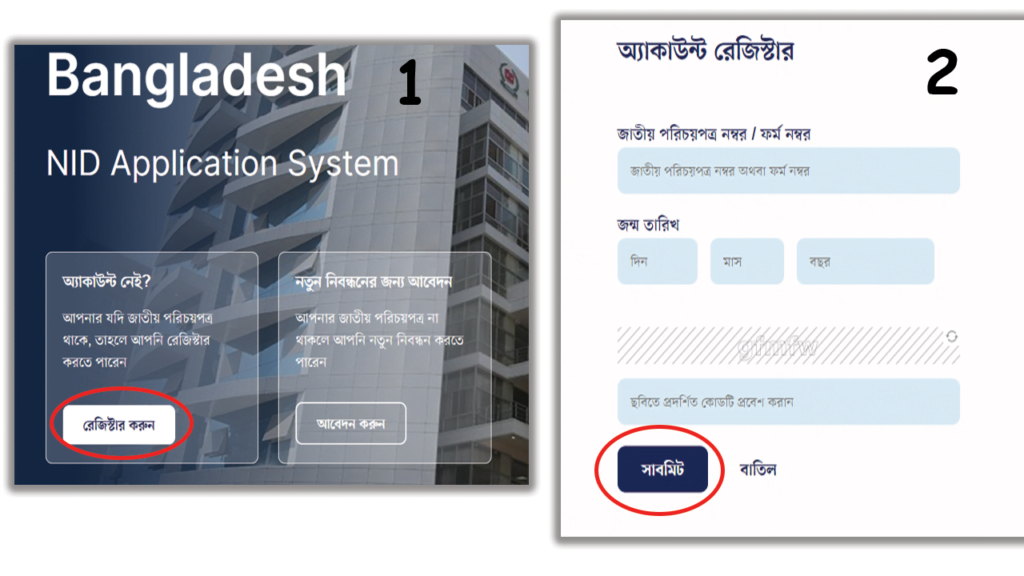 After registering with the National Identity Card Number or Form Number and Date of Birth, a page like page 3 will appear below.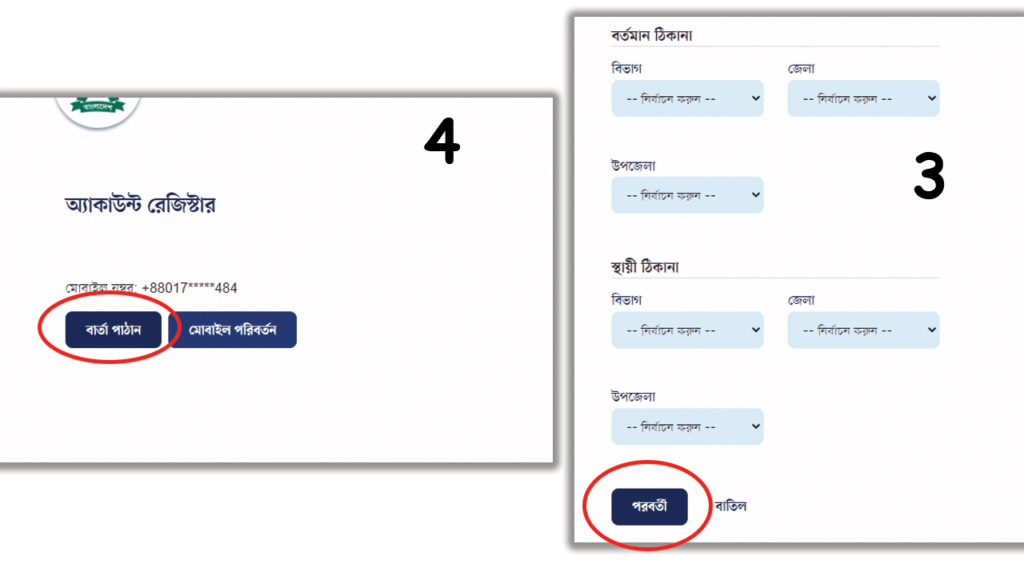 On this page, you have to give your current district Upazila and division to the current address and your permanent district Upazila and division to the permanent address; after providing the information, click on the "next" button.
After clicking on the following button, a page like the number 4 in the picture above will appear in front of you, and on that page will show the number given in your NID card and the "send message" button to send a verification code to that number.
After clicking on the send message button, it will send a verification code to your number, and with that code, you will verify the number given on your NID card and then complete the registration by following the next steps.
At the last stage of registration or after completion of registration, you will be given a QR code in the picture above. This QR code will be required later in the next step.
NID Card Face Verification
After completing the NID card registration, you must make your face recognition or face verification. You can go to the Play Store and download a NID Wallet app.
After downloading and opening the app, the app will want your camera access; after the camera access is grand, you will need to scan the QR code given to you after your registration.
You will be taken to the next step, where you must verify your face via your phone's camera, like in the image below.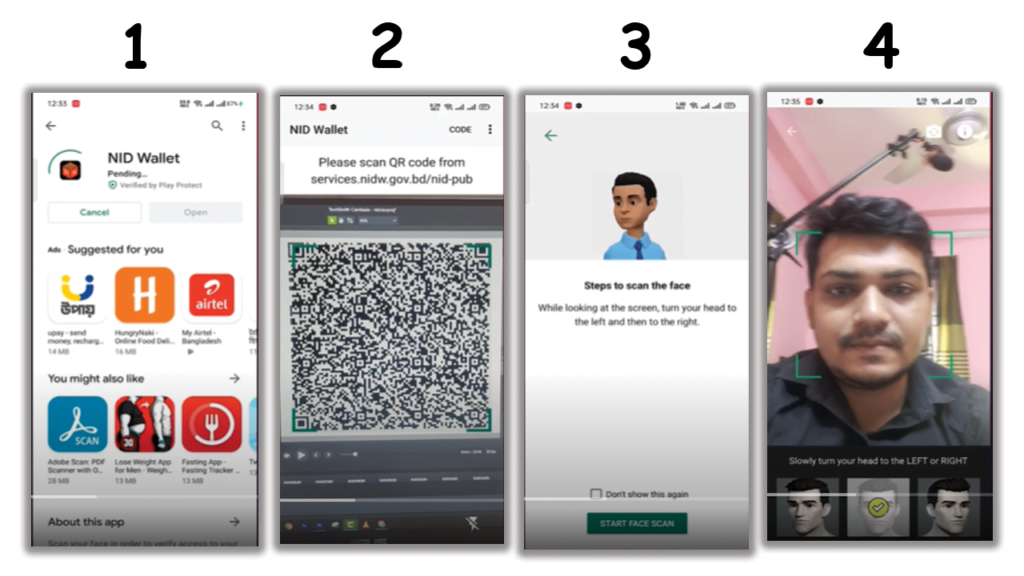 Payment For NID Correction
Once the face verification is complete, you will be able to view your profile, and you will see an option called "Edit" in the right-hand corner of your profile.
You can correct the information you have given on your NID card by clicking on the Edit option. And when your correction is finished, you have to go to the next step by paying the fee of Taka-230 online.
We can pay online via mobile banking or e-wallet like-
BKash
Rocket
Surecash etc.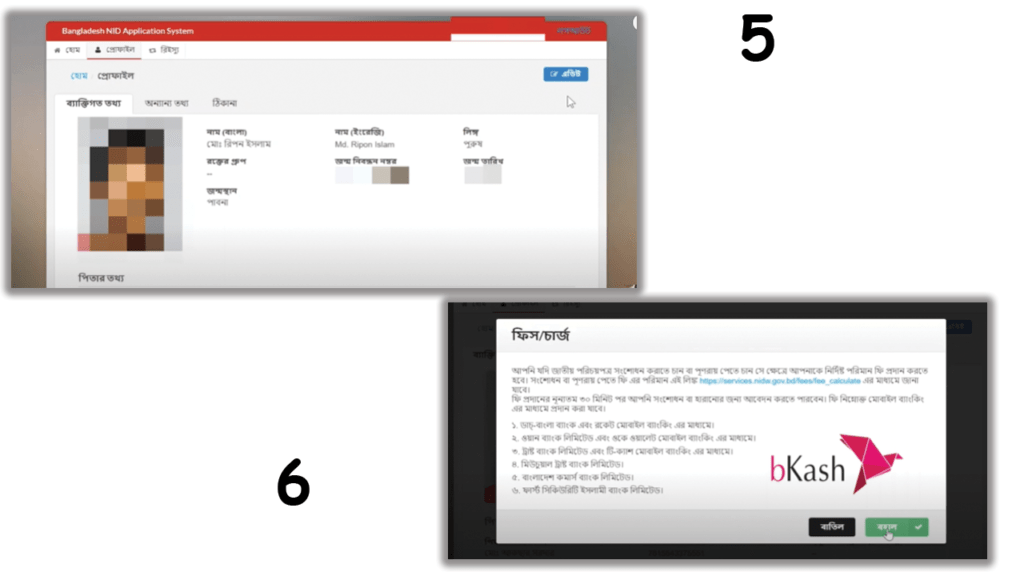 NID Correction Document Submission
Your work is almost finished after payment. Now all you need to do is provide some necessary documents like a NID card image, birth registration image, or any official document that the Election Commission Department could provide.
After submitting the required documents, you are done. You must collect your modified NID card from your local Upazila Parishad when it is delivered.
Bangladesh NID Information Change Offline
If it is urgent to modify your NID card, then you can visit the election commission office personally to re-issue your NID card. Let's know the process.
If your NID card information is incorrect and you need to correct it urgently, you should go directly to the Central Election Commission office. The address of the Central Election Commission office is- "Dhaka, Agargaon, Islamic Foundation ground floor."
You must visit the Election Commission office at the given address and go to the NID section to collect a form to modify a NID card. Now provide the necessary information and the reasons for the modification.
Then you have to pay a certain amount fixed by the Bangladesh government. You can make payments through online payment. You can make payment through-
bKash
Rocket
Surecash etc.
If you want to pay in a bank, you can pay through five more private banks, including Sonali Bank-
Dutch-Bangla Bank and Rocket Mobile Banking.
One Bank Limited and OK Wallet Mobile Banking.
Trust Bank Limited and T-Cash Mobile Banking.
Mutual Trust Bank Limited.
Bangladesh Commerce Bank Limited.
In the form, you must insert the transaction ID given after payment. Then you must attach the required documents to the form and submit it to the office at 12 PM.
After completing these steps, the Election Commission office will notify you of the date and time of delivery of your modified NID card. At that time, you will be able to collect your modified NID card.
If you lost your NID, or if your NID has been stolen, you can apply for a lost or stolen NID easily by following some process online.