Pay fixation determines the appropriate pay scale or level for government employees based on various factors, such as their position, qualifications, experience, and performance.
It ensures that government employees receive fair and competitive salaries that align with their responsibilities and contributions to their respective departments of pay fixation.gov.bd.
About Pay Fixation.gov.bd 2023
Online pay fixation is a process through which you submit service details online for salary fixation after new or old recruitment. Generally, there are different scales of pay. According to all these scales, after deducting salary in various categories such as provident fund, group insurance, etc., the net salary is available.
Online Pay Fixation is the process of determining the salary and allowances of any grade of officer or employee. The salary of the recruits is mainly fixed through online Pay Fixation.gov.bd 2023.
IBAS++ New Pay Fixation
IBAS++ New Pay Fixation refers to an updated system for fixing salary or wage adjustments as part of the Integrated Budget And Accounting System. IBAS++ is widely used in various organizations to calculate employee tariffs and salary increases.
IBAS++ new pay fixation method includes additional factors and parameters to accurately determine an employee's salary fixation, considering various aspects such as performance, experience, and qualifications. As a new employee, everyone has to be fixed his salary online.
The Necessity of Online Pay Fixation
Online Pay Fixation has various importance. To clarify your salary and allowances online, it is important to determine your salary for many reasons, including your promotion, increment, selection grade, time scale, and higher grade after joining the job.
Online pay fixation provides transparency by allowing employees to access their payment details online. Employees can view the breakdown of their pay, including allowances, deductions, and other components, which fosters trust and confidence in the pay calculation process.
Pay Fixation On Online
Not everyone can do online pay fixation. Only those appointed in government service can do pay fixation online. But to do Pay Fixation, one must have the required documents to be a Government Recruit. You have to scan and upload all these documents.
Online Pay Fixation Requirements
While determining salary online, you need to scan and upload some documents and fill in some information as per the documents. Collect all the following documents before Online Pay Fixation.
National Identity Card
Mobile number
All ancillary documents related to pay fixation, such as recruitment, transfer time, salary scale, selection grade, higher grade, pay re-fixation schedule, and soft copy of office orders.
Pay Fixation Verification Number as of 2022 for pay fix other than ongoing and new recruitment.
Online Pay Fixation Process 2023
Follow every step given below carefully for Online Pay Fixation. But remember that no information given by you is wrong in any way. If the information is incorrect, it becomes very difficult to correct it later.
Step-1
For online pay fixation, first, visit Online Pay Fixation. After going here, you will get a page regarding urgent instructions.
You can read it if you want. After reading them, click on the next button.
Step-2
In the second step, you will get a dashboard like the below image.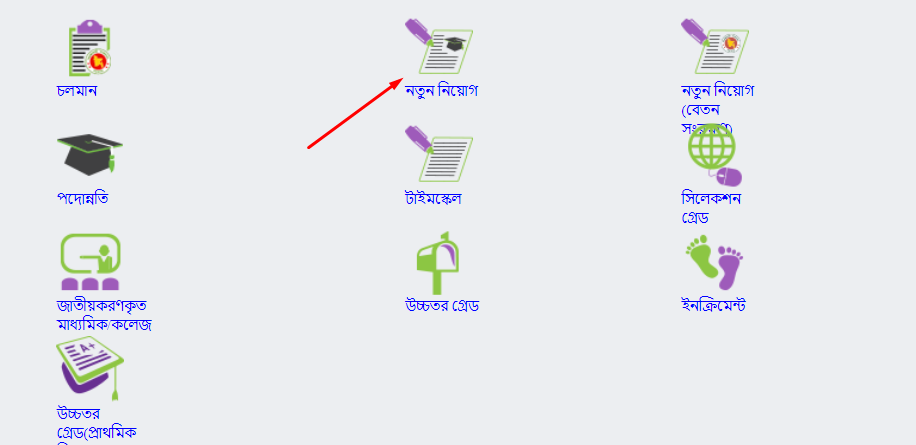 Here you will get several options. Here if you are recruit, then click on the recruit button. And if not new recruit, you must select an option according to the field.
After clicking here again, you will get an instruction page.
Here also click the next button.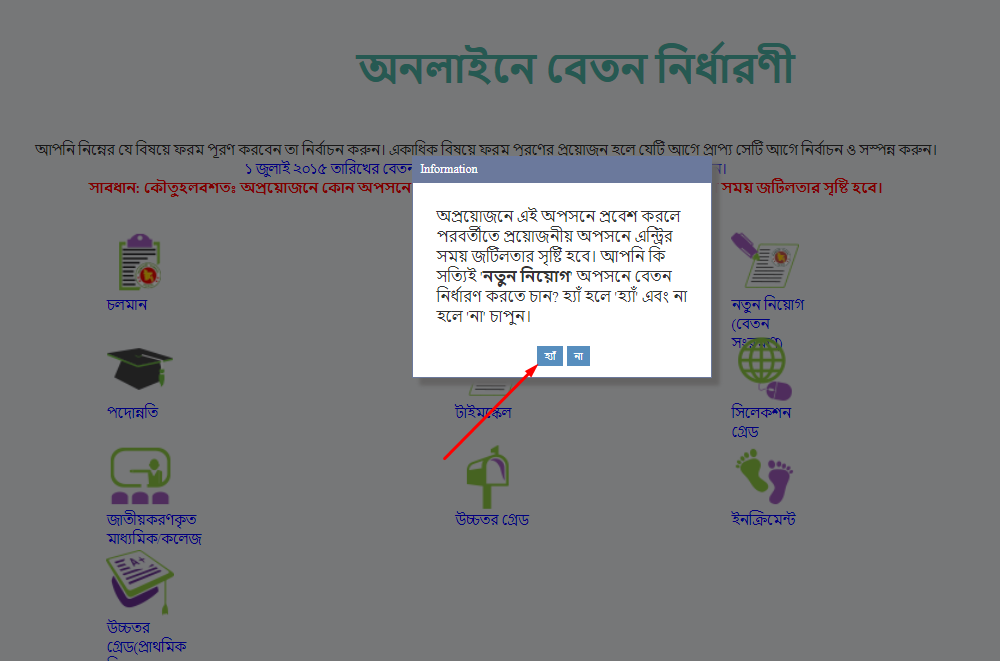 Step-3
In the third step also, you will get several options.
From here, you have to select anyone according to your job field. If you are not serving in any military field, you should select the civilian option.
You have to go to the next step by selecting the civilian option.
Then you have to log in to online pay fixation.
Online Pay Fixation Login
For online pay fixation, first, you must log in by providing your NID, date of birth, and mobile number. In this step, you must first log in for an online salary fixation. You have to fill in the information properly to log in.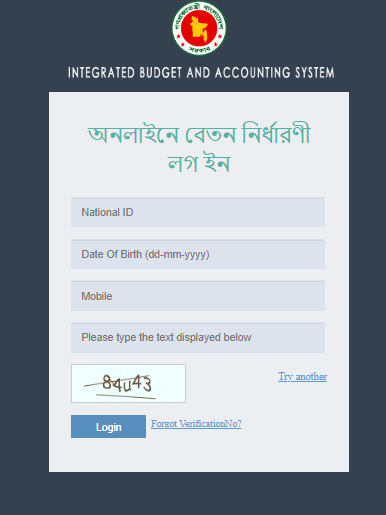 Then put the captcha in the answer box and press the login button.
A verification code will be sent to your phone in the next step. With this verification code, you must verify at the Payroll Online login step.
Enter the verification code and press the validate button.
Step-4
You must fill in the required information for salary fixation from this step.
Here in the first section is the accountant's office.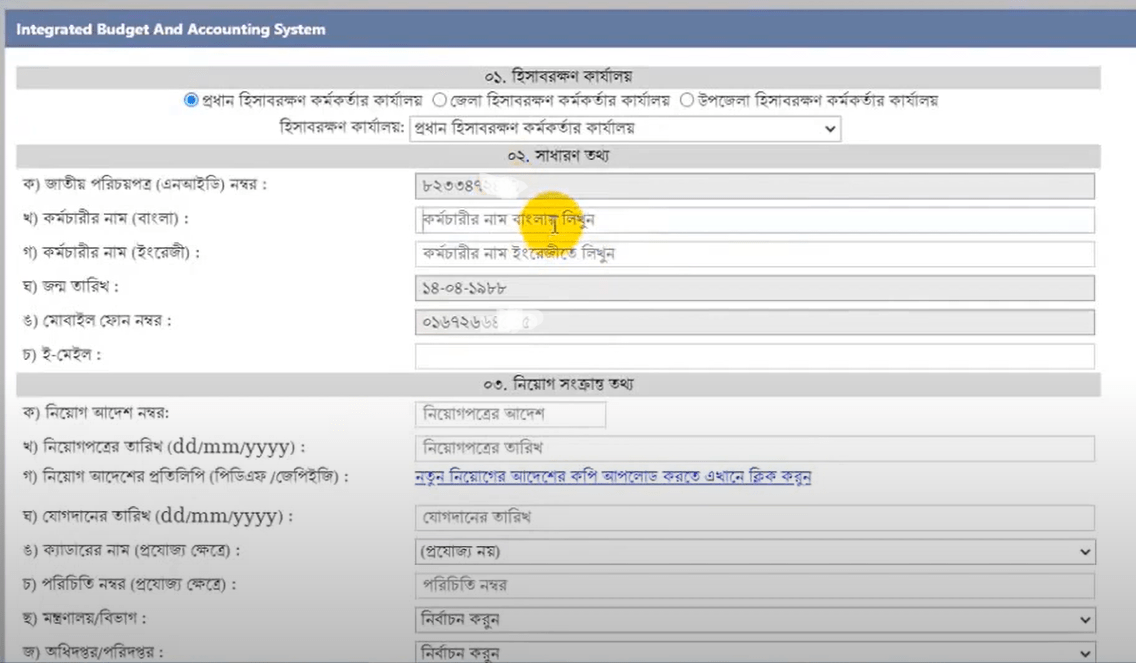 From here, you have to select the office of the Chief Accounts Officer.
After doing this, you should go to the general information section.
National Identity Card Number, Employee Name in Bengali and English, Date of Birth, Mobile Number, and Email must be filled in correctly from the information provided here.
After doing this, you will come to the recruitment information section.
Here you need to add your appointment order number, date, and copy of the PDF file.
Date of Joining Service, Cadre Name (if you have received a recommendation in any cadre then enter Cadre Name), Contact Number, Select Ministry or Department, and Select Directorate.
Once these are done, the Salary Information section should come up.
From here, you must select the pay scale according to your pay scale. Further increments are payable below.
If you have received an additional increment, select yes, and as a new hire, select no here.
After doing these, press the view draft button.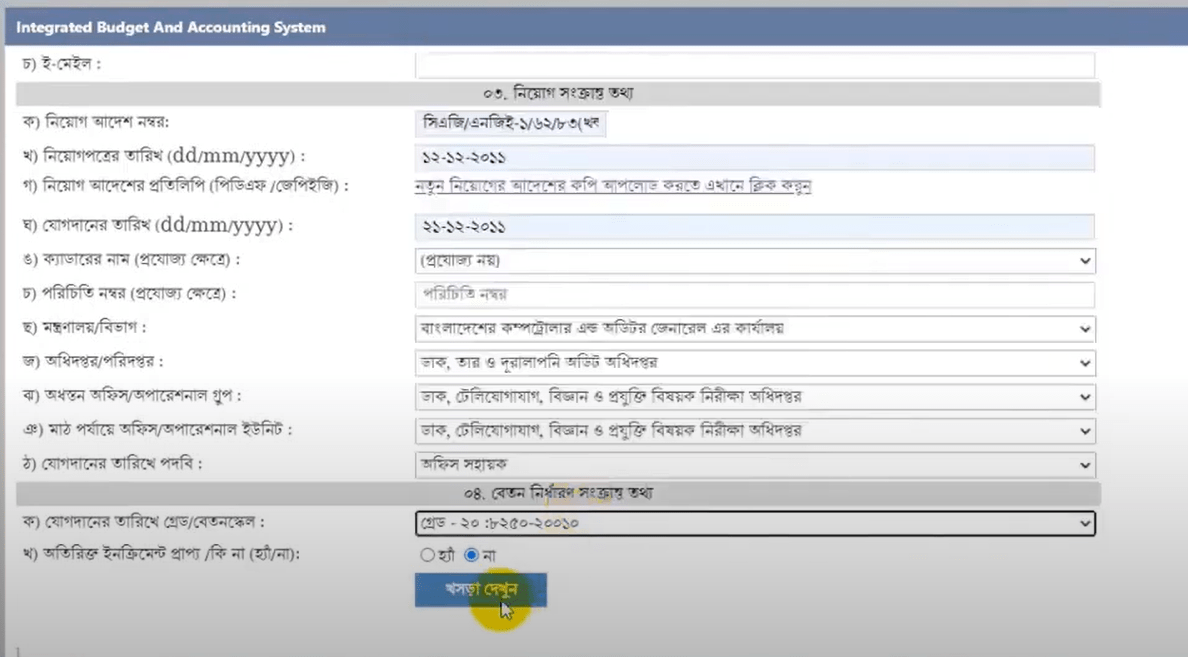 Then you will see the information given in a preview form.
Here you can check the information again to see if there is any mistake.
If there are mistakes, correct them immediately.
And if all the information is correct, then click submit button. Then your online salary will be determined.
Then you must print this copy.
Here you will get a tracking number. This number should be collected carefully.
Last Words
Online pay fixation is a modern and efficient way to determine employee salaries or wages using online services and technology. Simplify the process and ensure fair compensation based on defined criteria. By keeping up with technological advances, the ministry can streamline pay settings and deliver transparent, timely results that increase employee satisfaction and motivation.