Binimoy makes it easy for anyone to join the financial system through two simple methods: the Baksh App and the Rocket App. With the Baksh App, you can open a Binimoy account from your phone hassle-free.
If you prefer the trusted Rocket App, you have that option, too. Once onboard, Binimoy gives you the power to manage your money effortlessly.
What is a Binimoy Account?
The Binimoy Account is an internal digital transaction platform controlled by Bangladesh Bank. Through this Binimoy Account platform, you can easily do internal transactions from one account to another through any mobile banking such as BKash, Nagad, or Rocket in digital mode.
That is, through this Binimoy Account, you can easily make internal transactions from one mobile banking to another mobile banking.
To transact through a Binimoy Account, you or the customer must first open a Binimoy Account account.
In other words, a customer has to register his account. Account registration will give you a unique name from the Binimoy Account.
Benefits of Binimoy Account
Binimoy Account has many advantages. Here are some of the most advanced facilities-
Currently, the country is digital, but many people in rural villages do not use bank accounts, and they always transfer money through digital mobile banking methods such as Bkash, Nagad, or Rocket.
As a result, the biggest inconvenience is that those who are Bkash customers cannot send money to their Nagad mobile banking account. Again, Nagad customers cannot send or receive money to Bkash or Rocket Mobile Banking customers.
Therefore, from now on, those who are customers of mobile banking services Nagad, Bkash, and Rocket can transfer money from one company to another company in any Nagad, Bkash, and Rocket mobile banking very easily through this Binimoy Account.
Therefore, a very convenient thing for all these customers who live in rural areas of Bangladesh is the Binimoy Account. So, let's now know how to open a Binimoy Account.
Binimoy Account Registration Rules
Now, come to know about the rules for opening a Binimoy account. Experience your financial inclusion with Binimoy, offering two convenient methods to open your account- the Baksh App and the Rocket App.
With the Baksh and Rocket apps, opening a Binimoy account is as easy as a few taps on your smartphone. Both the two methods are given below.
Binimoy Account Opening Rules Through Bkash App
If you want to transact money through a Binimoy account, the first thing to do is to open a Binimoy account.
What you need to do to open an account is discussed below, step by step. By following the below discussion, you can open the account very easily. So, let's see how to open a Binimoy account.
First, log in to the Bkash app and enter the app.
After that, if you go to the bottom of the Bkash app, you will see an option called Binimoy; from here, press that option and click the OK button.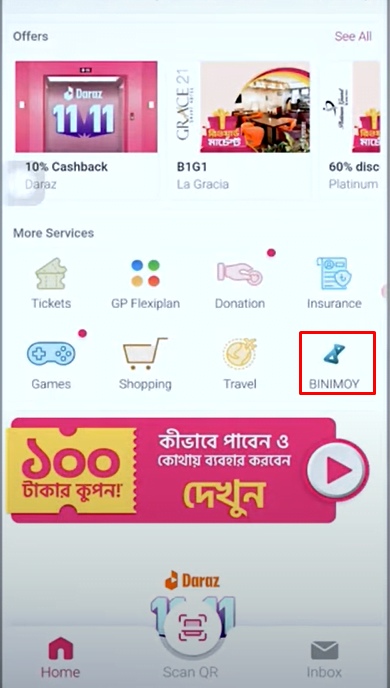 Now, the Binimoy registration interface will open in front of you. Click the Register Now button here.
Then, in the interface that will open before you, give your valid email address first. Then, set a user ID name. A unique ID will be generated as username@binimoy.'
One thing to keep in mind is to remember the user ID that you are setting. Because money must be transacted with this user ID/name, now click the confirm button.
Then, the interface that will open before you will ask you to set the Binimoy pin. Set a pin of six numbers here. Then click on the submit option.
Then, the interface that will open before you will tell you that your registration is complete.
Binimoy Account Opening Rules Through Rocket App
Above, we have learned how to open a Binimoy Account through the Bkash App. Now, we will learn how to open a Binimoy Account Through the Rocket App. Learn how to create your exchange account at home with Rocket.
To open a Binimoy account with Rocket, you first need to log in to your Rocket account.
After logging in, you will see an option called Binimoy at the bottom of the home screen of the Rocket app.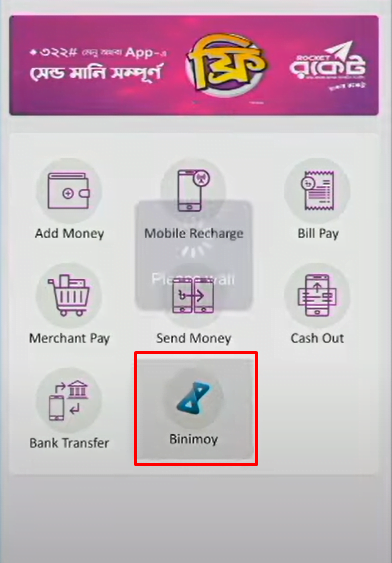 Press or click on it, and a popup window will appear in front of you where you enter your User ID and unique ID name with lowercase letters in the ID box below, and you should see the other information below.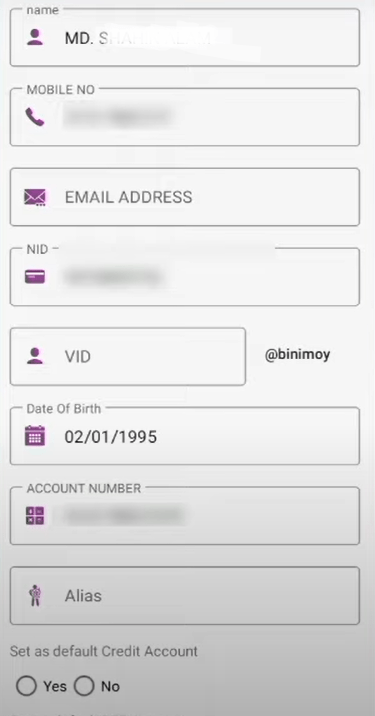 If you want someone to send money to your Binimoy account, it will be deposited directly into the Rocket account. Enter Yes in the option and tap on the Submit button.
Finally, set a 6-digit secret PIN for the exchange account and submit.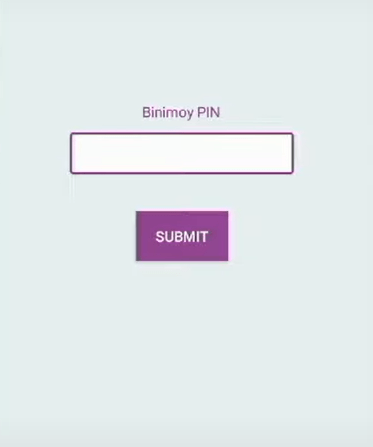 Following the above rules, you can easily complete the Binimoy account through Rocket App.
Rules For Money Transfer Through Binimoy Account
Earlier, we discussed how to open a Binimoy account after registration. Now, we will discuss transferring money from the Binimoy account to the other Binimoy account. So let's find out.
To transfer money from the Binimoy account, first, go to the Binimoy option in the Bkash app.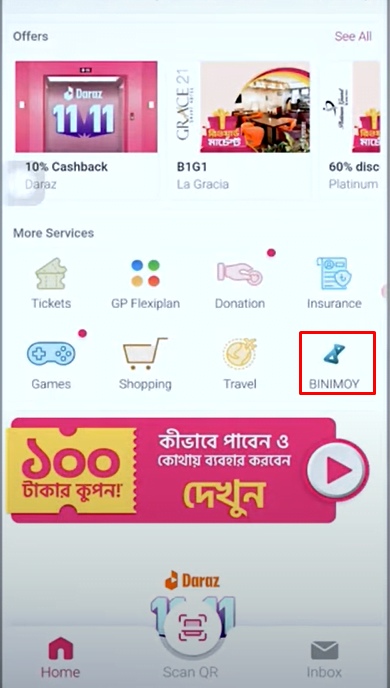 After coming here, you will see another interface of the Binimoy.
Here, it will be shown- Direct pay, Request payment, and Request notification.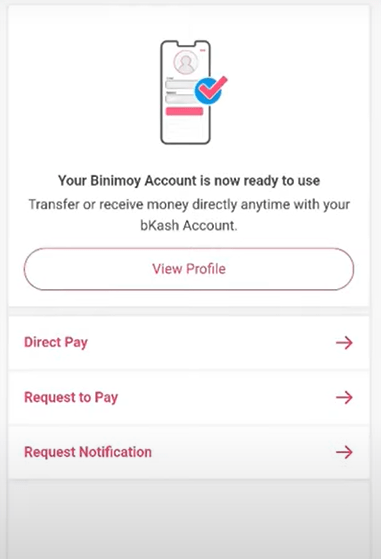 Direct payment: You can send money directly to someone else's Binimoy user ID through this option.
Request payment: Through this option, you can send a request to receive money to anyone else. If the person to whom you are sending the request accepts the request, the money will come directly from his account to yours.
Request notification: Through this option, you can know who sent you a request for money. You can see its complete details.
To transfer money from the Binimoy, click the Direct Pay option. Now, type the amount of money in place of the Amount in the interface that will open.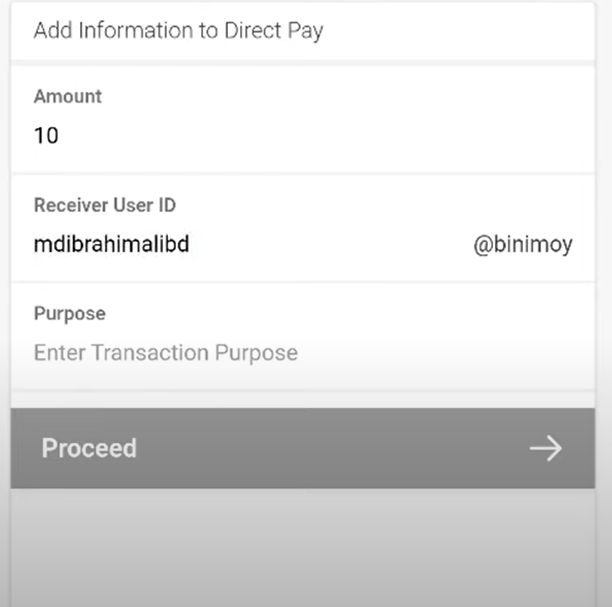 Then, type the user ID of the person you want to send money to.
Then, write what you are sending money for instead of the Purpose. Now click on the Proceed option.
Then, the interface that will open in front of you will show how much it will cost to send money. Enter the Bkash pin number in that interface and click the Confirm button.
Then, the interface that will open, you have to enter the PIN of the Binimoy account. If the Binimoy PIN is given there, click on the submit button.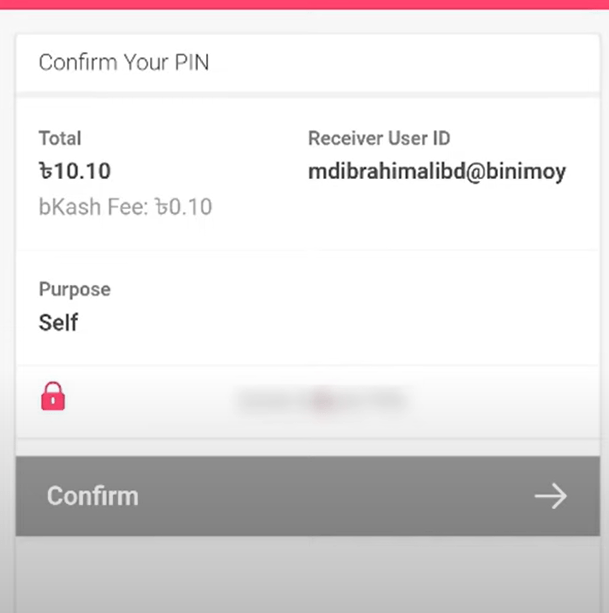 Then, the open interface will show your transaction as successful, and the transaction details will be shown along with it.
You can instantly transfer money from Bikash, Rocket, and all apps with the Binimoy option.
Binimoy Service Bank List
Not all banks or mobile banking institutions are connected to this Binimoy. However, all mobile banking and banks are expected to come under this Binimoy service in the future.
This Binimoy service is going to be simple. Through this, the banking sector transactions will be straightforward. However, the names of all the companies currently providing this Binimoy service are given.
Sonali Bank
BRAC Bank
Eastern Bank
Mutual Trust Bank
Midland Bank
Pubali Bank
United Commercial Bank
Al Arafah Islami Bank
Dutch Bangla Bank
The banks mentioned above are connected with the Binimoy service. You can easily avail of services from these banks through Binimoy.
Conclusion
Also, in mobile banking, Bkash, and Rocket are currently connected with this Binimoy service and from the mobile banking service of this Binimoy. Still, money transactions are being done very easily from Bkash to Rocket and from Rocket to Bkash.
A nominal fee of 10 Tk will be applicable for transferring money from your Baksh account to your Rocket account through your Binimoy account. This fee ensures the smooth and secure transfer of funds between these platforms, enabling you to manage your finances seamlessly.