Whereas Bangladesh is a digitalized country, almost every sector, government or non-government, relies on online-based services. Today's discussion is about the process of Police clearance checks online in Bangladesh.
We usually apply for police clearance for various purposes, mainly to go abroad for work or study. In Bangladesh, after applying for police clearance, there's a way to check the current status of the application online. To check police clearance, first, we have to visit the website of police clearance and check it with the reference number.
So keeping these things in mind, we're gonna discuss the process of the Police clearance online checking system in Bangladesh. Also, the process of Police Clearance Certificate Verification will be included in this article; let's get started.
Police Clearance Check 2023
After applying for police clearance online or offline, we seek to know the current status of it. Though the application was submitted properly, getting clearance never takes too long.
That's why we check the police clearance to know whether our police clearance application has been accepted, its status, and whether the certificate has been completed. If the clearance certificate gets ready, we can also apply to get this Police Clearance Certificate online. Keep reading to learn how to apply for a police clearance certificate online.
Police Clearance Check Online
To check Police Clearance Online, you first need to visit the official website of Police Clearance. Then you can check it by registering an account. But if this account has been created before then, you don't need to create it again. You can check it only with that account.
So to check police clearance, you need to enter this website first. You must sign in by entering here. Since you already have an account here, you will click on the Directly Sign In option from here.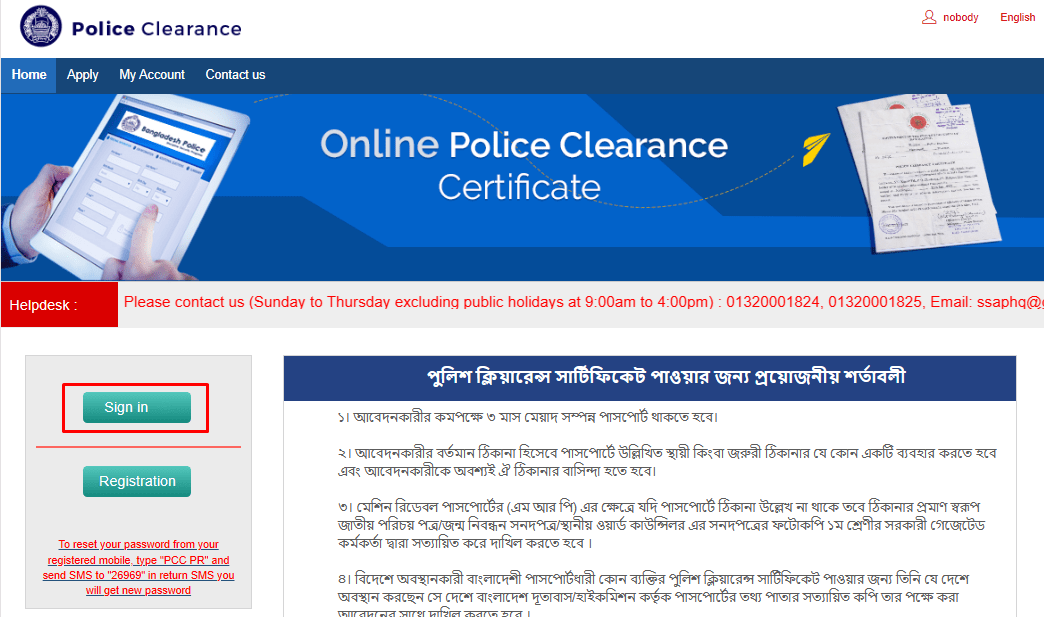 After clicking on the sign-in option, you will be asked for your mobile number and password for this account. Click on the Sign in button with your mobile number and password.
And when you log in through your account. Then you will see several options at the top. Such as Home, Apply, My Account, Search, and Contact Us.
So among these options, you have to click on the Search option.
After that, you can see two more categories. One is Certificate, and the other is Application Status.
So now you have to click on the option called Application Status.
Next, you will see two more blank boxes. In the first blank box, you enter Ref No. And in the second blank box, you have to give Passport No.
So when you apply for police clearance online. Then the Ref No in your application form should be placed in this first box.
Next is your passport number. You have to place it accurately. And finally, you have to click on the Search button.
As soon as you click on the search button your page will reload, and after reloading, your police clearance status will show here. Your passport, mobile number, name, and address will show here.
Here it will also show what stage your police clearance application is at now. From here, you can know how long it may take to get your police clearance certificate. If it is created, it will also be written here. Then you can go to your nearest police station to collect the certificate.
Police Clearance Certificate Verification Online
Above, we have learned how you can check your police clearance application status, but how do you know whether your police clearance certificate is ready or not?
Here is the way to know if your police clearance application is accepted then how to get the certificate; we may not have the police clearance certificate for any reason.
That's why we verify this certificate for download. Follow the following steps properly to get your police clearance certificate from home.
First, you need to enter the official website of Bangladesh Police Clearance by clicking here.
When you enter the official website of Bangladesh Police Clearance, Check from the above link. Then you need to sign in with an account.
So when you log in to the website. Then you can see an option called Search at the top. You have to click on that option.
When you click on Search. Then two more categories will appear in front of you. So here you have to click on Certificate.
Then there is the Ref No in your Police Clearance. Place it, and after that search will show all the information about your police clearance.
From here, you can download or print this certificate and solve all the important tasks related to your police clearance.
We have tried to present all the correct information related to the Police Clearance Verification checking process in this discussion.
For further information about this topic, you can contact your nearest police station without going anywhere else or learn about it by visiting the Police Verification website.