The Police Clearance Certificate fee is BDT. 500 can be paid online through Sonali Bank Limited Bangladesh by Chalan Code 1-7301-0001-2681.
Police Clearance or Police Verification is a process in which all the information a citizen gives in an official case is verified or not. At every life stage, a citizen must oxidation at various places.
Sometimes Police Clearance Certificate is necessary to verify that the information is correct. Then through police verification, this information is verified to be completely true and accurate. And this verification is done by Bangladesh Police.
Police Clearance Certificate Application
If one wants to apply for police clearance online, he can do it. Applying for police clearance can generally be done in two ways. One is offline, and another is online.
Being offline, you can directly go to the police station and apply it to the police. In this case, you need to carry some documents. They will provide a form. You must fill out that form and submit it to them and with other documents.
On the other hand, to apply online, you have to fill out a form online. After filling out the form, you must scan and upload some documents.
In the next step, you must complete your application process by paying the fee, printing the application form, and submitting it to your nearest police station.
To apply online, you can follow our article given below. Here is the complete process of how to apply for police clearance online.
Police Clearance Application Fee
The application fee must be applicable for police clearance. The government application fee for police clearance is TK 500.
However, in various cases, when going to the police station, the police demand a higher fee than the normal amount. That is why the application fee varies from place to place. But remember the government fee for this is only 500 TK.
Police clearance application fees can also be submitted at the police station through the Sonali Bank challan. However, going to the police station and submitting it is time-consuming because there is always much waiting in the queue. That's why many people pay police clearance fees online.
Those who are not willing to go to the bank and stand in line to submit the challan fee for Police Clearance Certificate can go to the prescribed option after filling out the online application form for Police Clearance Certificate and deposit 500 Tk for the challan fee online through Bkash or other online channels. No signature or seal of the bank official is required in the case of an online challan.
Online Police Clearance Application Fee Payment
Now let's move to the main discussion of how we pay police clearance application fees online. You can pay the online police clearance application fee in various ways. If you have a bank account, then you can complete your fee through that bank account.
Or, if you have mobile banking such as a Bkash account, Nagad, or Dutch Bangla mobile banking, you can deposit the police clearance fee through all the mobile banking services available.
To submit an online police clearance application for free, first visit this link.
After entering this link, a dashboard page will open before you.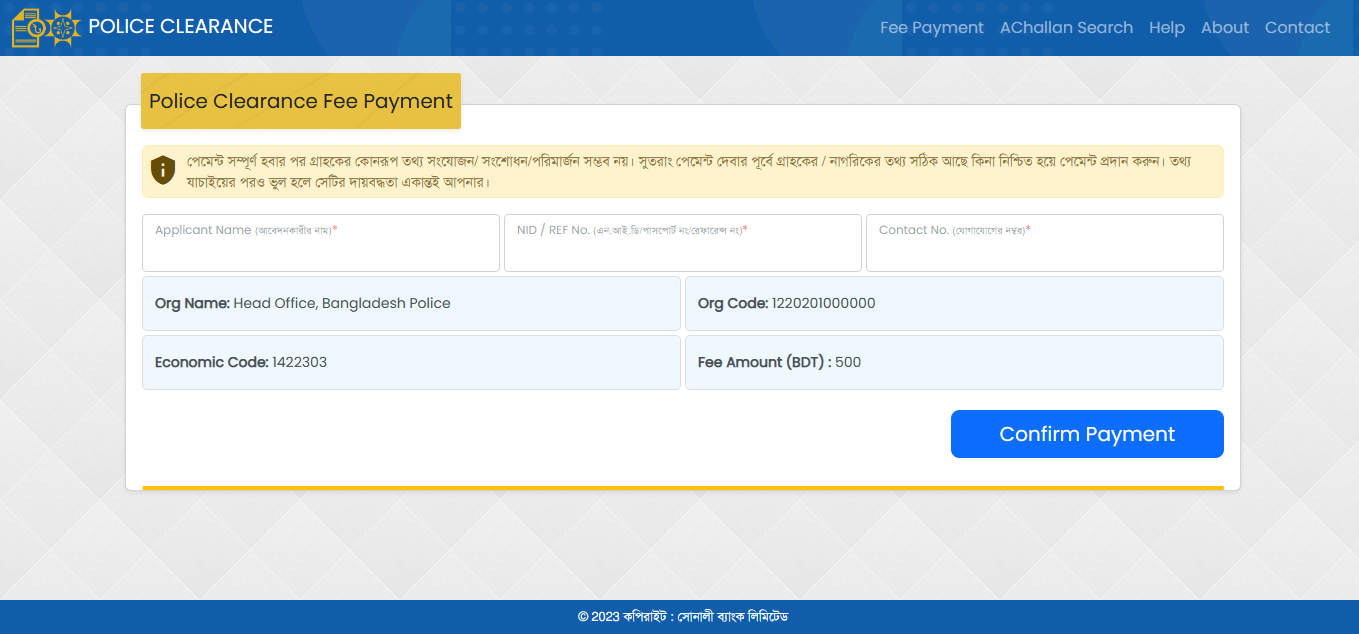 Some information will be mentioned here, and you will have to fill in yourself.
Here you will first see a box named applicant name.
Enter your name correctly among the names of this applicant. Then in the middle is the NID number or passport reference number.
Fill in your NID number or your passport or reference number from your document.
Then you will see the contact number on the right side.
Enter your mobile number here.
Then click on confirm payment button. Pop-up information will appear as soon as you click on confirm payment button.
Click on submit option here.
After clicking the submit button, you will be given the mobile banking option.
Select any bank here if you want to pay through a bank. And if you have mobile banking, then from here, you have to select either Bkash, Nagad, Dutch-Bangla, or Rocket.
Then click on the proceed button. In the next stage, the money you must pay will be mentioned here.
A fee of TK 500 is usually required for police clearance.
So you have to click on confirm button to confirm it.
After clicking the confirm button, you must provide your mobile banking PIN. After providing the PIN, click the Pay Now button, and your payment will be completed.
Download Clearance Certificate Payment Receipt
You can download the payment receipt when your payment is made in the next step. Download the payment receipt from here; you will need this copy later.
So click on the download button and download the payment receipt on your device and later go somewhere else and print this copy.
When you submit the other documents along with the application form for applying for police clearance, attach this payment receipt. Then your police clearance application will be completed.
When you do this properly, then you will be contacted by the police station. And ask you to go to the police station with some necessary documents.
FAQ On Police Clearance Certificate Fee
Q 01: How Much Does It Cost To Get a Police Clearance Certificate?
Answer: The police Clearance Certificate fee is BDT. 500.
Q 02: What Is The Challan Code Of Police Clearance Certificate Payment?
Answer: Chalan Code for paying Police Clearance Certificate is 1-7301-0001-2681.
Q 03: Which Bank Accept Police Clearance Certificate Fee?
Answer: Any treasury branch of Sonali Bank or Bangladesh Bank.
Finally, if you can do everything right. And if you are selected as a satisfactory person to the police. Then you will get this police clearance certificate.