Inhemeter Electric Meter Codes are very essential. To check your Inhemeter balance, input 00 and press the enter button. Inhemeter Some codes are used to know different information about electricity meters.
If all these codes are placed on the meter and press the enter button, the required information related to the meter will come out. These data are usually two digits and three digits. These shortcodes should be known by everyone who uses Inhemeter. Keep reading to know about your Inhemeter Electric Meter Codes.
Inhemeter Electric Meter
Inhemeter is an electric meter like a prepaid electricity meter in general government service. Bangladesh has many customers of this electric meter. Customers of this meter can know their meter information by going to their meter and dialing certain shortcodes for any information.
To know this information, first, go and pick those shortcodes and then press the enter button. The desired information will show on the meter as soon as the inter button is pressed.
Inhmeter important codes we collected and presented in today's discussion from where you can get information about the meter. These facts are mentioned in detail below.
Inhemeter Electric Meter All Codes
Our electricity connection will be disconnected whenever the prepaid meter balance is exhausted. Then we will need electricity. Know here all the shortcodes of the Inhemeter, which will be helpful in your daily use of the meter. Let's know about all prepaid meter code lists.
Inhemeter Balance Check Code
First, let's know how to check the Inhemeter balance and what you need to do to know how much is your current balance. However, many people do not know how to check the balance of the meter.
Its USD code number is important to know if you are using Inhemometer. Because many times we need to check the balance and insert a new equilibrium. That's why we need to know this code.
To check the Inhemeter balance, dial 00 from your meter and press the enter button. Only then will your current balance show on the meter, and you will see it.
Inhemeter Emergency Balance Code
Many times our meter is out of balance. Our electricity connection is cut off when the meter runs out of balance. In such a situation, our electricity connection becomes very important, but we must be in danger as there is no balance insert shop within reach.
When we need emergency electricity, we can take an emergency loan from our Inhemiter. If you want to take emergency electricity or an emergency loan, dial 89898686 from your meter and press the enter button. Then your fixed amount of emergency loan will come, and you can use electricity.
Inhemeter Emergency Balance Check Code
After taking an emergency loan, we have a new task: how to check the emergency balance, that is, how much is left after taking our emergency loan.
The first thing you need to do is go to your meter. You have to take the number 59 from the meter and press enter. Only then will your meter show how much you have in your emergency balance?
Inhemeter Number Check Code
This is a critical point. Your meter comes with a card that has your meter number written on it. If you ever lose or don't have the card, you can also check your meter number from your meter.
To do this, you first need to go to your meter. In this circumstance, go to your meter and press 30, then press the enter button. Then your meter number will show on your meter.
Inhemeter Electric Meter Shortcodes List
To make managing a prepaid meter more convenient, utility companies typically provide customers with a list of shortcodes that can be used to perform various functions, such as checking the balance on the meter or recharging the account with additional credit.
At this point, we will explore the importance of prepaid meter shortcode lists, their benefits, and how they can make managing a prepaid meter easier for customers.
| | |
| --- | --- |
| Information | Code |
| Balance Check | 00 |
| Emergency Balance Acceptance | 89898686 |
| Emergency Balance Check | 59 |
| Meter Number Check | 30 |
| Present Electricity Voltage | 07 |
| Used Unit Present Month | 01 |
| Last Recharge Amount | 31 |
| Recharge History | 17 |
| Token Sequence | 52 |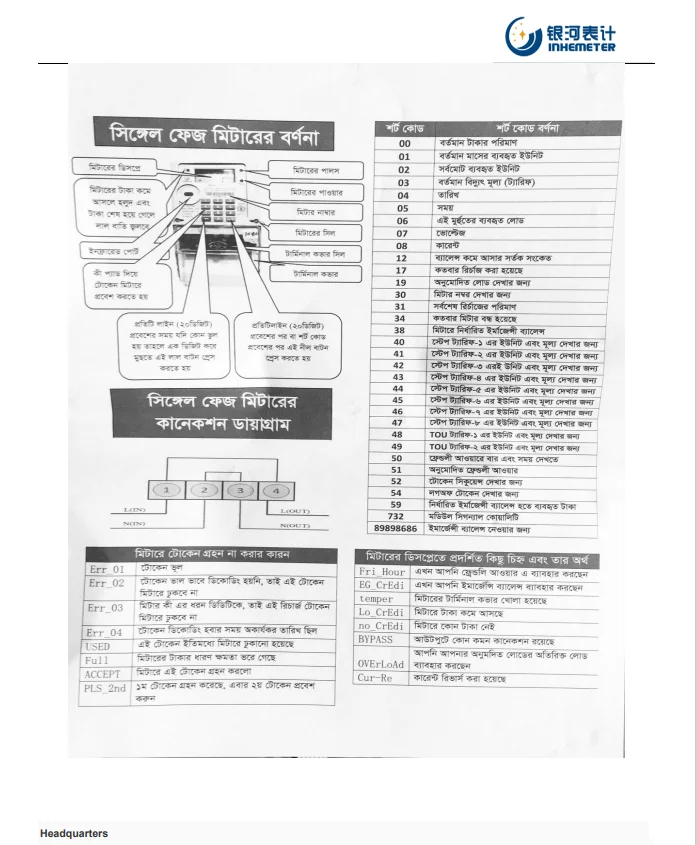 Click Here for more Codes. We need to know these codes because we never know when to need them.
Have a Look at NESCO Prepaid Meter Codes.
Therefore, in today's discussion, we have presented all the USD code numbers of prepaid meters of BPDB, which are very important to you.