I have faced many difficulties with my NID address change. Many of us change homes or places and relocate to other places for various reasons. As a result of the transfer, their NID card address is different. The NID card address change is required to vote in that area, participate in elections, and maintain identity.
Then it becomes a different problem. Because many of us don't know where to go to change our NID card address, what is required, how much the fee is, and how long it may take.
You can also change your NID very easily if you know them correctly. Read the article from beginning to end today so that you understand all these things very well.
NID Card Address Changing System
You must correct your NID card identity for whatever reason you leave your locality, settle in another, or migrate. Moreover, you cannot identify or participate in voting and elections in that area. For this, there will be a need to change your NID address. For this, you have to go through several steps.
You will need several documents to change your NID card identity; based on these documents, you must
apply through the Election Office. Follow the steps below and change your NID address very quickly.
Documents Required to Change NID Address
First, you need some documents to change your NID address. Collect these documents before you go to apply for the change of NID address. The documents you will need are mentioned below in point form-
Certificate from the Mayor/Union Parishad Chairman of the municipality in his official pad office memo stating the date on which he is currently a resident of the area with recommendation for transfer.
Copy of utility bill (original copy of recently paid electricity bill).
Municipal Tax Receipt/Chowkidar Tax Receipt
Photocopy of husband's national identity card for married woman
On the next page of Form-13, the applicant has to fill in the information along with the signature of the identifier in the middle.
NID Address Change Rule:
Before changing your NID address, you must remember the rules and regulations declared by the authority:
Submit your application form to the Thana/Upazilla Election office.
Number and Spelling mistakes will be changeable.
Documents Need NID copy of another family member (any), Electricity/Gas/Telephone bill copy, Chairman Certificate.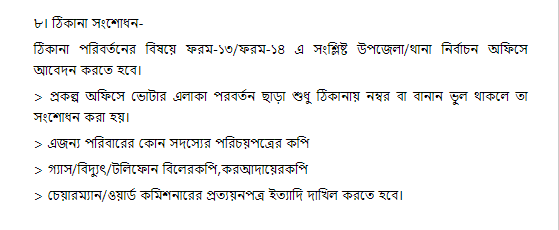 NID Address Correction Application Process
You cannot change your NID card address at home because you are not given this opportunity as per Bangladesh government rules. You have to visit your nearest election office to complete this application process.
It would be best if you visited your Upazila election office to change your NID card address. It would be best to collect the Voter ID card permanent address change form from the office and fill it up.
After filling out the form, you will pay the NID card correction fee.
You can write the fee payment transaction number on the amendment form or submit the necessary documents, the application form, and the fee payment receipt.
The officer in charge at the election office will accept your application and give you the slip by cutting off the bottom part of the application. This slip should be kept very carefully. You will need this slip when you go to get your ID card.
Then your task is to regularly check whether your ID card amendment card has arrived and collect it when the card reaches the election office.
NID Address Change Application Form Fill Up
When you apply, you will be given an application form by the Election Office. You have to fill out this application form in the following way. Follow the steps below to fill out the application form correctly-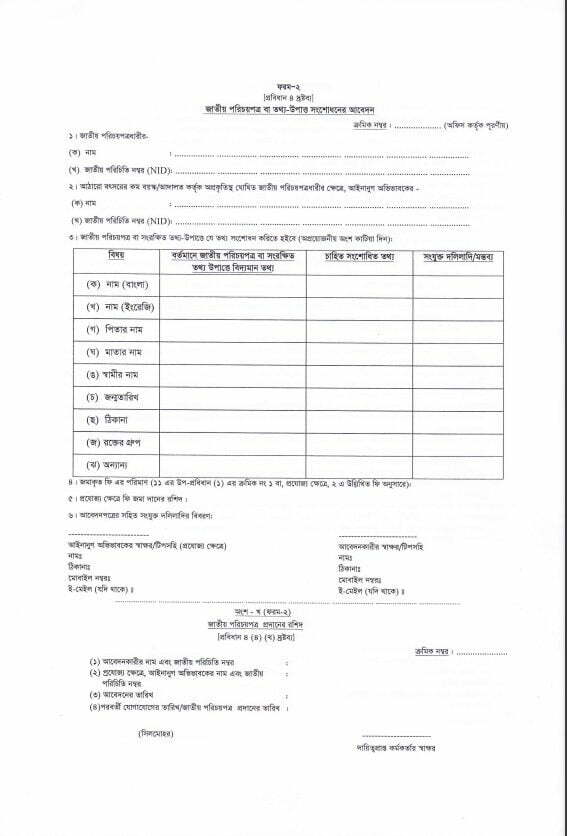 The applicant's name should be entered in Option "A" of Serial No.1 of the Voter ID Card Amendment Form 2.
Then you must provide the NID number in option "B" of serial number one of the forms.
Then there is serial number two. This option does not apply in all cases. You do not need to complete this option if you are under 18.
Then you will see a table below. This table has three columns.
In the first column, you can provide some information; in the second, you have to provide information about your current NID card. In the third column, you have to mention the corrections you want to make in this column.
And in the fourth column, you will see an option named Documents or Comments. Just write the names of the various documents that you will provide here. But you have to submit the necessary documents and the application form photocopies.
So it will be perfect to fill in this information and pin it along with the application form and the necessary documents and submit them to the specific desk of the election office. After submission, you will get a return slip. Keep this slip carefully; you will need one later to collect your NID card.
National Identity Card Correction Fee Payment
After completing the application, you must submit the fee payment receipt and the application form. So you have to pay the application fee before filling out the application form and submitting it. You can pay the National Identity Card information change fee of Tk 230 through BKash, Rocket, or any other mobile banking.
If you want to amend your National Identity Card for the first time, you will need a total of TK 230.
If you want to amend for the second time, then your fee will be TK 345
And if you want to amend for the third time, your fee will be TK 575.
So if you want to amend your National Identity Card for the first time, you must pay TK 230.
NID Card Correction Fee Payment Process:
You can pay this fee through Bkash, Rocket, or other mobile banking. But currently, the most popular method is the BKash method. Below is the procedure for paying the fee in the BKash system.
NID Card Correction Fee Payment By BKash
If you want to pay the fee through Bkash, you must first log in to the Bkash app. Log in and follow the steps below.
First, go to the option called Pay Bill.
After going to the option, you will see an option called Government Fees. Click here and select the NID service option.
Then an option called ID number will appear. Enter your NID number here, and the application form is given above. Here select the option for which you have applied from the application type.
Then pay the fee with your Bkash Account PIN. You will receive a payment receipt upon successful payment of the fee. Save it on your mobile and submit it along with the application form along with the receipt.
After completing all the processes perfectly, I hope your NID card address change has been completed. You can check your NID card online to see whether everything on your NID has been corrected or not!
You can change or modify your NID information anytime on your own. If you want to know anything else about it, you can let us know by commenting. Stay with our website to get more such various online services. Thank you.