Know about the Indian Tourist VISA Bangladesh application process, fee payment, required documents, and other information now! India is one of the largest democratic countries on the Asian continent, with a variety of natural beauty and scenery. Here are some sights that will impress you.
India also has traces of various ancient civilizations. All these sights and monuments tempt you to visit India. That is why many people apply for a VISA to visit India.
All About Indian Visa from Bangladesh
Indian tourist VISA is granted for 180 days duration. Usually, there are different types of VISAs. Such as an official VISA, student VISA, medical VISA, work permit VISA, business VISA, tourist VISA, etc.
A tourist VISA is a VISA that is issued to visit a country. Recently, the demand for tourist VISAs has increased because everyone wants to enjoy this breathtaking worldview.
You need to fulfill certain conditions to get an Indian Tourist VISA. Mentioned below are some of the conditions for getting an Indian Tourist VISA. You will also get an Indian Tourist VISA if you meet the conditions.
Indian Tourist VISA Application Process
You have an E-passport, and you want to travel to India from Bangladesh as a tourist; you have to complete your VISA application, then you can have your tour permission. There are certain conditions and required documents for traveling to India. If you are also planning to travel to India, then today's article is expected to help you completely.
Today's article will discuss getting an Indian VISA, the application system, the VISA cost, and all procedures, including the required documents. So let's start the main discussion without delay.
VISA Application Process Online:
You have to apply along with the above-mentioned documents. You must visit Indian Visa Application Center (IVAC) to apply. After entering this website, you will get some forms and fill them out carefully after looking at the documents you have taken.
Once filled, submit. Then download and print the application form. Then your application process will be completed. Then you have to pay the fee for it. After paying the specified fee, a confirmation SMS of your application will be sent to your phone. Then your application process will be completed.
Enter the link on your browser's search bar (https://indianvisa-bangladesh.nic.in/visa/Registration).
Enter the form details given here on the inter page of the website.
Select VISA type.
Enter Captcha.
Click on the Submit button.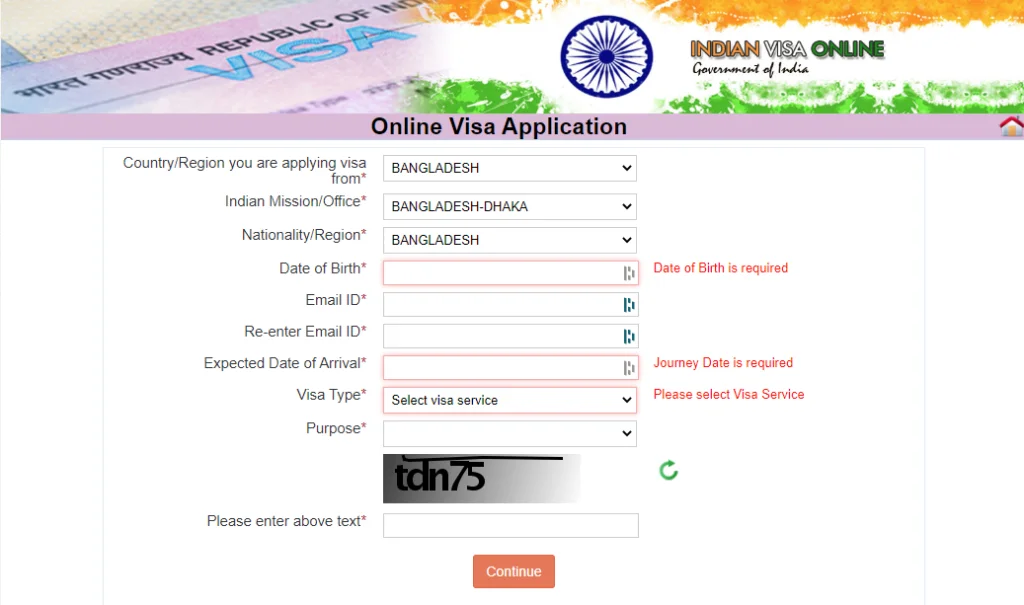 Conditions For Getting an Indian Tourist VISA
There are some conditions if you need an Indian Tourist VISA. All the conditions I have given below-
The first condition for going to India is that your passport should be valid for more than six months.
At least three pages of your passport should be blank.
You will not get a tourist VISA if you suffer from a life-threatening illness. In this case, you will get a medical VISA.
A VISA applicant cannot have been previously charged with a crime in any other country. You will not get this VISA if you have been deported from another country.
Documents Required For Indian Tourist VISA Application
If you want to visit India as a tourist, you must collect a tourist VISA; to collect this VISA; you must collect some necessary documents. They are-
The original passport must be valid for at least 6 months from the date of VISA application.
The passport should have at least two blank pages.
Copy of passport (second and third page and endorsement of validity extension, if any) should be attached.
All old passports should be submitted along with the application form.
A recent (not more than 3 months) 2×2 (350×350 pixels) size color photograph with a full face visible and the back of the photograph should be white.
Copy proof of residence, national identity card, and electricity, telephone, gas, or water bill.
Professional proof, a certificate from the employer.
In the case of students, an ID card copy of the educational institution should be attached, a retired person's retirement papers, and a business person's trade certificate.
Proof of financial solvency. Applicants must provide a foreign currency endorsement or a copy of the bank statement for the last 3 months.
The applicant has to scan the photograph and upload it in the designated space provided in the online application form.
All old passports must be submitted along with the application form on the day of the interview.
Indian Tourist VISA Application Fee
Like other VISAs, you must pay some fee to get an Indian tourist VISA. However, there is no specific fee to be paid for the Indian VISA. But 800 TK has to be paid for VISA processing. You have to pay this money in a certain process. Follow the process given below to pay your fee.
Indian Tourist VISA Fee Payment Process
There are many methods of payment for VISA fee payment can be done by Debit, Credit, VISA, Master Card, American Express DBL Nexus, U Cash, Fast Cash, City Touch, Bank Asia, Islami Bank Bangladesh, Mutual Trust Bank Internet Banking, Mobile Banking, Various mobile banking such as Rocket, Bikash, MyCash, MCash, and AB.
If you want, you can also pay from UKash. You can make cash payments on your own or from any agent. You can also pay through any of your mobile banking accounts.
You must go to Indian Visa Application Center (IVAC) Banglades to make an online payment. You must go to this link if you want to pay by Ukash Payment. You will understand everything, and you can pay.
Deposit the money the day before submitting the VISA. Once the money is deposited, you will receive a confirmation SMS on your mobile.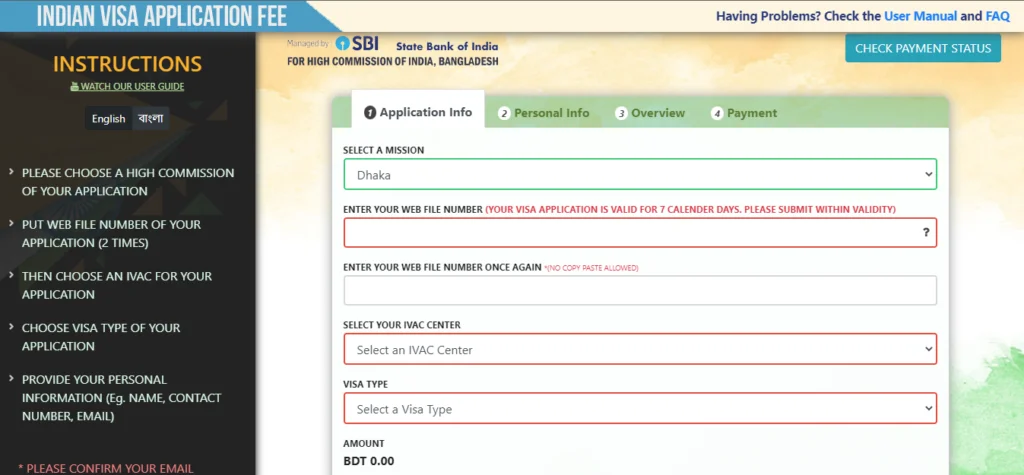 How Long Does it Take to Get an Indian Tourist VISA?
You don't have to wait long to get an Indian tourist VISA. It may take 10 to 15 days to get your VISA if everything goes well. However, if everything goes well with the application process, you can get this VISA within three to seven days.
So you don't have to worry about getting a VISA. You will get the VISA very quickly. If there is any problem with your documents for Indian tourists or if you cannot fulfill any of the conditions mentioned above, or if any of the conditions remain, you will not get the VISA.
Then your VISA will be canceled. If you fulfill the above conditions, you don't need to worry. You will get the VISA very soon.
So today's discussion is going to be finished. I hope you got all the information about Indian Tourist VISAs from today's article. If you have any questions about an Indian tourist VISA or want to know more details, then you can comment to us.
Thank you very much for staying with us from the beginning to the end. Stay connected with our website to get more new VISA-related information.