Visit evisa.rop.gov.com from your mobile or computer to check your Oman visa. Then click Track Your Application from the top menu, and enter your Visa Application Number and Travel Document Number or Passport Number.
Then select your country, enter the captcha code, and search. Then your visa details information will be shown here. You can also download this report by clicking the download button.
Checking Oman VISA 2023
Bangladeshi citizens who have applied for the Oman visa can easily check their visa status from home to find out if the visa is genuine or fake or still valid or invalid.
So those of you who want to know how to check Oman visa must read our complete article to know the rules of Oman Visa Check and some important information about Oman.
Oman E Visa Check Online Process
As a Bangladeshi, you may need to overcome many complications after applying for Oman Visa. There could be several reasons to cancel your Visa, so it is wise to check your Visa status online after completing the Application.
Through the checking, you will know the valid and invalid information about the visa and get a proper idea of your next steps.
Remember, you should be careful while checking the Visa online. Otherwise, your personal information could be leaked!
Importance of Checking Oman E-Visa Online
Checking your Oman e-Visa online is necessary for several important reasons. First, you can check the validity of your visa before traveling to Oman. You can ensure that your e-Visa is still valid and will be accepted upon arrival in Oman by checking your e-Visa status online.
Oman's online e-Visa verification allows you to plan your itinerary effectively. Knowing when your e-Visa expires will enable you to plan your travel dates accordingly and avoid staying in or entering Oman after your visa has expired. This will help you comply with Omani immigration regulations and avoid legal issues and penalties related to visa violations.
Oman Visa Check by Passport Number
It is easier to check the Oman Visa using the Passport Number. Thousands of people from Bangladesh go to Oman annually for work or business purposes.
Many people have paid money for visas but have not received visas yet. You can also check if their visa application is approved. So let's know below how to check an Oman visa with your passport number.
First, you must visit the Official Website of Oman E Visa From any internet browser on your phone.
After going to the website, click on the Track Your Application button. "Oman Visa Check by Passport Number"
After pressing the track your application button, enter the number that you have at the time of your visa application instead of the visa application number.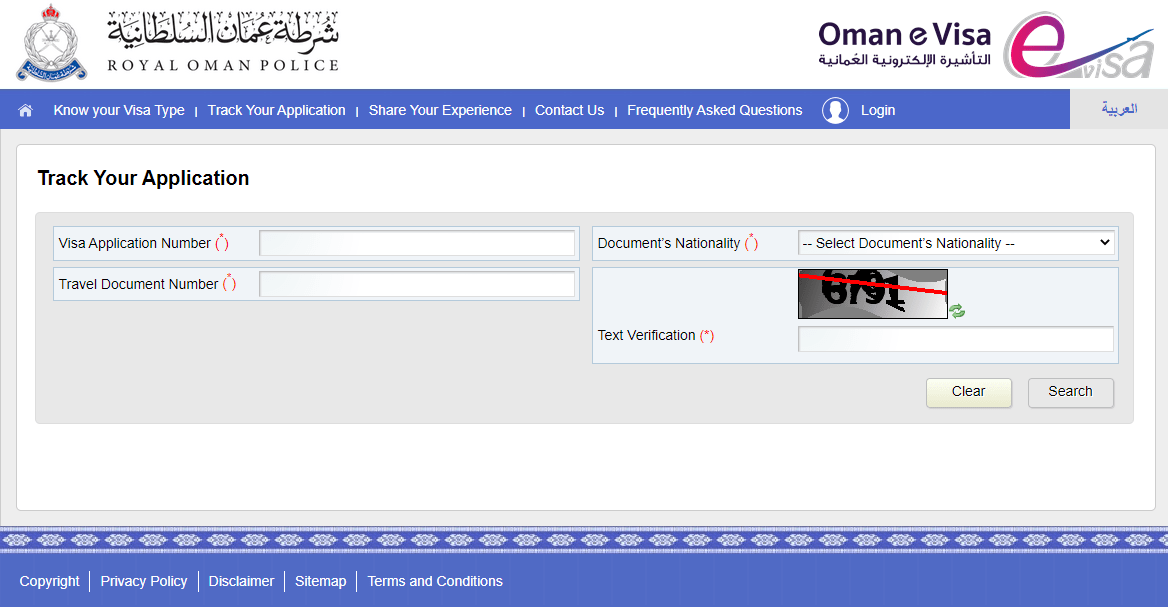 This number must be written in English.
Then enter your passport number in place of the travel documents number.
Then from the right side, select your nationality as Documents Nationality from here.
If you are a Bangladeshi, select Bangladesh. Next is text verification.
Text verification is a captcha.
Enter this captcha correctly in the answer box and click the search button.
When you click the search button, you can see your visa information below. If it is approved, then you will see the status as Approved. If you want to download it, then you can download it from the payment option on the right side.
Oman E Visa Rop
In Oman, the full form of ROP is Royal Oman Police; it enables people to fill out the Visa Application form online through the ROP website, thus reducing the time to purchase the application form and get it typed. Bangladeshi citizens waiting to go to Oman can now go to Oman very quickly by applying for an Oman visa on the ROP website.
Also, you will get all information about visas from Oman E Visa ROP. You can easily get all the information about visa status, whether the application has been accepted, and whether you can go on an e-visa from here anytime.
Since English is an international language, English skills should be acquired, and the Omani language should be eliminated first.