NID photo change sometimes becomes a must-need for some NID holders. When they take new voter photos for new NID cards, they don't focus enough on the image's quality. After becoming a voter, the thing we hate the most is the photo of the voter ID card.
The voter ID card picture with our photo is mostly messed up, which we don't like, or when our look changes after a long time when we first registered and still don't like our ID card picture. For these reasons, we especially try to change our ID card photo.
Why Someone Change NID Photo?
NID correction process allows you to change or modify any information on your NID card. We can change our NID card picture whenever we want, but this is not the case. It is often seen that the NID card picture does not match the actual one, or it may happen when the NID card does not match the appearance long after registration, as people's faces are not always the same. It keeps changing.
That is why we may need to change the NID card image when the appearance does not match the NID card. So you should change your NID card when you see a discrepancy between your physical condition and your NID card photo.
Is It Possible to Change the Photo of NID?
It is not possible to change the photo of the ID card manually. We must follow certain procedures, which take a lot of time.
You can't do it at home if you want to. To do this, we must apply to the election office and provide many papers and documents there, which is very time-consuming and troublesome.
You will know how to change your NID card picture in today's discussion. To know this, you should read today's discussion carefully from the beginning to the end.
NID Card Photo Changing Process
Now let us know about the process of changing the NID card picture. The NID card photo cannot be changed at any time. We can't do it on our own.
For that, we have to apply and go to the election office. You must go to the election office and get a form to change your NID photo. This is the amendment form called Form 2.
You can download it online if you want. However, for your convenience, a PDF format form is provided below, which you can complete from home and submit to the election office.
NID Photo Change Form Fill Up Process
When you collect the photo correction form from the election office or download the NID correction form online, there are several options after receiving it.
In the first number one option, you have to enter your name, and below, you will see an option called National Identity Card number. Enter your NID card number in this option.
Then you will see below there is option number 2. You do not need to fill in this option. Then go from option number 3.
You will see from option number 3 that you will be asked to provide some vital information here. It is divided into four columns. Enter the information in the first column very well.
Then you will see that there is a second column. You do not need to fill in this column.
Then in the third column, you will see the desired revised information written. In this option, you need to write your image correction.
In the end, you will see column number 4. You do not need to fill in this column. But for this, you need to present some documents at the election office. Those documents are mentioned below.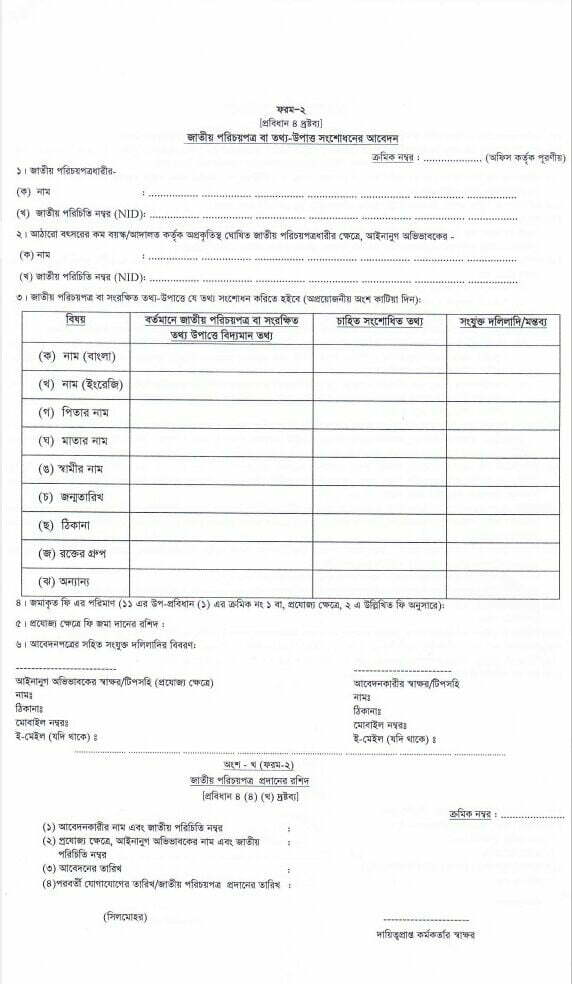 Documents Required for NID Photo Change
You must provide some documents to change the image. These documents are presented below in point form.
You should carry these documents to the election office to apply for the NID photo change. Otherwise, your application process will not be completed. Let's see which documents are required to change your picture.
Copy of NID card
Birth registration certificate
Educational qualification certificate
Photo Change Certificate
Fill out the form for photo change and hand over the form along with the necessary documents to the designated officer of the election office.
Then your application process will be completed, and you will wait for the picture to change. When the picture is changed and the new NID card is available, go to the election office and collect the NID card.
Fee Payment for NID Photo Correction
Now let's see how much the fee is to pay for photo correction and how to pay it. Usually, NID card photo correction is a difficult task that requires a lot of time to do, which is time-consuming.
When you apply for NID photo correction at the election office, they will inform you of a specific fee, as there is no fixed fee. This should be known to you by the election office.
Go to them and find out the total fee they have to pay for it and how to pay it. Pay the fee in the specified process after knowing from them.
If they offer payment through Bkash or other banking systems, then pay as per their instructions. And if there is no such system, they will directly take that fee. So you need to know from the election office how much you have to pay and how to pay it.
Today's discussion is so far. I hope you clearly know how to change the NID card picture from today's discussion.
If you are in such a situation that changing your NID card picture becomes necessary, follow the above suggestions. Then changing your NID card will become easy for you.
You can visit our website to get solutions to various problems related to NID cards. Thank you very much for being with us.