Like other countries, Bangladesh is far ahead regarding passport re-issue or renewal, application for new passports, and resolving related issues.
It is normal to have a mistake, and there is a way to solve it where there is a mistake. A passport can be renewed even if the Passport has expired or is lost. Passport re-issuance or rules can now be made online from home, and the same procedure can be followed in applying for a Passport.
All Passport related services are being provided responsibly and diligently so that we can quickly get rid of Passport associated problems. The services mentioned below are notable among them.
MRP Passport Renewal in 2023
The government of Bangladesh does not renew or extend the validity of Machine-Readable Passports (MRP) as it expires. Instead, it issues a new MRP with full validity of 5 years.
The High Commission advises all to apply for a new MRP six months before the expiry of the validity of the existing Passport. Unreasonable delay often requires Police verification and may lead to a delay in issuing a Passport.
MRP Passport Renewal Form Bangladesh
Bangladesh Passport, now known as Machine Readable Passport (MRP), is issued by the Government of Bangladesh only for international travel of its citizens. It must be in the bearer's custody or the person's possession duly authorized by the bearer.
In case of loss or damage, the incident and situation should be immediately reported to the nearest Bangladesh Mission and the local police authorities.
After informing the police station, you must collect the necessary documents for the renewal of the Passport obtained from the government of Bangladesh.
Then, you must apply for a passport renewal in the online passport portal Bangladesh. And if your Passport expires or your Passport is damaged, then a GD copy will not be required. Next, you all have to do is –
Apply online at the following link:
Print the online application form.
Have the printed copy attested (on page- 4) by an authorized official.
Make the payment.
Submit the following documents to the High Commission:
Copy the filled-in MRP Application Form (DIP Form 1, duly attested by authorized attester and in case of any change of information, then copy of filled-in DIP Form; 2. Original Passport and photocopy of the existing Passport, etc.).
E Passport Renewal Bangladesh
To renew your e-passport, you need to enter Bangladesh e-passport online portal- https://www.epassport.gov.bd/landing.
After entering there, you will see an option above, "Online passport application" click on the "online application/renewal" option, then step one, fill in or select whether you are Bangladeshi, then your present address, home District, and Upazila and Continue, then enter your email and now you can apply by entering your password.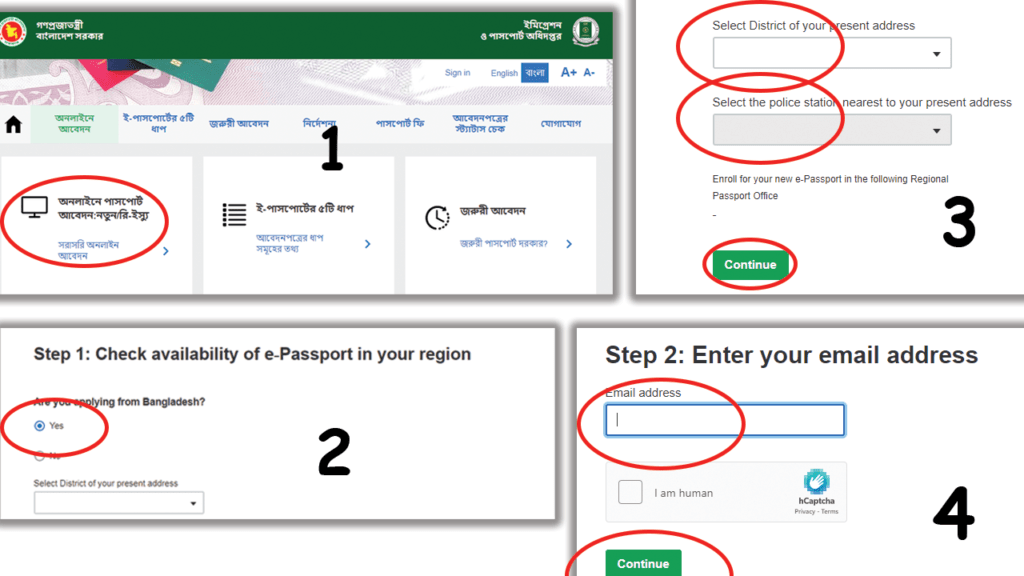 Bangladesh Passport Renewal Online
The Passport we get for the first time when expires, we can re-apply for a passport which we call renewal. If your Passport is lost or damaged, you can also renew your Passport by following specific conditions and steps.
To renew your Passport online, you need to enter the Bangladesh Online Passport Portal website with the link below. Also, how to apply for renewal online is discussed in detail.
Bangladesh Passport Renewal Form
You must log in directly to the Immigration and Passport Department website to correct your passport renewal or change your information.
This link will take you to the Passport Renewal Correction or Information Change page. After scrolling down the page in front of you, you will see a form for renewal in a PDF file. To fill out the form, you have to print out the form, or you can also fill it out online.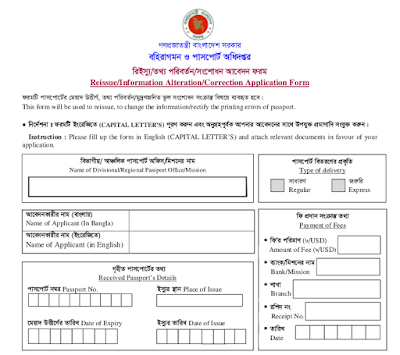 These are the documents given below that will be required after filling out the form-
To renew the Passport, one must fill up this form and submit a photocopy of the current Passport and money, and the original Passport must be brought along.
The ordinary fee must be paid for the submission of an independent, semi-government, autonomous, and state-owned representative or driver and husband or wife of the employee and the husband or wife of the active employee under the age of 15 (fifteen) years. No Objection Certificate (NOC) from the organization has to be submitted by web upload.
Retired employees and their spouses will get benefits by depositing a general fee. The country has to submit the retirement certificate.
In case of change of information of existing machine rebel port, the following form is required for re-issuance of pass application.
Bangladesh Embassy Passport Renewal Status
After applying for your passport renewal, you need to enter the web portal of the Bangladesh Embassy to know the current status of your Passport. By clicking on this link, you will see the homepage of Bangladesh MBC.

Clicking on the link will take you directly to this page, and you will have to enter your old passport number in the search box at the top. After you search with your old passport number, below, you will see your name, your passport number, and the current status of your Passport.
Bangladesh Passport Renewal Fee
The government of Bangladesh charges a certain amount of fee for making a new passport and a certain amount of fee for renewing a passport. Below is the fee charged for the renewal of the Bangladesh Passport.

If you need to renew or re-issue your Passport on an emergency basis, you will need to pay a total of  Taka-6,900, including Taka-6,000 + 15% VAT. Your Passport will be renewed within 7 days on an emergency basis.
If you are not in a hurry, then you can pay through the general fee, which amounts is Taka- 3450 including 3000 + 15% VAT. In case of an available fee, your Passport will be renewed within 21 days.
Again you have to pay a total of Taka-345, including 300 + 15% VAT for each year based on the years you will borrow your Passport for the following year. For example, if you want to renew your Passport for the next 5 years, you need 345 x 5 = 1725 TK to be paid along with a general or emergency fee.