Many individuals dream of pursuing international job opportunities to enhance their careers and provide better prospects for their families.
For citizens of Bangladesh, turning this dream into reality has become significantly easier; all information can be found on the Bangladesh Overseas Employment and Services Limited (BOESL) website.
What is BOESL?
BOESL, short for Bangladesh Overseas Employment and Services Limited, is a platform that has significantly simplified the overseas employment process for Bangladesh citizens.
This website is a one-stop destination for individuals seeking the latest information and updates regarding overseas employment and related services. For BOESL, people no longer need to comb through newspapers daily or spend countless hours browsing job news websites.
Which Notices Can Be Found on BOESL?
BOESL is your go-to source for various notices related to overseas employment and services. Here are some of the types of notices and information you can access through BOESL.
Job Announcements: You can stay connected on the latest overseas job opportunities, including job vacancies, qualifications, and application procedures.
Government Policies: You can learn about government policies and regulations related to overseas employment, ensuring you are well-informed and compliant.
Legal Documents: You can also access information about the necessary legal documents and requirements for working abroad.
How to Check BOESL South Korea Notice?
Checking the BOESL website to access notices is a simple process. Here's a step-by-step guide on how to check the BOESL notice board easily.
Open your web browser and enter the BOESL website.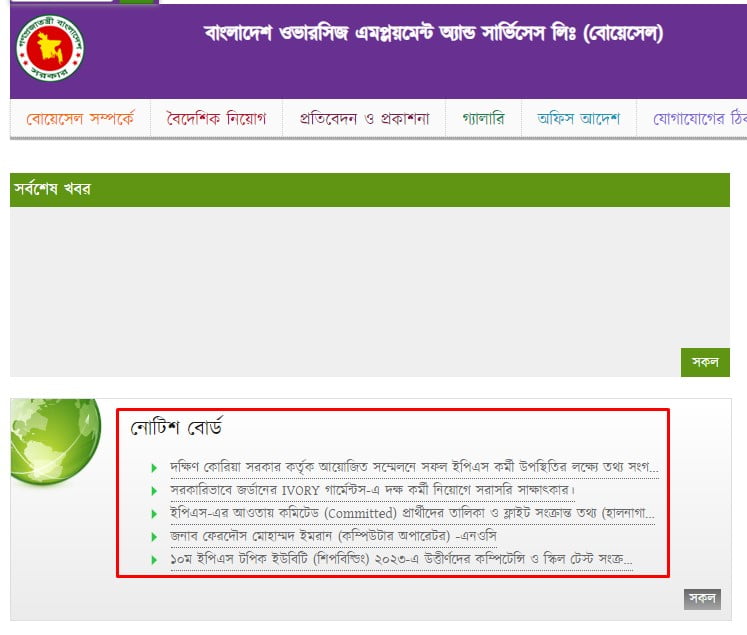 Once you're on the BOESL website, scroll down the homepage until you locate the "Notice Board" menu.
You'll find an option labeled "All" in the bottom right corner of the noticeboard menu. Click on this option.
Clicking "All" will take you directly to the noticeboard page. Here, you can browse through the latest notices and announcements.
To view a specific notice, click on it. If you wish to download a notice for future reference, look for a download button in the downloadable box and save it to your device.
BOESL Notice Board [PDF]
The BOESL Notice Board is a dynamic platform continuously updated with new notices and information about overseas employment. This ensures you can access the most recent announcements promptly and without concerns about false or outdated information.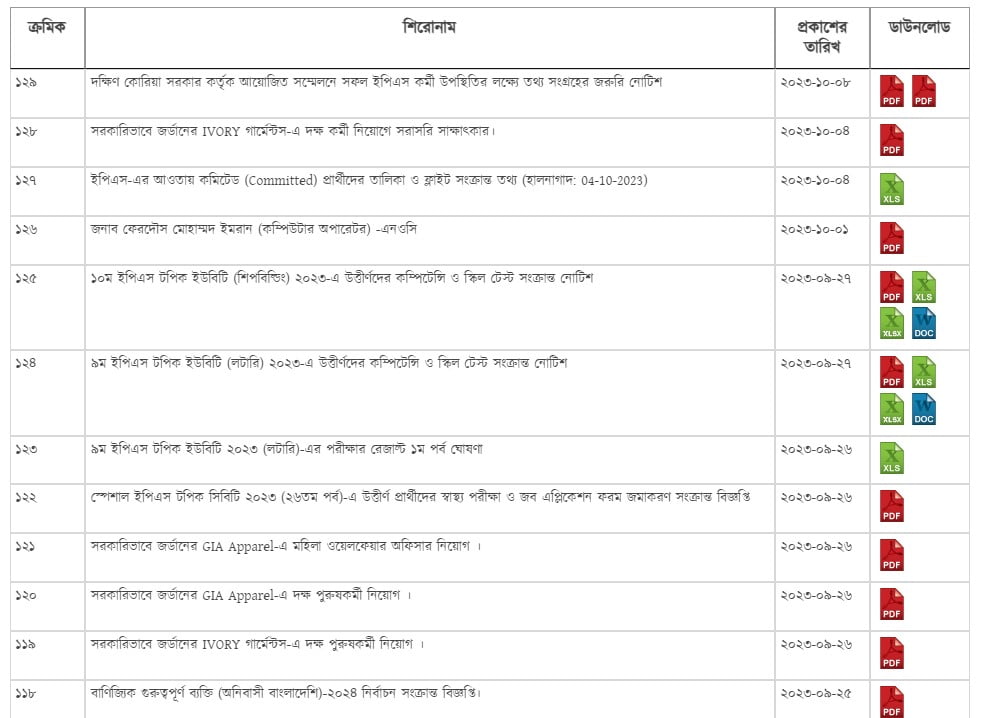 Whether you're seeking job opportunities, legal guidelines, or travel advice, the BOESL Notice Board will help.
FAQs
Ans: BOESL stands for Bangladesh Overseas Employment and Services Limited, a platform providing comprehensive information and updates on overseas employment and related services.
Can I trust the information on the BOESL website?
Ans: Yes, BOESL is the official website for overseas employment information in Bangladesh, ensuring the reliability of the information provided.
Are there any fees for accessing BOESL notices?
Ans: No, accessing notices on the BOESL website is typically free of charge.
Final Words
The BOESL website is undeniably a valuable resource for Bangladesh's people considering overseas employment opportunities. You can navigate the website and access the necessary notices by following the simple steps outlined above.