To complete your E-passport application online, you must visit the E‑Passport Online Registration Portal website, follow the 5 step by step process, pay challan online, and wait for a confirmation email.
E-passport was introduced in Bangladesh on January 22, 2020. Today we will learn the details about e-passport Bangladesh and e-passport fees, bank lists, and how to apply online in Bangladesh. Again, for those who have a passport but have lost it, if they apply for a passport, they will need to attach a GD copy.
Online Passport Application From Bangladesh
The documents we need to read after applying for an e-passport are a 3-page form that needs to be filled out online, and with that, we will need a bank draft of your payment.
Then you will need a photocopy of your National Identity Card or your smart card. If you do not have a National Identity Card, photocopy your Birth Registration. But there is a condition that you can give birth registration only if you are under 18 years of age; then, you have to provide a photocopy of the national identity card of your parents.
If you already have an MRP passport, you must attach a photocopy. Then you have to attach your marriage certificate. Then you must attach NOC because if you are in government service but are not eligible to get an official passport, you must take NOC from your government. Then you will need a government order or GO.
Those going abroad for government service will have to take this government order from the government. If a person has retired from government service, he should attach a photocopy of his retirement or pension documents.
If you are applying for an urgent passport, you will get the passport within 2 days, but in that case, if you do not have the passport before, you need to attach the pre-police verification documents.
5 Steps To E-Passport Application Bangladesh
If we apply for an e-passport as a citizen of Bangladesh, then the process is divided into 5 parts. Bangladesh's e-passport website clearly shows how to follow these 5 steps in stages. Let's find out these 5 steps.
Step 1- Check if the new e-passport is available in your area.
You need to know whether an e-passport service has been launched in the area from where you have applied for the passport or at the regional office. Below is a list of the regional or functional offices where e-passport services have been launched.
Bangladesh Passport Office:
Bangladesh has a total of 70 passport offices around the country. Here is the list of Bangladesh passport offices.
Agargaon
Jatrabari
Uttara
Dhaka Cantonment
Bangladesh Secretariate
Gazipur
Mansurabad
Mymensingh
Ministry of Foreign Affairs
Gaibandha
Gopalganj
Manikganj
Narsingdi
Noakhali
Feni
Chandgaon
Comilla
Munshiganj
Sylhet
Moulovibazar
Sunamganj
Habiganj
Jashore
Khulna
Kushtia
Brahmanbaria
Rajshahi
Chapainawabganj
Bogura
Rangpur
Dinajpur
Naogaon
Joypurhat
Barishal
Patuakhali
Pabna
Sirajganj
Kishoreganj
Natore
Magura
Norail
Lakshmipur
Tangail
Jamalpur
Sherpur
Netrokona
Madaripur
Faridpur
Rajbari
Jhenidah
Satkhira
Bagerhat
Bhola
Barguna
Chudanga
Jhalokhathi
Kurigram
Lalmonirhat
Meherpur
Nilphamari
Panchagar
Pirojpur
Shariatpur
Thakurgaon
Bandarban
Chandpur
Coxs Bazar
Khagrachori
Narayanganj
Rangamati
Step: 2 -Fill in your e-Passport application online
In 2 steps, we need to apply online for an e-passport in govt. Website.
Step:3- Pay passport fees
In step 3, we have to submit the application fee based on the validity and size of your e-passport. We can pay the fee in two ways.
Via Online: We can pay fees online through-
Visa card.
Master card and.
Q cash.
Mobile banking-
B-Kash.
DBBL Nexus.
Internet banking-
Bank Asia
You will need a CHLAN COPY of your passport fee payment. CHALAN COPY means the pay slip. Whether you pay your e-passport fee from mobile banking or any registered bank, you must submit the payment slip with your passport application fee.
Step:4- Visit your Passport Office for biometric enrolment
After completing all these three steps perfectly, you will be called to the nearest passport office for biometric enrolment. The officials will collect your photo, Irish scan, and fingerprint there.
Step:5- Collect your e-Passport at the passport office
The final step is to collect your passport from the passport office. Before that, you need to complete police verification. Police will check if you have any criminal records or social issues. After passing police verification, you will get an email to collect your e-passport from the passport office.
E-Passport Online Application Form
The E-passport application form Bangladesh is not like other physical or online forms. This form works as a step-by-step process requiring the applicant's personal information.
E-Passport, online application form, will be covered within the five steps of the e-passport application. You must go through the five easy steps I've already explained.
After completing the 5 steps, you can download the PDF file of the passport application form. Get your passport application copy, start your e-passport online application process, then download and print the e-passport online application form.
E Passport Bangladesh Required Documents
To apply for an e-passport, you must fill out the form carefully with valid information. Enter your permanent living address where you have registered your NID because the address on your passport must have to be the same as the NID, and you need a Citizen Charter (নাগরিকত্ব সনদ) from the chairman of your union or from the city corporation where you live.
Follow the image attached below: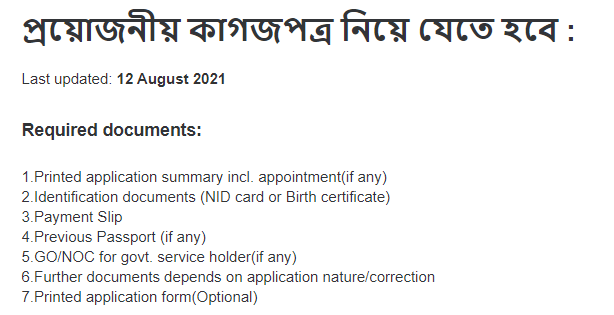 So, it would be best if you carried with you:
Your original NID (Birth Certificate if under 18 & Parents' NID).
Citizen Charter (Original Copy).
4-page printed online application form.
Pay Slip.
And the document details has given in the image.