The system of paying Chalan bill online has started already, but how do you pay Chalan bill online? The process is quite easy and hassle-free. Nowadays we can Apply Online for an e-passport  instead of going to the passport office physically to apply.
We can pay this fee through this "a Chalan" or "automated Chalan" system. Let's find out about "a Chalan" or "Automated Chalan" and how to deposit a passport fee online through Chalan.
How To Pay Chalan Bill Online BD?
To pay Chalan Bill Online There's a website where you can submit "a Chalan" online. By following some easy steps, you can submit "a Chalan" or "automated Chalan". To submit "a Chalan," you've to go directly to the website by clicking on this link: ibas.finance.gov.bd/acs/account/login.
After that, you will have a page like the picture below. Login with Login information and another page will appear in front of you.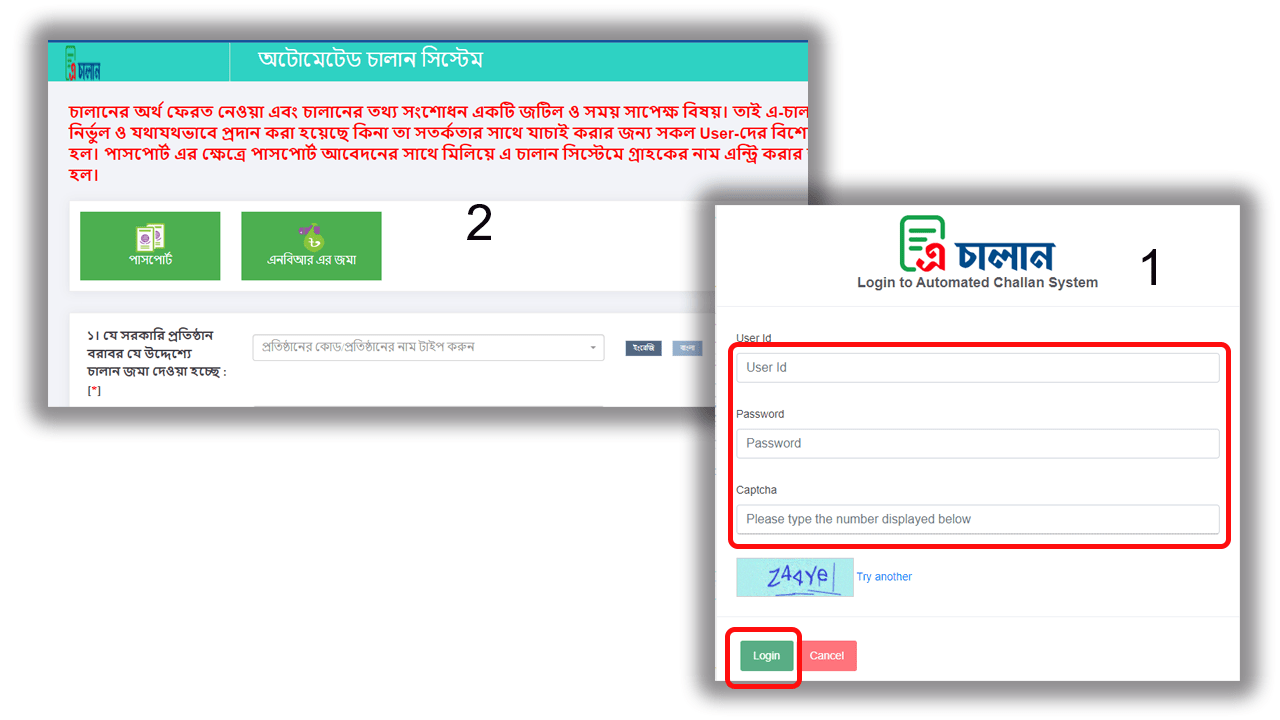 How To Fill A Challan Form Online
Note – Refunds and correction of invoice information are complex and time-consuming issues. Therefore, all users are specially requested to carefully check whether the entries in the A-invoice system have been entered correctly and correctly. In the case of a passport, it is also asked to enter the customer's name in the invoice system along with the passport application.
When a page like the image above comes up, there is an option called Passport. Click on the option.
After clicking on the Passport option, you can select the application type, the details type, and the amount of money.
After giving this information, the total amount of the passport fee, including VAT, will be shown below on the page, depending on the passport type and the passport details.
Click ok.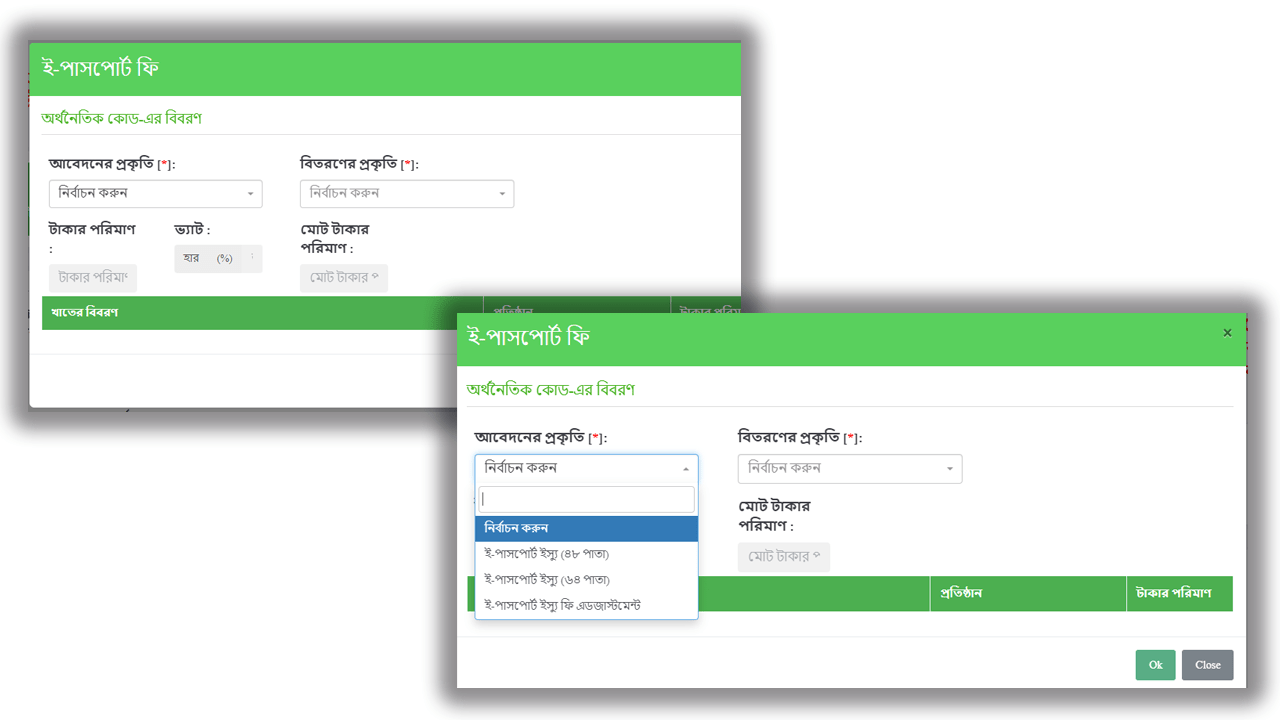 After clicking OK, The next page will Appear.
On the next page, the name of the government institution for which you are submitting the Chalan, the name of the Department of Immigration and Passports, and in which sector you are depositing money, the passport fee will be selected.
Scroll down to see the institution to which the money is being deposited, the institution identification number, name, address, mobile number, and email to select the bank to pay—select online banking for payment. But if you want to deposit at the bank counter, you can choose the bank.
Chalan Mobile Banking Bank List
Now you have to select one of the designated banks to pay "a Chalan" through mobile banking, and if that bank cannot provide the service, you have to select another. Below is the list of banks designated for mobile banking.
AB Bank
Agrani Bank Limited.
BRAC Bank.
Dutch Bangla Bank.
Eastern Bank Limited.
Islami Bank.
Southeast Bank Limited.
Sonali Bank Limited.
Prime Bank.
NRB Bank.
National Bank Limited.
Midland Bank.
Premier Bank.
Trust Bank etc.

Challan Online Bank Payment
After selecting any bank, you can complete the Chalan by following the next steps through the payment system of that bank. For example, we will see a payment system. We will see the payment system of BRAC Bank as an example.
First, we will select Barrack Bank.
After selecting BRAC Bank, a page will appear. On that page, you must enter your BRAC Bank card number.
If you have a card, you can pay through BRAC Bank. Then you have to give the expiry date of your card and enter your name.
Your payment of the Chalan will be completed.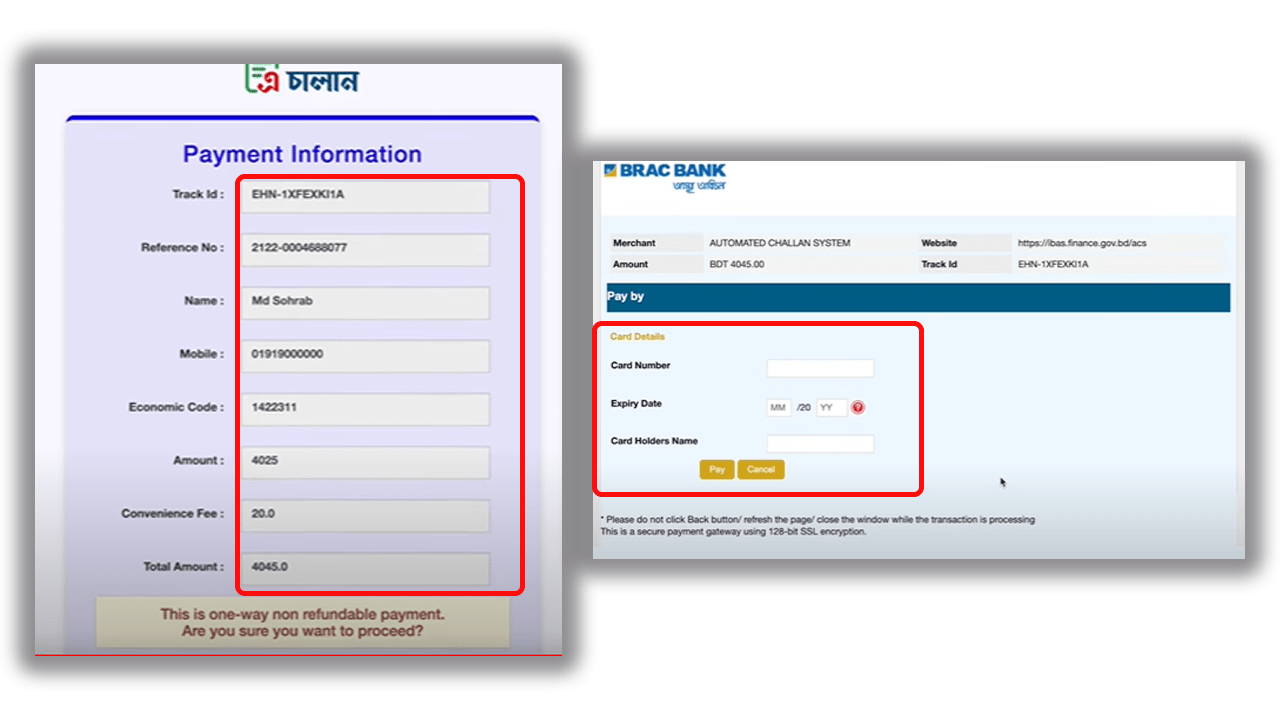 Chalan Transaction Time
Bangladesh's e-passport service has been launched recently. And we all know that "run in" is directly related to e-passport. The "An invoice" transaction time is from 10 AM to 4 PM. But hopefully, we will get 24-hour "a Chalan" service very soon.
If you have any problem paying your Chalan online, please feel free to share it with us.